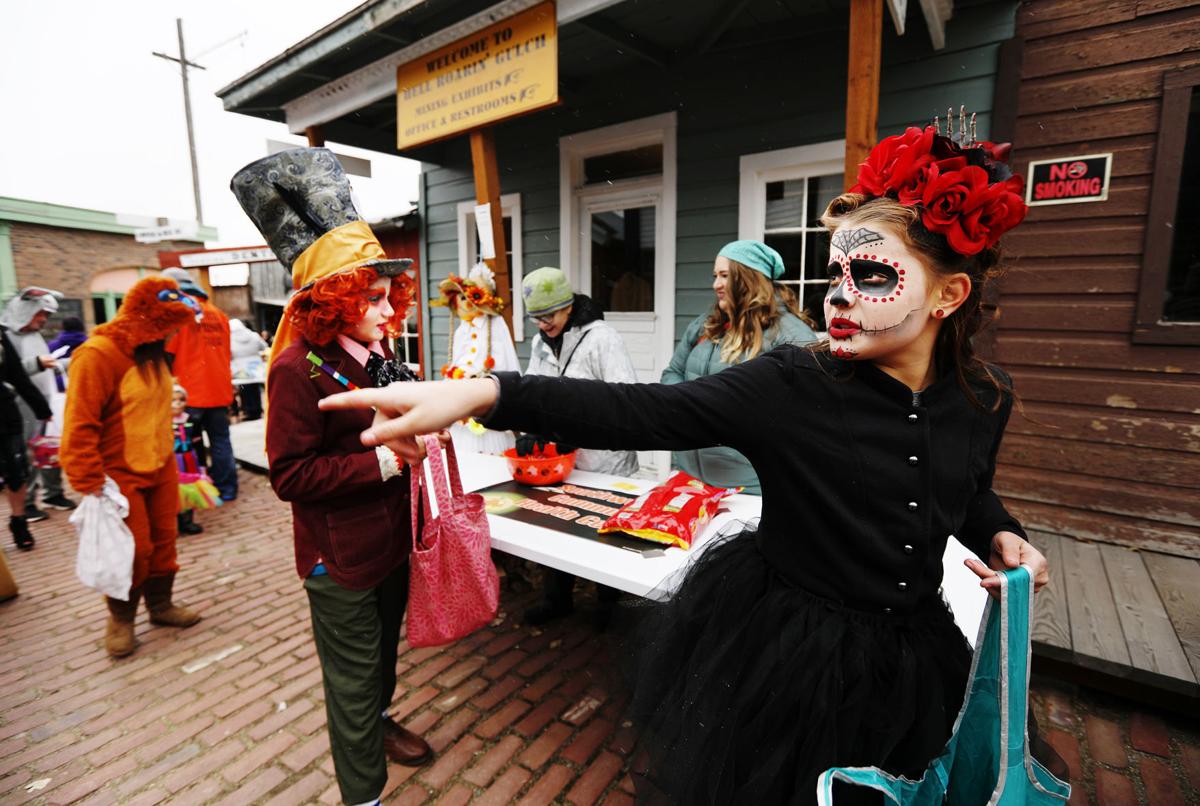 Halloween will look different this year, but fun can still be had at a drive-through, outdoor event here in Butte-Silver Bow.
Door-to-door trick-or-treating has been deemed high risk by the Centers for Disease Control and Prevention. So have trunk-or-treat events, costume parties and haunted houses that are held indoors.
Purveyors of fright, however, were still determined to deliver the fun in Butte, even if it has to be to guests in their cars.
County health officials Wednesday morning approved a community drive-through event on Oct. 31 where people in costumes hand out pre-bagged collections of candy to drivers while they and kids stay in their vehicles.
"Over $12,000 worth of candy will be going out to Butte kids," said Butte radio station owner and operator Ron Davis.
Davis' Butte Broadcasting Inc. has joined others to hold an annual Halloween event where kids walk through the World Museum of Mining and receive candy at tables sponsored by dozens of businesses, nonprofits and other groups. Some hand out information to parents, too.
A plan for a drive-through event has been in the works since early September. Davis said he and Museum Executive Director Jeanette Kopf knew the annual Treat Street event wouldn't be possible this Halloween given COVID-19 safety concerns, so they talked about alternatives with John Rolich of the Butte-Silver Bow Department.
Davis said he and other organizers have been working closely with Rolich ever since.
"We met with John, designed everything through John and his assistant, who we turned in our plans to," Davis said. "We got a green light several times, so we bought the candy."
Rolich, director of the department's Environmental Health Division, said the drive-through event is one of the few he still feels comfortable with.
"Because you're not having a mass gathering. You're having basically cars going through and they're giving out the candy, and it's outdoors … which all the statistics show are less likely to actually cause a super spreader," Rolich told members of the county's Board of Health on Wednesday.
The alternative Halloween event, Treat Street, will take place from noon to 4 p.m. on Oct. 31 at the old Safeway Warehouse parking lot behind the Walmart on Wynne Ave.
The plan is to have people arrive in their vehicles at a northern entrance. The vehicles would split into four lanes and make their way to five stops where people dressed for Halloween — perhaps even school mascots — hand out treats. The sheriff's department and the local fire department will be assisting with traffic control.
"Four stops will have people handing out single bags with all kinds of candy inside," Davis said. "But at the middle stop, the kids will be getting non-candy sorts of things, like gift certificates to local businesses, toothbrushes, and a list of businesses that are participating."
At the same time, as vehicles are making their way to each stop, volunteers in costume from the Butte Shriners or the local high school will be standing, 6 feet apart, along the sidelines and away from the cars, to greet folks as they drive by.
"MAGIC 97.7 will be playing Halloween music during the event from noon to 4 p.m. as folks drive through Treat Street," Davis said.
Each kid will walk away from the drive through event with 80 to 100 pieces of candy, Davis said.
The candy would be pre-bagged by volunteers wearing masks and gloves at least 72 hours in advance, since research has shown COVID-19 can live on surfaces for up the three days.
"Starting next Monday, Butte High School students in the Montana History Club will be bagging candy. There will be 15 to 20 pieces of candy per bag," Davis said. "We also have individuals from local organizations who will be volunteering. The bagging will take place at the Butte Civic Center and the groups will be coming to bag candy at different two-hour time slots."
Davis expects all the candy will be bagged by Monday, Oct. 26 — more than 72 hours before the Halloween event. Those handing out the candy bags at the event would also wear masks and latex gloves.
"If for some reason Treat Street was to get canceled, we'll still bag the candy as we had planned and then distribute the bags to all the local schools," Davis said. "I can't eat $12,000 worth of candy myself."
Davis said Treat Street has been a Butte annual event since 2007, but this year the event received double the amount of donations for candy. The main donors include NorthWestern Energy, Town Pump, Lot Lines, and the Marine Corps League, which put out boxes used for Toys for Tots, so that people can donate candy.
Get local news delivered to your inbox!
Subscribe to our Daily Headlines newsletter.