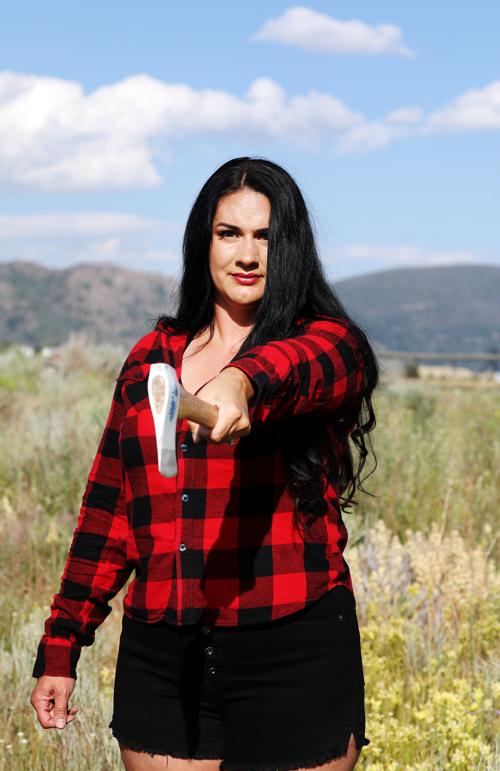 Throwing axes isn't just for bearded, burly, flannel-wearing Paul Bunyan types in the woods. The trendy new sport has been gaining popularity in America and now it's swinging into the Mining City.
The mobile Montana Axe Throwing Co. is aiming to open its lanes to the public by next weekend at the Butte Farmers' Market, pending approval from the health department.
"I am super excited," said owner Kayla Lambrecht. "I'm getting everything ready to roll."
The mobile axe-throwing business will feature a metal fenced-in trailer with two targets that people can use to test their skills.
"It's an old car hauler, so it's really long and will have two lanes," Lambrecht said. "I wanted to make sure the lanes are long enough."
Pricing starts at $5 for 10 throws and to introduce people to the activity in the safest way possible, each session will start with a safety and throwing lesson. The mobile unit will also be available for rent for birthday parties, family reunions, weddings, team building or other private function.
Lambrecht, who also owns Mirror Mirror Boutique in Uptown, said she came up with the idea after trying the activity in New York with her family.
"It's something that I've always wanted to do for a while now," she said. "I also thought it would offer an entertainment option for people. You can have fun playing and it's competitive."
Lambrecht's longer term goal is to open up the area's first dedicated axe-throwing place. The first one in Montana, Lumberjack Axe Throwing Co., opened in Missoula, last year and opened a second location in Bozeman. Another venue opened in Great Falls in February, but such businesses have been popping up all across the U.S. in the last few years.
On Tuesday, the Urban Revitalization Agency Board awarded her business with roughly $29,000 to renovate the former site of Wein's Men's Store into an axe-throwing venue and bar at 37 W. Park St.
The URA grant will help cover 25 percent of the costs for plumbing and electrical repairs, as well as a fire suppression system.
"The space needs a whole remodel. It's going to take a lot of work," Lambrecht said. "We were hoping to open up by September but because of the pandemic, things are taking longer and we might not open up until October or November."
She said the permanent home of the Montana Axe Throwing Co. will have 14 lanes for patrons to throw axes at wooden targets painted with a bull's-eye and rings. It will also host team-building events and league nights andthe league winner will have a chance to represent the state in axe-throwing championships.
Lambrecht said she's in the process of getting building permits and is currently working with an architect to plan out the space. 
"We've just been waiting. We realize with the restrictions it's going to be slow for a while," she said. "But in the meantime we'll have our mobile unit."
Axe-throwing began in the 1940s when loggers and lumberjacks began holding competitions in lumber camps to see who the best lumberjack was. The competitions became known as logger sports.
Logger sport competitions are still held today in an effort to keep the lumberjack history and traditions alive. However the game of axe throwing has expanded outside of logger sports and has become a worldwide sport with even a World Axe Throwing League and the International Axe Throwing Federation.
Lambrecht is planning to register with the WATL, so when leagues are formed, the Montana Axe Throwing Co. can host tournaments.
Despite having to delay opening due to the COVID-19 pandemic, Lambrecht hopes that her new business will provide an economic boost to the Uptown area.
"Once we open, I think we'll be the only axe-throwing company with a bar in the state," she said.
Get local news delivered to your inbox!
Subscribe to our Daily Headlines newsletter.