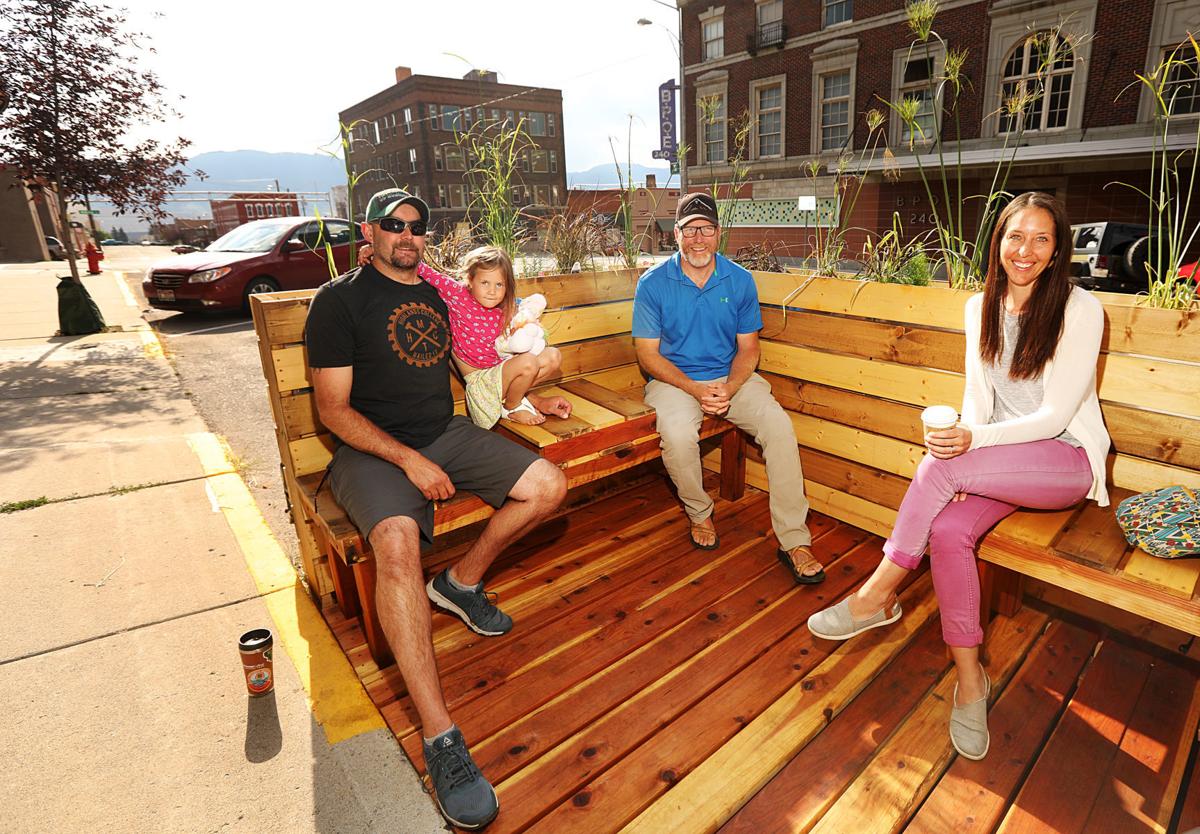 County officials hope a new ordinance will lead to "parklets" and "pedlets" along streets in Butte where folks can sit and socialize while taking in fresh air and the sights and sounds of the urban outdoors.
"I think it's a great thing for the community because it really lends to that sense of vitality in the streets and getting more people active and walking and being out there," said Karen Byrnes, Butte-Silver Bow's community development director.
Parklets convert parking slots into public spaces or "mini parks" with features such as seating, plants, bike parking and art. They often resemble miniature decks and are often used to create communal spaces or outdoor seating where space is limited.
Pedlets are new routes for pedestrians beyond curb lines so businesses can use sidewalks as extensions for dining.
Parklets started popping up in cities across America more than a decade ago and in places with cold winters, they are usually temporary and seasonal. One was established in Butte in the summer of 2018 on East Galena Street in front of Headframe Spirits.
An informal group led by Cassie Wick and Todd Hoar helped create that one as part of an effort to get Butte residents outside, active and walking. It was popular, county officials say, but there were challenges to creating more.
The Montana Department of Transportation has jurisdiction over many streets in Butte, including Main and Park streets in the Uptown, and they were reluctant to allow parklets because of safety concerns, said Butte-Silver Bow Planning Director Lori Casey.
"There were organizations and other communities that wanted the same thing so they (MDT) developed some guidelines of things that were needed," Casey said.
There are now guidelines for sites, setbacks, enclosures and other things related to safety. For example, locations must have a speed limit of 25 mph or less and parklets can't allow people to have direct access the street.
The agency also said cities wanting them should enact ordinances noting the standards and creating a permitting process, so Butte officials had one drawn up that commissioners approved June 17. It takes effect July 17.
Under the ordinance, sponsors must adhere to the guidelines, pay a $700 fee to establish a temporary parklet or pedlet and they must have liability insurance coverage. They must be removed at the end of each season and the county must regulate the use of rights of way.
The county must give $350 of the $700 permitting fee to the MDT for their processing costs, Casey said, and local officials will use the other half to review applications and ensure that sites are appropriate and standards are met.
The ordinance should benefit everyone involved, Byrnes said.
"When someone approaches us about the possibility of locating one somewhere, we have a process for that, we have an ordinance and structure that allows you to step through all you need to know and what you need to do," Byrnes said.
The Uptown especially lends itself to parklets because all streets are 25 mph and there are numerous restaurants, bars and other businesses along them.
Casey and Byrnes say they have fielded inquiries about parklets in the past and they hope one or more are established yet this year. They could be up for half of July and all of August and September.
Regardless, the ordinance will be in effect next year when warm weather settles in for its portion of 2021, and they hope to see some parklets sprout up.
"I think it would be huge, the vitality of just having people outside," Casey said.
Get local news delivered to your inbox!
Subscribe to our Daily Headlines newsletter.