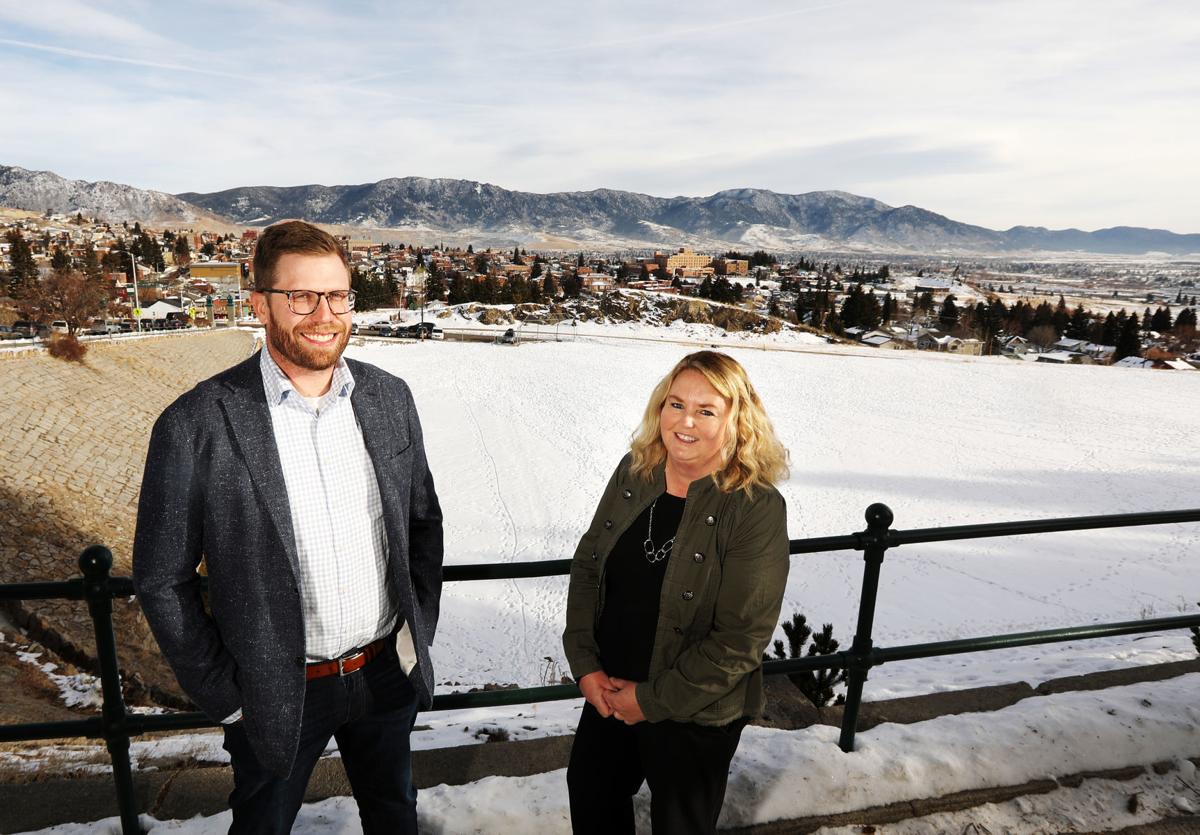 If Butte's two top economic-development nonprofits declared a relationship on Facebook, they'd perhaps tell the world that "it's complicated."
That's because the two groups are experimenting with operating under one umbrella — but they're still keeping their options open.
Since Nov. 1, the Butte Local Development Corp. and Headwaters RC&D have been embarking on an 18-month joint venture. They've even moved in together, consolidating their offices on the fifth floor of the Thornton Building on East Broadway Street in Uptown Butte.
If the 18-month trial period goes well, the two nonprofits could make the joint venture permanent, though the leaders of both groups said they're not sure what a long-term collaboration would look like.
During the joint venture, both organizations will continue to offer all the same services they did before, and both will maintain their respective loan programs.
According to Joe Willauer, head of the BLDC, and Julie Jaksha, Headwaters regional director, the goal of the collaboration is to better serve southwest Montana by sharing resources and working together toward common goals.
"One of the greatest benefits of the joint venture is that we'll have the ability to expand services throughout the region," said Jaksha, former director of Headwaters' Small Business Development Center, who took on the regional director title at the start of the collaboration.
Before becoming head of the BLDC, Willauer worked as the director of Headwaters' Food and Agricultural Development Center and as the organization's executive director, so he knows both nonprofits well.
One of his first goals as BLDC executive director, he said, was to find ways the two organizations could coordinate and work together.
"I could really see how there was alignment between the organizations but also enough differential that they could really pair well together," said Willauer, who's holding the executive director title for both nonprofits during the joint venture.
For Jaksha, working together means sharing resources, especially in the realm of human capital.
Headwaters serves a seven-county region — encompassing Butte-Silver Bow, Anaconda-Deer Lodge, Beaverhead, Jefferson, Powell, Granite and Madison counties — and offers a range of services to all of them, including in food and agriculture, small-business and economic development, home-buyer education and funding and financing.
Seven counties was a large territory for the organization's four-person team. But with the joint venture in place, Jaksha hopes time and resources will be freed up so that her staff can spend more time working with folks in the outlying counties.
The joint venture may also help the organization spread the word about what resources are available for entrepreneurs and business owners.
Prior to the new partnership, marketing had been a challenge for Headwaters.
Headwaters didn't have a staff member devoted to that particular task, Jaksha explained, and everyone chipped in on marketing when they had extra time.
But by combining staff members, there's now someone from the BLDC, Cassandra Sunell, to do the marketing for Headwaters.
In November, Headwaters put on its first-ever Small Business Saturday campaign in collaboration with local organizations and around 60 local businesses, something that Jaksha said wouldn't have been possible without the additional hands on deck.
"That's just one example of something before the joint venture agreement we couldn't have taken on. We wouldn't have had the manpower to do it," she said.
The BLDC, meanwhile, has traditionally served Butte-Silver Bow exclusively.
Like Headwaters, the BLDC has a loan program, but the organization also works to recruit new businesses to Butte, assisting them with things like market research and finding the right real estate.
"From an organizational standpoint, Headwaters has always been very focused on entrepreneurs and the retention side of things," said Willauer. "But the BLDC has always been more recruitment-focused. And so you had just enough overlap that there was a really sweet spot where we don't have to eliminate programs and we can expand on the programs we already have."
Nonetheless, some might worry that, by working together, Headwaters and the BLDC might focus on Butte and spend less time offering services to other counties.
But Willauer and Jaksha said they believe the merger is likely to have the opposite effect.
"I feel like it's going to allow us to be out in the region more," said Jaksha. She added that she sees the region as an ecosystem rather than a collection of individual communities.
"If we bring economic development into the region, it's going to impact the entire region. Whether it happens in Butte, whether it happens in Dillon, whether it happens in Drummond or Philipsburg — it all makes the region stronger."
Get local news delivered to your inbox!
Subscribe to our Daily Headlines newsletter.