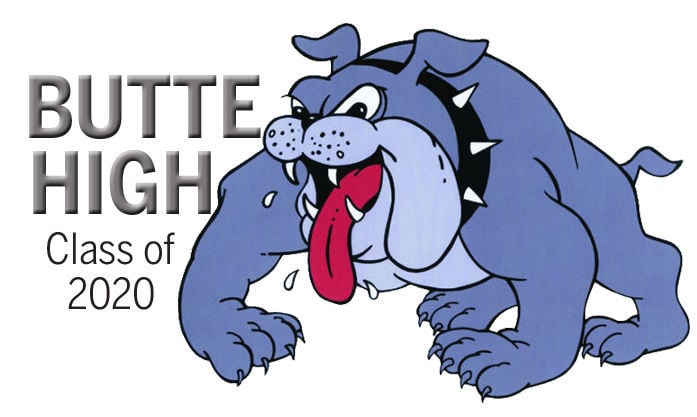 Butte High School will graduate 267 students in the Class of 2020 in a ceremony at 8 p.m. Wednesday, May 27, in the Butte Civic Center. 
Here's a list of graduates:
Scout Russell Allen; Tony J. Alley; Khaled Hasan Ananzeh; Colby I. Angove; Robert J. S. Arver; Dylan L Averyt; Kelanie Fayth Azbill; Madison J. Bailey; Camaron T. Baker; Sophie R. Barth; Hailee Rose Basnett; Isabella Rose Belmontez; Jeriah Justen Benevides; Bryce M. Bennett; Larissa R. B. Bento; Ginny Marie Berryman; Riley J. Berryman; Hayley N. Billson
Baylee Anne Bolton; Michael Joseph Bolton; Andrew J. Booth; Kaden W. Booth; Logan M. Booth; Ellie L. Boothe; Nathan W. Boyle; Katarina Elizabeth Boysza; Nicholas J. Bradshaw; Kyra L. Bragg; Alyssa S. Briceno; Claire E. Britton; Kortney Renee Bronson; Hunter James Bugni; Jeffery C. Bugni; Paige K. Burrow; Ryan J. Burt; Cassandra L. Butler; Samuel T. Byrnes
William J. Carlson; Makenna N. Carpenter; Maycie A. Carroll; Soraya Loree Casagranda; Danessa A. E. Coffey; Trinity R. Cook; Reece Daniel Cox; Ethan B. Cramer; Kamryn E. Criscuolo; Taylor I. Crout; Thomas Dean Cullinan; Cole Blaine Cunningham; Hanna Margaret Cunningham; Rachael Marie Curry
Lexia A. Dauenhauer; Cael John Davis; Dylan T. Day; Carson Allen Daybrest; Dalton Daniel James DeHart; Nicole N. DeHart; Angelica Marie Deluca; Morgan J. Dickinson; Nathen J. Dillon; Kaelan Leigh-Rose Doherty; Wolfgang M. Doty-Basel; Austin T. Doyle; Sydney J. Doyle; Ethan Allen Edwards; Walter W. English; Trisha Kay Ericson
Shealynn D. Felix; Dillon S. Ferry; Emma K. Field; Kailynn A. Field; Beretta L. Flink; Sean Patrick Foley; Aaliyah M. Folland; Louis Wayne Follette; Alivia Dawn Foster; Gina M. Fox; Johnathan Jared Fredric; Kyle James Freebourn; Xavier J. Freeman; Madeleine J. French; Tucker J. Fulton; Kylie M. Gallagher; Brady Joseph Garner; A'Lora L. Giono; Ravyn Ranne Goodwin; Gaven H. Gordon; Mayce B. Grant; Payton R. Gunderson
Andrew J. Hamilton; Cassandra Marie Hammack; Myriah Luv Hammell; Timothy M. Hammer; Jayden Daniel Hanninen; Cora M. Hazel; Jacynda R. Henderson; Mauricio Jesus Herrera Rodriguez; Haley A. Herron; Peyton M. Hettick; Jenna N. Hodges; Madison A. Hoffman; Myranda D. Hoffman; Maxwell Louis Holdsworth; James B. Hollingsworth; Dustin Michel Howard; KayLee M. Hughes; Becky M. Hunt
Brady Christian Immel; Tristen Melody Immonen; Maire K. Ingersoll; Ty Colsen Insko; Joey J. Irwin; Mia Joleena Raquel Jefferson; Jenel A. Jipp; Joshua M. Johnson; Mickey William Johnson; Rylee A. Johnson; Ciara Mona Jones; Jeremy Michael Juarez; Jonathan Michael Kappes; Trenton C. Keith; Emily L. Kendall; McKenna M. Kennis; Mai Mohamed Khalil; Lucas Brian Kingston; Matthew Scott Knopp; Daniel Joseph Kump; Emma S. Kuoppala
Trista L. LaCombe; Cameron D. LaFond; Elizabeth Jean Lalicker; Shaunee L. Lamping; Kaylee E. M. LaVelle; Calvin Allan Leavitt; Tristan C. Ledgerwood; Abigail A. LeProwse; Patricia J. Leprowse; Tyler M. LeProwse; Bradie Lynn Lester; Joseph Jalen Martin Link; Kya M. Littlefield; Skyler S. Lovshin; Grace M. Luoma; Joah D. Lutke; Austin J. Mak; Briley A. Maloughney; Abigail R. Malyevac; Kathryn O. Manson; Brokton B. Martin; Dylan Everet Mattila
Konor J. McClafferty; Myles A. McClernan; Colton Matthew McGinnis; Grace Jo McGrath; Audrey K. McGruder; Hope Elayne McIntee; Declan James McMahon; Megan E. McVeigh; Michael A. Meadow; Morgan Daniel Meago; Ruth Emilee Meeks; Thomas W. Mellott; Dakota R. Miller; Shane Jude Miller; Kameron J. Moreno; Kobe G. Moreno; Kira M. Mortensen; Dawson S. Muffich; Maci Rae Muhammad; Jacob A. Munson; Joshua E. Munson; Danika M. Murphy; Nova Ann Murphy; Zoe R. Myers
Lucas Mark Nadeau; Taylor E. Nash; Joshua A. Nelson; Connor Jonathan Nieves; Logan Cole Nilson; Kaven R. Noctor; Andrew Micheal Nutter; Brian Andrew Ogolin; Zachary Grant James Olsen; Olivia G. Osmun; Karess LeNay Paralitici; Bailey Michael Parker; Skylar MacKenzie Parks; Shayla R. Peck; Bailey Gale Peek; Alexander Nikolas Perala; Lynn M. Perusich; Teagan E. Peters; Payton R. Peterson; Jacob Tanner Pickett; Michael Vincent Phillips; Clint J. Pierce; Chandler Gregory Travis Pithan; Haylee Jo Powers; Tarryn Matthew Powers; Caden J. Puccinelli; Jaceey M. Queer; Wyatt Harrison Queer
Katherine A. Radoicich; Brandon S. Ralph-Puderbaugh; Isabelle D. Ralph-Puderbaugh; Kendall A. Rangitsch; Katelyn N. Rapp; Brianne J. Rauch; Joshua Michael Real; Amber Lynn Reid Robb; Darian Alexander Restuccio; Caleen M. Reum; Mikal M. Rex; Gian K. Reynolds; Alexander Clay Richey; Kaylee R. Roberts; Rachel Renee Robinson; Rodrigo Rodriguez; Logan W. Roepe; Jerek Paul Rosenleaf; Justice B. Ross; Catherine C. Russo; Matthew R. Ryker
Hunter Patrick Salcido; Wyatt Robert Samples; Haileigh J. Sanchez; Jenna Katherine Sanders; Joseph M. Sandoval IV; Kadyn Matthew Sayler; Daley S. Schinnell; Luke D. Schultz; Adrienne D. L. Seger; Maddison N. Selfors; Tanner Oneal Shadow; Christian R. Sherman; Mason W. Simon; Acacia  Smith; LaCasta-Rose Smith; Shelby Lynn South; Carlie J. Spear; Madeline Clare Staples; Tyler Linn Steele; Aili Emily Subik; John Anthony Sullivan; Quinn William Joseph Sullivan; Abigail M. Swanson
Meah L. Tavera; Jayden J. Thomas; Daniel J. Thornton; James L. Tyler; Jasper Francis Ueland; Mario T. Uggetti; Karina Hope Van Dyk; Bailey Jane Vaughn; Mary M. Velock; Alyssa J. Waananen; Ethan M. Waelti; Trista J. Walker; Katelyn Jean Warren; Kimberly Rose Watson; Cory J. West; Karson P. West; Alicia A. Williams; Codie Nicholas Williams; Paige Christine Tyler Williams; Angelina Maxine Wind; Tucker J. Winston; Kennedy L. Zufelt
Get local news delivered to your inbox!
Subscribe to our Daily Headlines newsletter.