Butte finally sees blueprint for cleanup, creek protection
After three decades of incremental cleanup work, a sprawling blueprint to "get 'er done" has landed before the residents of Butte.
While some things could still change — the Environmental Protection Agency has been careful to refer to the plan as "conceptual" — the proposal as it's been laid out over the last week signals the wide-ranging cleanup that could begin as early as next spring.
Dan Villa, state budget director, talked during the public meetings last Wednesday about what this proposed remedy really means for Butte.
"It's time to ask as a community, 'What's next?' It's time to get the Superfund stigma off all of our backs," Villa said Wednesday before a crowd of about 100 at Montana Tech. "What will Butte be when Superfund is no longer holding us back?"
From rerouting about 2,000 feet of Silver Bow Creek to excavating around 600,000 cubic yards of old mine and smelter waste to tackling the issue of storm water through a variety of remedies, the sketched-out arrangement between all the parties and agencies is, if nothing else, comprehensive, complex, and quite simply big.
How much responsible party Atlantic Richfield Company will shell out for all of the work has not been disclosed and may never be. Under Superfund law, how much a responsible party spends overall is confidential. But some information will be made public in the future on what the former oil giant's funding agreement is for the Blacktail Creek part of the project, according to Atlantic Richfield spokesperson Brett Clanton.
A company vice president, Patricia Gallery, said during Wednesday's multiple public meetings that the former oil giant has already spent "several hundred million dollars" on the Butte Hill.
As far as what's to come, Doug Benevento, EPA Region 8 administrator, told The Montana Standard last week, "Atlantic Richfield is basically funding all of the cleanup."
He also repeatedly reassured the public during the meetings last week that the tab is on the former oil giant.
"Y'all ain't paying for it; ARCO (Atlantic Richfield) is," Benevento said.
That leaves the question: what exactly is Atlantic Richfield paying for?
The big picture
Under the proposed plan, approximately 1,130 acres of land in the Mining City will be addressed. Some of that land is still to be evaluated, but it runs as far north as Walkerville, where, to use one example, the Missoula mine yard lies south of Daly Street and needs some work. Some of it is as far west as the the Travona Mine, a large mine yard and dump on the lower West Side north of Iron Street. That is a site that was reclaimed in the past, but the cap needs some degree of a redo. Looking eastward, Atlantic Richfield will give attention to the Anderson shaft, a large, nearly bald spot near the Belmont Senior Center that will be capped. Atlantic Richfield will also take a look at several hundred acres south of Interstate 15-90.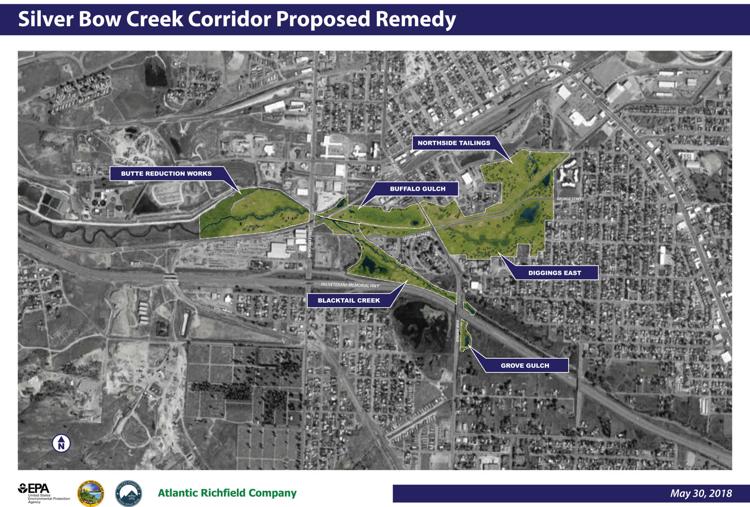 While EPA officials are always careful to say their primary job is to protect human health first and foremost, the main focus with the conceptual plan is to take care of Blacktail and Silver Bow Creeks. Some of the work will be construction projects, such as what the agencies and parties are proposing for Slag Wall Canyon. Some are so small as to not even necessarily be that noticeable: Atlantic Richfield would pay for some curb and gutter projects as well as put in a variety of basins that route water certain directions in and around Walkerville, Centerville, Uptown Butte, and south of the interstates, if the proposed plan is accepted.
Other parts of the proposed plan: the EPA will be adopting criteria similar to those the Montana Department of Environmental Quality used when the state cleaned up lower Silver Bow Creek south of the Interstate 15-90 overpass bridge. That cleanup project, completed in 2015, is widely recognized as successful and removed the majority of the pollution in that 26-mile stretch of stream.
Another element to the excavation work: the EPA told The Montana Standard last week that there will be flexibility built into the removal process depending on what they find as they dig and the groundwater situation where they go.
According to Atlantic Richfield, about 90 acres along a portion of Silver Bow Creek will "create a near-continuous greenway beginning at Casey Street and ending (west of Slag Wall Canyon)." Of those 90 acres, about 21 acres will be occupied by basins and channels that will help protect the creek from contaminated storm water while looking natural.
What happens if the plan is rejected?
There will be opportunities for public comment, and in addition to that, the Council of Commissioners votes on the plan before it can be signed by all the parties.
If the council rejects the plan, the EPA will go to enforcement and order Atlantic Richfield to perform the next phase of the cleanup.
All the parties say the better path is reaching an agreement that everyone can sign.
Martin Hestmark, EPA region 8 assistant administrator, told the Standard last week that Atlantic Richfield "is agreeing to perform work (through the conceptual plan) we would not otherwise be able to require" under Superfund law.
"One of the benefits of coming to this agreement is it is robust and some of it goes beyond what CERCLA (Superfund law) requires," Hestmark said. "We couldn't order them to do restoration work."
Tailings waste excavated
In the area known as the Northside Tailings, around 60,000 cubic yards of muck would get excavated along upper Silver Bow Creek from the Butte Civic Center to George Street if the plan is agreed to by all involved.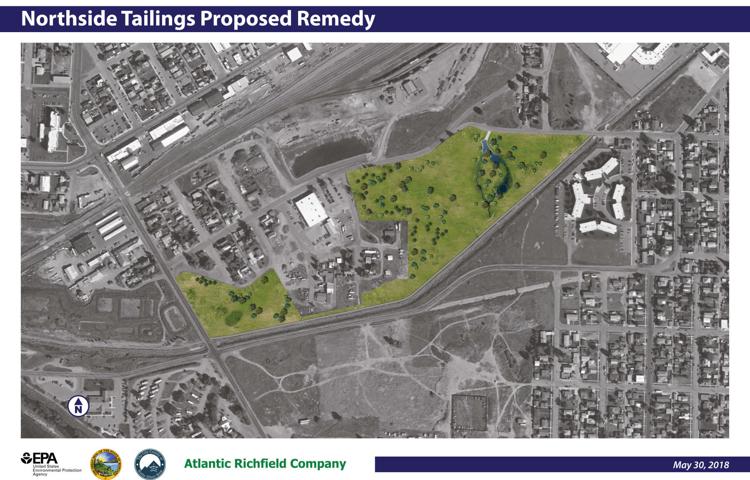 South of George Street from Northside Tailings sits the Diggings East, a barren 24 acres where nothing can grow due to the tailings waste on the surface of the land. Under the proposal, Atlantic Richfield will remove around 345,000 cubic yards of mine and tailings waste from that area.
The basins that would be constructed in the Diggings East area would comprise about 10 acres, or eight football fields.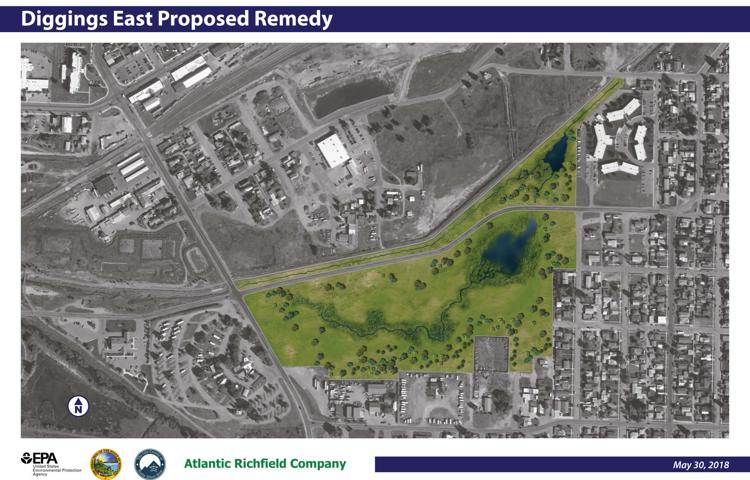 Clanton said via email that each proposed storm water basin is "intended to exhibit riparian (stream bank) characteristics reminiscent of natural pools, channels, and wetland systems. Meandering channels would be used to transport both design flow and bypass flow, and would be constructed with vegetated banks."
Blacktail Creek, the confluence, and Buffalo Gulch
One of the bigger projects on the drawing board is what will happen to Blacktail Creek, its confluence with Silver Bow Creek, and Buffalo Gulch. It's one portion of the larger project where specifics have not yet been released.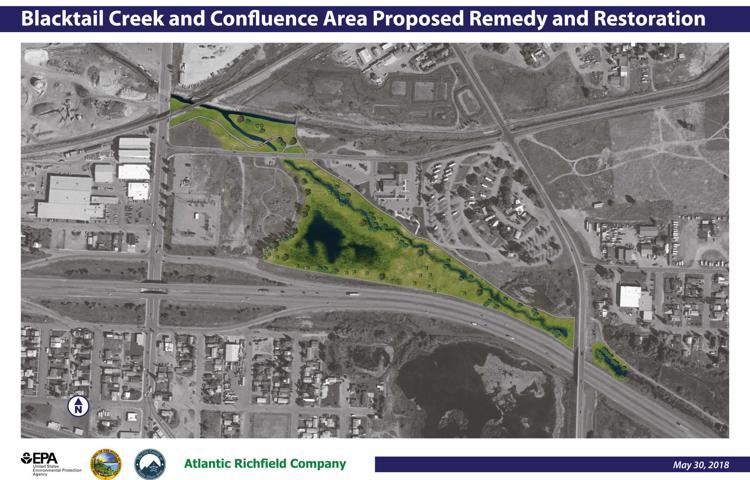 Joel Chavez, DEQ project manager, said people are working on it, but there are no definite details yet on this portion of the project. Chavez said he might be the project manager.
Chavez was the project manager of the lower Silver Bow Creek cleanup which is widely viewed as successful. It also appears that DEQ will be the lead agency on the Blacktail Creek portion of the project and that restoration and remediation will be integrated, though details on what that means are still forthcoming.
Atlantic Richfield and the state are proposing to work on this portion of the project together to remove tailings waste and contaminated soil along Blacktail Creek and the Blacktail berm behind the visitors center. A portion of Blacktail Creek south of the Ulrich-Schotte Nature Trail will be reconstructed, as will the confluence area, while Silver Bow Creek is reconstructed north of George Street.
Where the muck will go is still to be decided. The agencies and parties are proposing to build waste repositories "where there is no potential for mobilization exposure," Loren Burmeister, Atlantic Richfield business liability manager, said last week. "We haven't firmly identified those areas, and they will be subject to public input."
Jon Sesso, BSB Superfund coordinator, said last week that the waste repository near the Granite Mountain Memorial was looked at, but "we're very reluctant to take the waste up the hill."
"Our set of criteria is to pick a repository that is least disruptive and most safe to the general public," Sesso said.
Atlantic Richfield will also install an underground hydraulic system to further capture groundwater. That system will reroute the water to land in the Butte Treatment Lagoons west of Slag Wall Canyon.
Just west of the confluence is Buffalo Gulch, where around 30,000 cubic yards of tailings and other waste would come out. A basin that will occupy most of the site south of Safeway on Front Street and along Silver Bow Creek will capture storm water before it contaminates the creek west of the confluence. It is expected to cover 8 acres, or six football fields. The site is about 9 acres.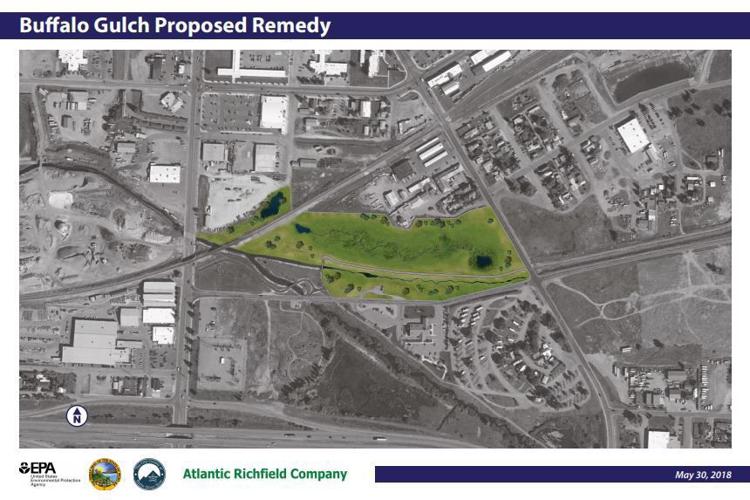 South of Interstate 15-90
Primarily south of Interstate 15-90, Atlantic Richfield will evaluate around 850 acres divided among 12 sub-drainages, according to the plan. A variety of storm water controls and different types of catch basins could be constructed to stop contaminated storm water and sediment from getting into Silver Bow and Blacktail creeks.
Also south of Silver Bow and Blacktail Creeks lies Grove Gulch, which drains into Blacktail Creek near the Lexington Avenue overpass. Officials have found Grove Gulch to be high in zinc.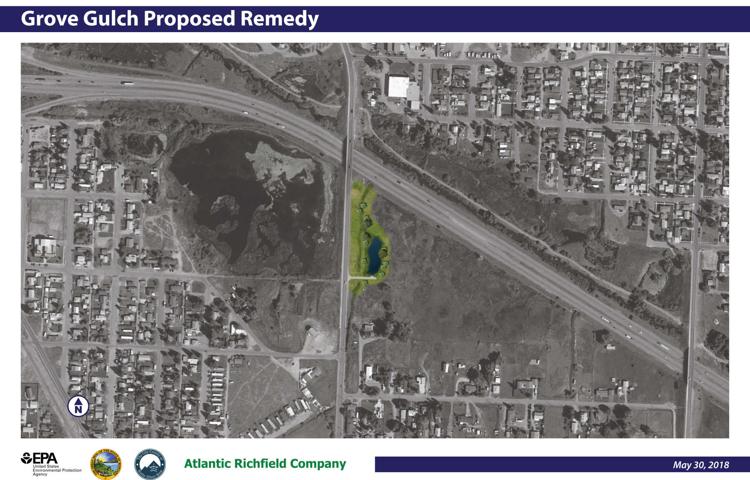 To improve water quality in Blacktail, the proposed remedy is for Atlantic Richfield to build broad, shallow channels and small, easy-to-clean basins south of Interstate 15-90 that would parallel Lexington Avenue. These constructed capture systems would keep contaminated soil from getting into Blacktail Creek.
Slag Wall Canyon
Portions of the slag walls near Montana Street may need to be removed under the conceptual plan. Atlantic Richfield will reconstruct about 2,000 feet of the creek extending from Montana Street west. The creek will be relocated to a reconstructed corridor through the site that will be designed to protect the creek from the metals contamination that studies have shown is currently showing up in the creek.
Other portions of the slag walls further west of Montana Street will not be disturbed, said Clanton.
But 165,000 cubic yards of tailings waste and soil will be excavated from the southern portion of the canyon. The excavation footprint will be about 275 feet wide and about 1,400 feet long.
A hydraulic system will also be built to keep contaminated groundwater from reaching the creek. The hydraulic system will send the "dirty water" to the Butte Treatment Lagoons, which critics say has been a really good system and very effective at dropping metals out of the water before sending it to Silver Bow Creek.
Unreclaimed sites
If the proposal becomes the way forward for Butte, at least 39 sites equaling around 90 acres of land will get attention they have not yet received. These are called the unreclaimed sites, and they are located all around Uptown, Centerville, and Walkerville in random places.
There could be more than 39, said Eric Hassler, BSB Superfund operations and maintenance manager.
"'Unreclaimed' is not a definitive list," Hassler said. "It's any vacant barren ground that sheds to the street."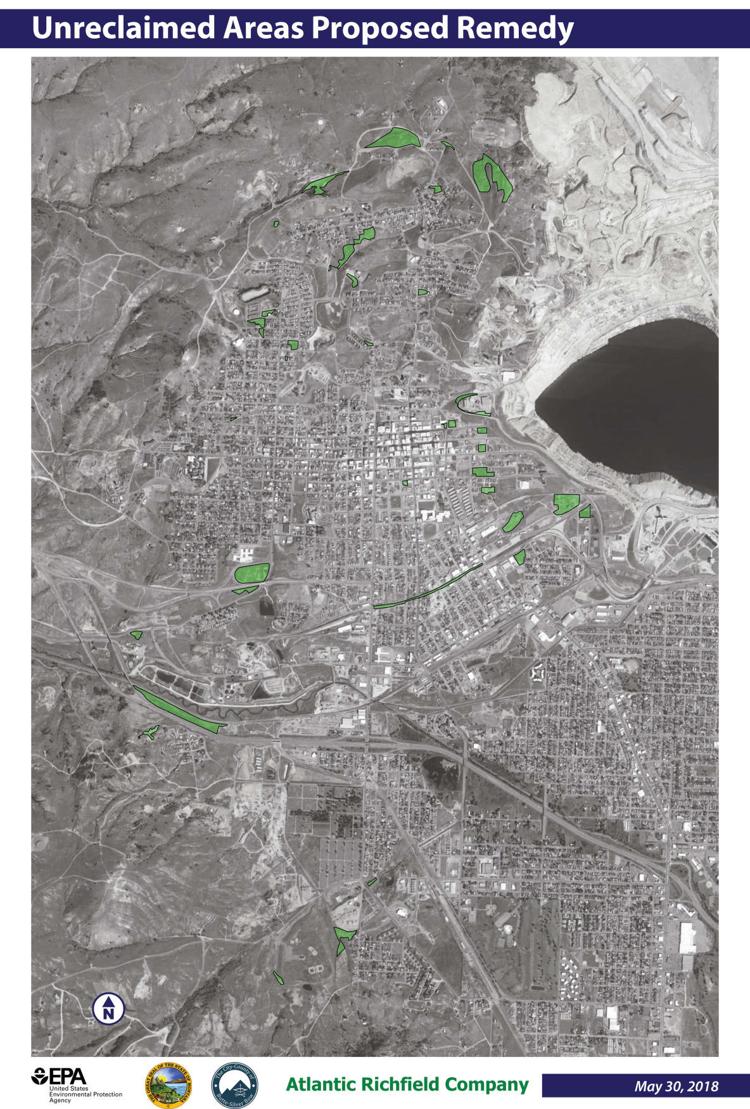 Addressing such sites is a part of the effort the agencies and parties are making to wrestle with storm water. Some of these individual blemishes on the Butte Hill are quite small. Some can consist of multiple acres. But what they appear to have in common is that they have metals like cadmium, copper, and zinc at high levels.
The less "dirty dirt" carrying cadmium, copper, and zinc winding up in Silver Bow Creek, the better for the creek and fish.
There are no human health cleanup standards for cadmium, copper, or zinc. This is why some Superfund critics in Butte say that the fact that the EPA is adopting cleanup criteria similar to those DEQ used in its lower Silver Bow Creek cleanup is an important element to the process.
Many of the sites are not on public property, Hassler said. What those spots will look like after the fact will depend on the landowners, and it will likely be an organic process, Hassler said.
"There's a whole range of potential remedies on these," Hassler said.
One example is putting in curb and gutters if there's uncontrolled water flowing across such a piece of land. A curb and gutter project would better control the flow so the water lands in the street and drifts into street grates, Hassler said. That sends the water through the county's underground water pipes, routing it directly to Silver Bow Creek and keeping the flow out of the soil.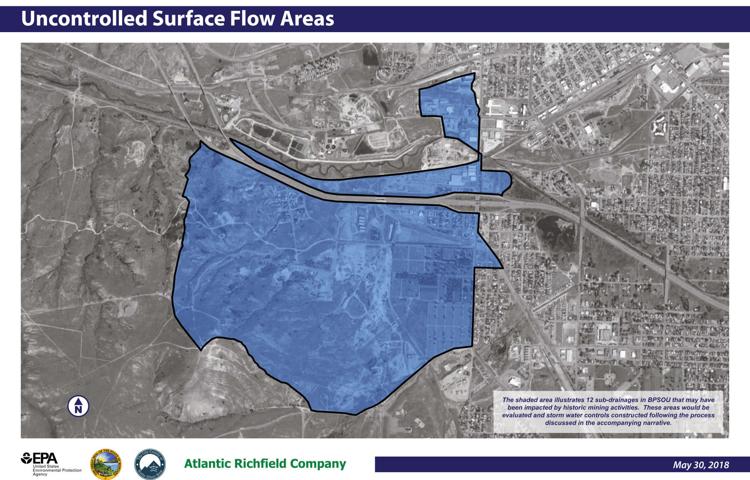 Insufficiently reclaimed sites
Also if the proposal is approved, about 100 acres containing 26 historic mine waste dumps will be revisited. These sites, too, are all over Uptown, Walkerville, and Centerville.
These mine waste sites were reclaimed from 1983 to 1996. By 1997, the EPA adopted a more stringent capping process for the Butte Hill. The old sites that predate 1997 are the ones that agency officials have found to still be wanting.
One example is the Evaline in Walkerville. It is an old mine dump west of Excelsior Street just before Excelsior turns into Daly Street.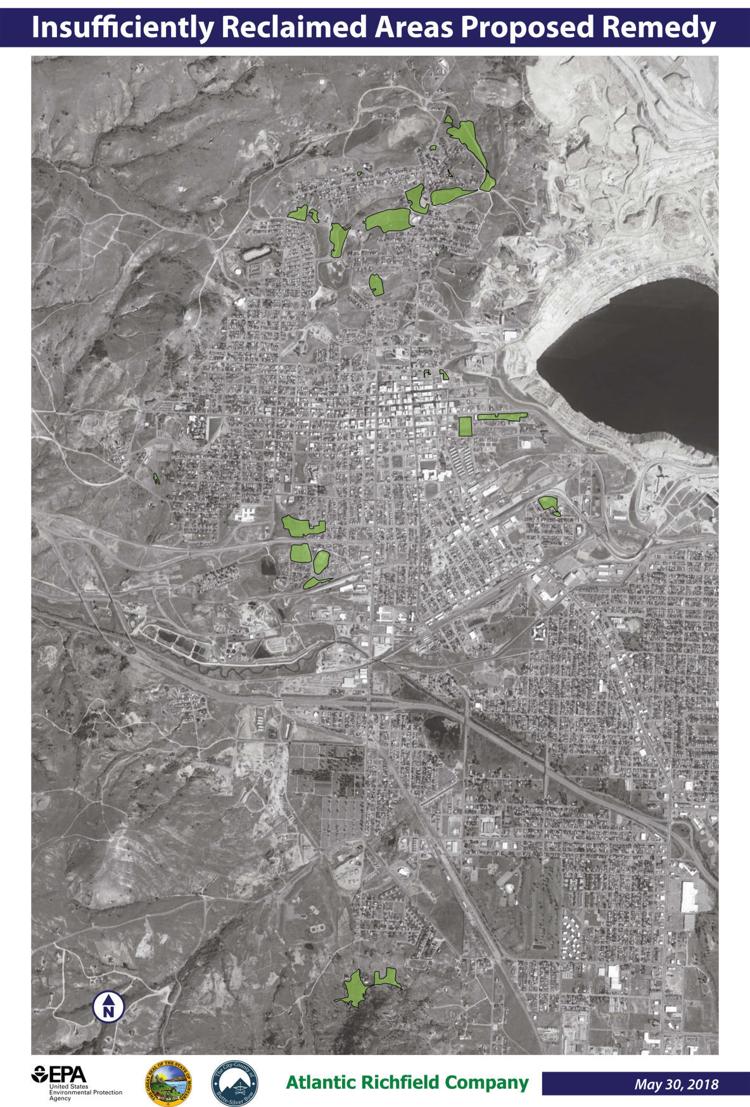 While Atlantic Richfield will be paying for it, the county could be the boots on the ground for at least some of this work.
There is more than one reason why the old sites are worth fixing, say agency officials.
One is that they require regular maintenance work. While Atlantic Richfield is financially responsible for the county's ongoing operations and maintenance on these sites over the long haul, the county's workers' time is consumed with fixing and then re-fixing these areas.
That is time that county workers could spend elsewhere.
Another reason these insufficiently reclaimed sites need to be revisited is, again, because of rain water. Once fixed, agency officials say that should reduce the load of contaminated soil making its way down the Butte Hill.
Hassler said the county will be working with Robert Pal, Montana Tech professor and native plant specialist, so the replanting will be native to the landscape as much as possible.
Waiving state standards for the creeks
The agencies are also considering including a waiver of state standards for aquatic life in the section of Silver Bow Creek that runs through town. But the creek would still have to meet federal water quality standards under the Clean Water Act, and that will be subject to a public process before it becomes finalized.