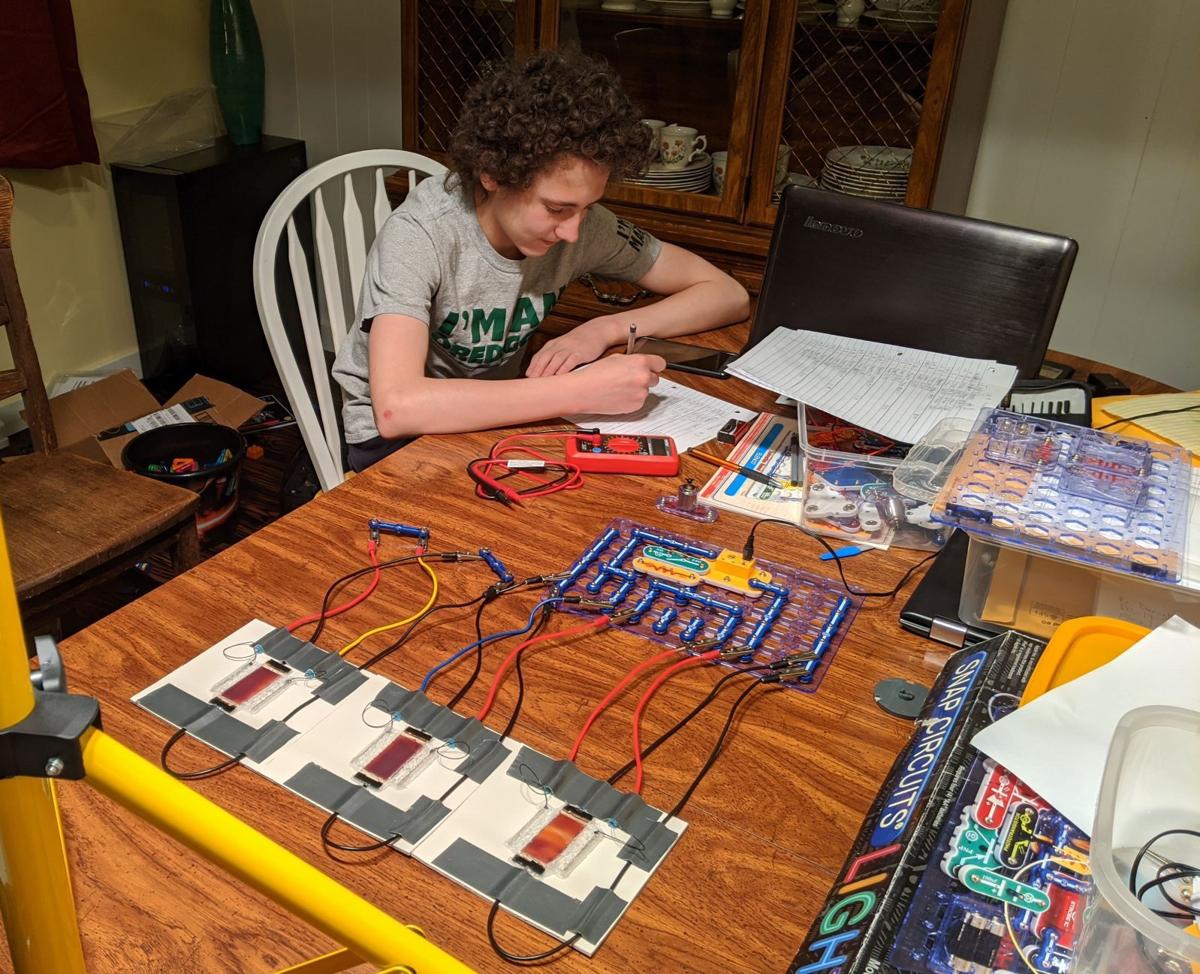 A Butte middle-school student was named as a top 300 finalist in a national science project competition.
James Holmes, a rising 8th grader at Butte Central Elementary School, placed among the top finalists in the annual Broadcom MASTERS science fair, which is billed as the nation's premier Science, Technology, Engineering and Math (STEM) competition for middle schoolers.
Holmes, 14, studied solar energy conversion in his project. What he discovered was the solar panels can be toxic to make, so he researched more environmentally friendly components. What he came up with were dye-sensitized solar cells, but he needed to find out if the cells could be as efficient as the more common solar panel. 
"I've always been interested in electricity. I don't know why," Holmes said. "But a lot of the ways that people get electricity is by burning coal or fossil fuels, which isn't really good for the environment. Another way to get energy could be through dye-sensitized solar cells, and they have the potential to produce more electricity than the more common kind of solar panels."
For his project, Holmes designed an efficient heating mechanism for a type of solar panel with dye-sensitized solar cells, which he says are safer and easier to make than traditional solar panels. 
However, Holmes said dye-sensitized solar cells don't work well in colder climates and perform better in dry, warmer conditions. To address that issue, he built a heating mechanism so the cells could work in cold conditions. His goal was to design a solar cell that would use only a small amount of the electricity it generated to heat itself.
"The way I did that is I built the heating system into the solar panel, which makes it more efficient because it's closer to the panel, which is cased between two pieces of glass coated with a chemical to make it heat resistant."
To test the efficiency of the heating mechanism, Holmes sealed off a room to control the temperature and placed three different cells — two heated and one unheated as a control. 
"There were a few tests that didn't go well, and I still don't know why they didn't work. But the majority of my tests showed that my heating mechanism heated the cells and didn't use too much electricity," he said.
Holmes started the project in the 7th grade as part of his science class and for Butte Central Elementary's science fair, and won first place.  
This advanced him to the Montana Tech regional science engineering fair, where Holmes placed in the top 25 of competitors and was nominated to Broadcom MASTERS.
From there, he was selected to the top 300 from an applicant pool of 3,476 students. Holmes said being chosen from such a large group was surreal, but it was his goal all along to make it to this far. He finds out on Sept. 16 if he makes the top 30 cut, which will qualify him to compete at the national science fair in Washington D.C. set for 2021.
Holmes said he pursued science projects out of his passion for STEM and finding real world solutions. Through his research, Holmes learned about how energy is generated and efficient ways to make energy. 
"A lot of the time you think your electric car is more environmentally friendly than the gas car, but in reality the electricity used to charge the car is most likely coming from a coal power plant," he said. "But if we replace coal power plants with solar panel fields, it could make them a lot more environmentally, especially if we could use dye-sensitized solar cells instead of the more common solar panels."
With Holmes having advanced from his school's fair to the national stage, his dad, Andrew Holmes, said he thinks persistence is a lesson that James has taken from his journey.
"The biggest reason behind his success is his work ethic. He's brilliant of course, very talented and gifted, really. That and the fact that he can just sit down, study and work on stuff and really push himself to accomplish his goals," Andrew said. "He tried in the 5th grade and didn't make it to state. And he tried again and did. He learned that by doing things again and again, he can achieve whatever he wants."
James said he is thinking about pursuing a patent for his invention and is looking forward to competing in science fairs in his last year of middle school and then in high school. In the future, he wants to attend the Massachusetts Institute of Technology and  become a nuclear physicist.
Get local news delivered to your inbox!
Subscribe to our Daily Headlines newsletter.