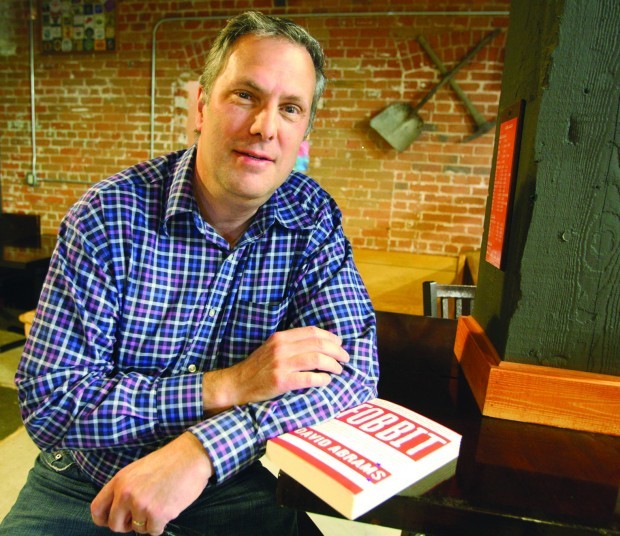 Take nearly a decade of kicking in doorways, road-side bombs that reduce soldiers to hamburger, bad intelligence and mounting casualties — both combatant and civilian — and turn that into something the world can understand.
Somebody's got to make sense
of the madness. That's David Abrams' job.
He did it seven years ago as a public affairs flak for the U.S. Army during the Iraq War. He's doing it again with his debut novel "Fobbit."
The novel is a work of fiction that is loosely based on his 2005 deployment to Baghdad with the Third Infantry Division. His job then involved writing press releases from the war zone. Abrams condensed IED explosions, casualty reports, riots, weapons caches
discovered and suicide bombers in to 320-word articles.
"It was all scrubbed and sanitized and received different levels of approval from the chain of
command before being released to the media," Abrams said about duties in Iraq.
Abrams sat recently at the Quarry Brewery in Butte with a glow on his face that wasn't from the pint of beer he moderately sipped. No, this form of intoxication only comes from being a first-time published novelist. "Fobbit" will be released Sept. 4 by Grove/Atlantic.
His book takes the reader into the world of the Forward Operating Base, or FOB. The FOB is a highly protected fortress located in the center of Baghdad, surrounded by high walls, concertina wire and well guarded posts.
The FOB is inhabited by dwellers whose frontlines are cubicles and main weapons are computer keyboards and PowerPoint briefings. Known as "fobbits," these troopers prefer their air-conditioned offices over the sun-scorched and deadly world outside. (You know, they're like hobbits that hide in a FOB – Fobbits. Get it now?)
Abrams doesn't classify his book as an anti-war novel.
"It's an anti-stupid novel," he says.
Strip the story of concertina wire, M-16s and military uniforms and you've got any office environment in America, he explains.
With masterful wit and satire, Abrams describes this life of alphabet-soup acronyms, handwringing junior officers and the frustrating bureaucracy of orchestrating a war from a desk. The way novelist Richard Hooker introduced "M.A.S.H." to the American culture four decades ago, Abrams is likely to make the fobbit part of the American consciousness.
The seed of his novel was first planted by his agent, Nat Sobel, while Abrams was still serving in Iraq. Abrams was making daily entries in his diary about his real life in the FOB. But it was an email from Sobel that noted "only in fiction will this insane war finally reach an American reading public."
Abrams jumped on that concept and spent the next seven years working on what would become "Fobbit." As a member of the U.S. Army's public affairs staff it was Abrams' job to "tell the Army's story." Like Abrams' protagonist in "Fobbit," Chance Gooding Jr., Abrams was a dedicated soldier who followed orders — even when the orders seemed ridiculous at times.
"It was my job, but I was torn," Abrams admitted. "I wanted to be an Army yes man — salute smartly and move on; but I'm not dumb."
Staff Sgt. Gooding seems to share this same feeling in the novel. He follows the often inane orders of his superiors with dog-like obedience without losing his soul. Gooding keeps himself grounded from the madness by reading literary classics and by counting the days until he can go home.
In fact, most of the characters in the book share a profound homesickness that makes them sympathetic to the reader. No matter how frightfully incompetent or exasperatingly clueless some of the characters are in the novel, there's still a humanity about them that makes you hope for the best.
This isn't a surprise. Abrams was a soldier for 20 years and knows all the fears, trepidations and obstacles a soldier packs in his rucksack.
It's this authority that Abrams writes with that makes "Fobbit" work. There's nothing pretentious about it. The writing is raw and powerful, with wonderfully lewd humor that one would expect from troops stranded on an island whose shores are continually battered by waves of war.
Abrams has already gotten the attention of renowned literary critics and writers with his debut novel. The comparison to Kurt Vonnegut's "Slaughterhouse-Five" and Joseph Heller's "Catch-22" is the general concession.
"It makes me a little uneasy, because I'm not worthy to touch the hem of Joseph Heller's garment," Abrams says.
Regardless of his sincere modesty, Abrams has touched on something with "Fobbit." If Vonnegut and Heller were the undisputed chroniclers of the madness of World War II, Abrams should be considered the resounding new voice of the Iraq War.