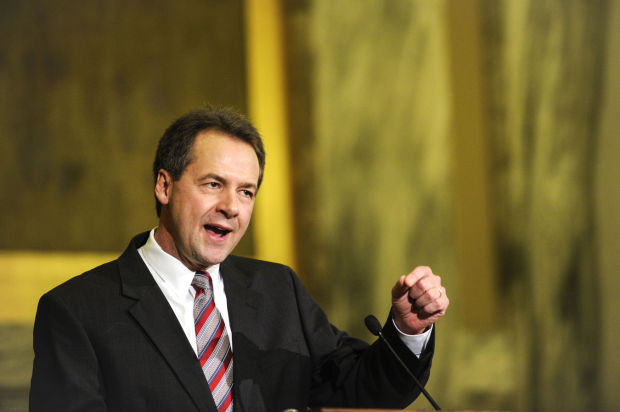 HELENA – On the eve of the day the Legislature came to a close, Democratic Gov. Steve Bullock vetoed eight Republican-sponsored bills, including one to detect welfare fraud and one to expand where and how concealed weapons could be carried.
Bullock also vetoed a bill to prohibit the prescribing of abortion drugs without a physician being physically present with the person receiving the prescription.
"As elected officials, we should all be working together to expand access to health-care services in Montana," Bullock wrote in his veto message on House Bill 587, the abortion-drug bill. "Unfortunately, HB587 and several other bills proposed this session seek to do just the opposite, particularly for women and families living in the more rural part of our state."
House Majority Leader Keith Regier, R-Kalispell, sponsored HB587.
Bullock's vetoes mean the bills are dead, because he delivered the vetoes before the Legislature adjourned, meaning the Legislature would have to vote, in person, to override them.
The Legislature adjourned for good Tuesday morning, and therefore cannot vote to override any of the Monday vetoes.
However, it's unlikely any of the vetoes would have been overridden, because they would require the votes of at least some Democratic legislators to override the Democratic governor.
Other bill vetoed late Monday by Bullock:
Senate Bill 148, by Rep. Cary Smith, R-Billings, to hire a private company that would conduct computerized checks of welfare-program eligibility and pay the company a portion of the fraud it uncovers.
Bullock said it would duplicate systems the state already has, to detect levels of fraud that are negligible.
HB533, by Rep. Kirk Wagoner, R-Montana City, to allow holders of concealed weapons to carry them in restaurants that serve alcohol and other businesses under certain circumstances, and to say that only those committing crimes could be convicted of illegally carrying a concealed weapon.
Bullock said the bill "effectively eliminates the requirement to obtain a concealed weapon permit," and that law-enforcement officers had concerns about the bill.
SB126, by Sen. Roger Webb, R-Billings, allowing landlords to meet notice requirements on evictions by sending an email.
SB149, by Sen. Matt Rosendale, R-Glendive, to allow "direct primary care providers plans," in which patients give prepaid fees to physician for primary care, rather than being billed for each service. Bullock said the plans have "little or no added value to most consumers."
SB248, by Sen. John Brenden, R-Scobey, which requires that anyone providing public comment to a legislator or legislative committee must provide his or her name and city and state of residence.
SB276, by Webb, establishing a directory of providers of Medicaid-covered personal-care services, but prohibiting the state from collecting private information on some care workers.
SB376, by Brenden, restricting how state agencies can use "recovered indirect costs." Bullock said the bill could put state agencies in conflict with federal requirements on these costs, and create inequities in pay, by forbidding the use of these costs for pay increases or bonuses.