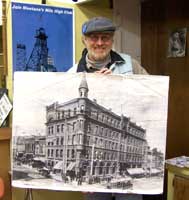 Editor's note: The following is one of a series of columns from the Butte Citizens for Preservation and Revitalization, or CPR.
When I walk the streets of Uptown Butte, I see ghosts. I see a giant elk straddling the intersection of Park and Broadway, a block north of the massive and majestic Medical Arts Building. I see tiny churches on both northern corners of Copper and Alaska streets where vacant lots are today.
It was not always like that. As a newbie in the Butte CPR, I was often bewildered by veterans referring to locations named for occupants who hadn't been there for years or decades. CPR President Larry Smith directed me to a place relative to the Grand Hotel. My blank stare told him I needed more information, so he added, "Well, it's next door to the old Shoetorium." I finally figured it out, and I guess I'm becoming a veteran — I found myself referring to a place "near the vacant lot where Patrick Largey's house once stood." For months as a new CPR member, I heard people talking about "Yer Father's Moustache." Since they don't talk in terms of streets or addresses, it took me months to figure out that they meant the old Stephens Hotel. I had given tours there, and only learned that it was the same as Yer Father's Moustache when I saw a period photo of the building.
CPR member Julie Crowley is creating a gigantic photo display to highlight what we've lost. She's researching the when and why of the losses and posting them on aerial views of Uptown Butte.
When I walk up North Wyoming Street on a warm summer evening, I don't see the Capri Motel. I see the Butte Brewing Co. on the corner, and the Finlander Hall and the boarding house where Frank Little spent his last night. If you listen carefully you may hear echoes of "Solidarity Forever" coming from the great hall in the Finlander, or the slamming doors of a black Cadillac.
Ghosts — they're all around us, and they aren't just people.
Dick Gibson is secretary and webmaster for Butte Citizens for Preservation and Revitalization. For more information about CPR, visit www.buttecpr.org or stop by the office on Thursdays from 10 a.m. to 2 p.m., 405 W. Park St., Suite 200.