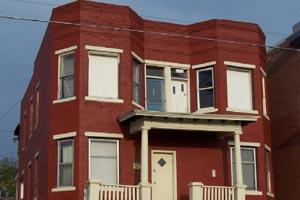 Editor's note: The following is one of a series of columns from the Butte Citizens for Preservation and Revitalization.
When most of us look at a building in Butte and consider its integrity, we think of whether it is falling apart — are there holes in the roof? Are the eaves collapsing?
But when a historic preservationist looks at buildings, he or she looks beyond physical condition to such hard-to-quantify things as location, design, setting, materials, workmanship, feeling and association.
The National Register defines integrity as "the ability of a property to convey its significance." Sometimes that comes largely through association, as with author Mary MacLane's connection to the home at 417 N. Excelsior. Setting and location are reflections of the neighborhood, how much it has changed, whether the building has been moved and other straightforward observations.
Workmanship, design and materials are also relatively easy to quantify, even to photograph. Who hasn't said, "They don't build 'em like they used to"? The art and craft of 1890s tinsmiths, carpenters and brick masons are obvious all over Uptown Butte, even in decrepit and damaged buildings. New vinyl windows subtract a lot from historic integrity, while an original open porch with turned Victorian columns will likely be a significant plus in terms of a place's significance. From roof lines to siding style, all elements of design and materials are critical to an evaluation of integrity.
What could be more subjective than feeling? Different strokes for different folks — one person sees the last surviving Queen Anne miner's cottage on a streetscape, another sees urban blight. Feeling is the sense of aesthetics, beauty and historic connection to a particular place and time — and often enough it can be really hard to look past a weedy yard and broken windows to see a place as it once was. We all know the clash of sensibilities when we see a sleek, modernistic steel and glass tower in the midst of Victorian gingerbread — even if objectively we appreciate that modern office, we feel that it is out of place.
That's what integrity means in a place like Butte, where all the elements come together in widely varying degrees. What is more important — maintaining the neighborhood's character or making room for something new? Sometimes the choice is not easy to make. Fortunately, professional guidelines are available to help us quantify such things, so that at a minimum, we know what we are keeping or losing.
Dick Gibson is secretary and webmaster for Butte Citizens for Preservation and Revitalization. For more information about CPR, visit www.buttecpr.org or stop by the office on Thursdays from 10 to 11:30 a.m., noon to 2 p.m., 405 W. Park St., Suite 200.