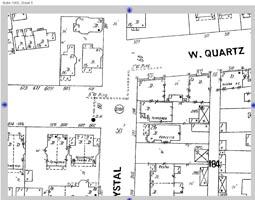 Editor's note: The following is one of a series of columns that will run throughout the summer from the Butte Citizens for Preservation and Revitalization.
Sanborn Fire Insurance Maps provide some of the best resources for understanding the neighborhood context and history of old buildings in Butte.
The Sanborn Co. began making the detailed maps in 1867. They were cited as gospel by insurance agents to determine liability — and cost of premiums — based on building materials, neighboring buildings, and proximity to fire stations and gas and water mains.
Butte Citizens for Preservation and Revitalization researchers used Sanborn Maps to discover the history of vacant lots at Copper and Alaska streets, where two churches once stood.
On the northwest corner, the Swedish Methodist Episcopal Church occupied the second floor of a small brick-veneered wood frame building, with housekeeping rooms on the first floor.
In 1916, the building had heat stoves and electric lights. The double hydrant mapped by Sanborn at the corner of this building probably reduced its insurance rate, although its wood shingle roof may have counted against it.
Across the street, the two-story Gold Hill Lutheran Church included a domicile in the basement. This building had electricity in 1916, and masonry-bearing walls.
The maps reveal interesting details that an insurer or fire department (or researcher) might need. In 1916 the Original Mine, according to the Sanborn Maps, was "run day & night — three 8 hour shifts — day & night watchman — power: compressed air & electric — heat: steam — fuel: coal — city water: hydrants & hose as shown — chemical extinguishers distributed." In 1916 in Butte, it took 115 sheets of paper, nearly two square feet each, to map out the city. The scale was 1 inch to every 50 feet.
The detail on the maps is impressive, as indicated by the information about the Original Mine.
Individual buildings were surveyed by Sanborn's army of agents, so sizes and details as portrayed on the maps are remarkably accurate.
For historical research on existing structures and vacant lots, the Sanborn Maps housed at the Butte-Silver Bow Public Archives, 17 W. Quartz St., should be among your first stops.
Dick Gibson is secretary and webmaster of Butte Citizens for Preservation and Revitalization. For details about CPR, visit http://www.buttecpr.org or visit their office on Thursdays 10 a.m. to 2 p.m., in the Museum of Fine Arts Butte, 405 W. Park St., Suite 200.