Before Nov. 29, 2017, Leslee Chiasson considered herself "normal": a military wife who loved to ride dirt bikes and four-wheelers with her husband and who had a job as a housekeeper at St. James Healthcare.
But on that day, Chiasson's life as she knew it changed. She had surgery to fuse two vertebrae after injuring her back at work. A few weeks post-operation, she realized she was pregnant — and addicted to her prescription pain medication.
"I was taking the pills as prescribed," Chiasson said. "Next thing I knew, I was physically addicted."
Chiasson soon became one of many pregnant women struggling with addiction on Dr. George Mulcaire-Jones's patient list — one of many the St. James Healthcare obstetrician knew about, at least.
Mulcaire-Jones said because there isn't a universal or standardized screening to identify addicted pregnant women at St. James, he and his colleagues identify only about one in three that come through their doors. And even if they are identified, Mulcaire-Jones says, most mothers continue using and discontinue treatment as soon as their baby is born.
"About 57 percent of women in Montana stop using during their pregnancy because they have the opportunity to," Mulcaire-Jones said. "But relapse rates are high, and many of these kids end up in foster care."
But by the beginning of next year, Mulcaire-Jones has reason to believe these circumstances will change for his patients.
His hope is due to a $150,000 Montana Healthcare Foundation grant. 
The money will allow St. James Healthcare to collaborate locally to provide addiction treatment services for pregnant mothers before, during, and after their due dates.
The grant will also ensure the hospital's prenatal providers are trained in recognizing addiction, and add a behavioral counselor to the provider team to work specifically with struggling mothers.
A statewide initiative
Last year, the University of Montana partnered with the Missoulian to produce Addicted and Expecting, a series of investigative stories that found the drug crisis among pregnant women is more prominent in Montana than in most other states, and that the Treasure State is behind in providing treatment services for this population.
According to a 2018 Montana Healthcare Foundation literature brief, the percentage of infants with perinatal drug exposure increased from 3.7 to 12.3 percent between 2010 and 2016 among Medicaid patients in Montana.
The brief also reported that only 6 percent of Montana's state-approved substance abuse disorder facilities had programs for pregnant and postpartum women in 2016 despite the rise in drug exposure.
Since 2015, the Montana Healthcare Foundation has worked to bridge this problem–solution gap through grant awards. But earlier this year, they announced a formal funding initiative called Solving Perinatal Drug and Alcohol Use.
St. James is one of eight healthcare providers across the state that recently received grant money as part of the new initiative.
"We wanted to be sure to get women the care they need when they are pregnant and struggling with addiction," Montana Healthcare Foundation CEO Aaron Wernham said.
Wernham addressed similar screening concerns as Mulcaire-Jones and acknowledged the state's crisis. Montana doesn't have robust data to show the full extent of the problem, but Wernham said there are some communities that have seen a 15 to 50 percent increase in drug-addicted newborns.
After looking at successful perinatal programs in other states, like Oregon's Project Nurture, Wernham and his colleagues decided to focus this new formal initiative on a few core elements:
• Provide team-based perinatal care that includes a behavioral health specialist. Wernham referred to this as ensuring a "warm handoff," meaning if a patient is screened for drug and alcohol abuse or mental illness at a prenatal visit, they are seen by the behavioral specialist that same day.
• Create a community team that works in coordination with the perinatal team to support these pregnant women.
• Create good care coordination to address additional factors that may influence addiction. Wernham said this includes addressing homelessness, lack of transportation to prenatal or counseling appointments, and unemployment among these pregnant women.
"It's really about treating the whole patient," Wernham said. "We don't want these women to have to make multiple appointments, so we looked at ways to help practices take on the full spectrum of perinatal and behavioral health issues."
You have free articles remaining.
Each community awarded these initiative grants is allowed to come up with their own strategies to implement the core elements. However, the grantees will only be funded for two years, Wernham said. They are expected to make their program sustainable and continue it on their own by the third year.
"We want to leave behind stable, well-planned programs," Wernham said.
Butte's plan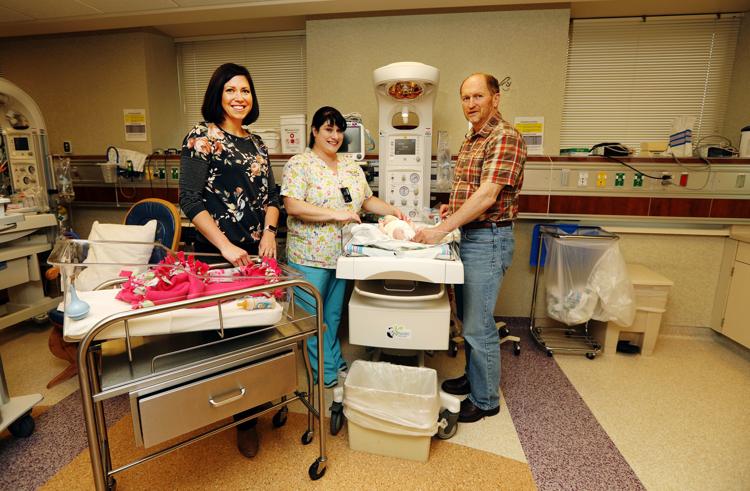 When Leslee Chiasson first told Dr. Mulcaire-Jones she thought she may be addicted to her pain medication, she was terrified.
"The scariest moment was when I looked at the OB and said, 'So, I'm struggling,'" Chiasson said. "It's not something I ever thought I would say. I cried two days before I had to tell him."
After her surgery, Chiasson said she was put on two narcotics. Then about a month out, she was just taking one at the max prescribed dose: 12 pills a day.
She quickly discovered she couldn't stand to take any less than the full prescription — and couldn't go more than a full day without the pills in her system.
Chiasson said she thought Mulcaire-Jones would judge her when she told him about her struggles, but what happened was the complete opposite.
"He told me this was what he wanted, he wanted me to ask for help. He changed my whole outlook on everything," Chiasson said. "It took a lot to put my ego and fears aside, but the last thing I wanted was to have my baby born addicted." (See related story.)
After Chiasson confronted Mulcaire-Jones, he put her on a tapering plan that bumped her down one pill every few days or so, Chiasson said.
When it became clear she couldn't stick to the plan, Mulcaire-Jones talked with Chiasson about an addiction treatment specialist in Anaconda, Dr. William Reiter, who he believed could help her through a common addiction treatment medication such as buprenorphine.
She started using Subutex, a form of buprenorphine, in April and remained on it during the last five months of her pregnancy.
"Subutex keeps me normal, keeps me able to function, so I can do right by my family," Chiasson said.
In early November, almost a year after her back surgery, Chiasson's family prepared for a move to Nevada and a fresh start. At their Butte house, Chiasson cradled her 3-month-old, 13-pound baby Jordynn, who is healthy and has never experienced withdrawal symptoms.
"After having her (Jordynn), I can't imagine seeing her suffer. She's never had to experience anything crazy in her little life," Chiasson said. "The honest route is the best way to go, and it was a lot easier than I thought."
Through the new grant-funded program, every struggling mother that comes into St. James Healthcare will have access to services that help them overcome their addiction, like Chiasson.
The hospital is close to hiring a behavioral specialist, who will work closely with Mulcaire-Jones and other St. James obstetricians as well as with a social worker, Joslin Hubbard.
St. James will also work with various grant partners, including the Southwest Montana Community Health Center, the Butte-Silver Bow Health Department, Southwest Region Child and Family Services, and the Butte Community Action Team. Another partner, the Montana Chemical Dependency Center, will receive St. James patients that may need their in-patient program, and St. James will help care for the facility's pregnant in-patients beyond their second trimester.
Mulcaire-Jones sees the first step in this multidisciplinary approach as educating prenatal providers on the underlying adverse childhood experiences (ACEs) or other issues that lead women and their partners to addiction. According to Mulcaire-Jones, adverse childhood experiences, such as sexual abuse or neglect, can increase the risk for depression and substance abuse as an adult.
These experiences of fear and emotional trauma can affect how our brains are wired, Mulcaire-Jones said, and much of our brain wiring happens within the first 1,000 days of a person's life — the most critical time in human development. That's why he believes this program is one of the greatest investments Butte can make for a healthier adult community.
"A family is most vulnerable if there are ACEs, mental illness, or substance abuse," Mulcaire-Jones said. "To change human behavior is profoundly difficult, but with these resources, we can try to break the cycle."