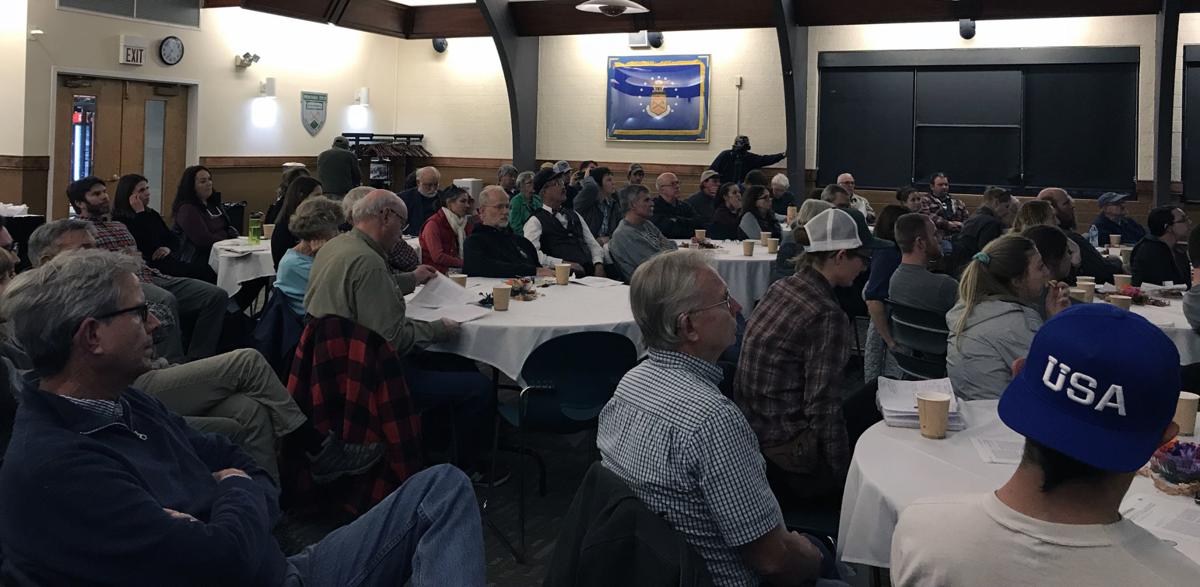 Brain and central nervous system cancers in Butte-Silver Bow and Anaconda-Deer Lodge counties were 72 percent higher than all other Montana counties from 2000 to 2015, according to an independent epidemiologist.
That's part of the new information Suzanne McDermott, a professor from the University of South Carolina-Columbia's Arnold School of Public Health, reported at her presentation at Montana Tech Thursday evening to a crowd of about 70 people.
She also said that liver cancer was 62 percent higher during that time frame and colorectal, small intestine, and anal cancer was 10 percent higher within that same period.
This is new information that McDermott has not yet published in an academic journal. She said she reached these new conclusions since late August when her paper on death rates in Butte-Silver Bow and Anaconda-Deer Lodge counties came out in the academic journal "Environmental Geochemistry and Health."
The state has maintained that there are no detectable "cancer clusters" in Butte or Anaconda. But McDermott said these new cancer numbers do not represent "clusters." To determine a cancer cluster, a researcher would have to drill down and get addresses of where these cancers occurred.
This information is countywide, meaning that the data could have come from as far away as Melrose in Butte-Silver Bow County or Georgetown Lake in Anaconda-Deer Lodge County.
McDermott said she does not have data based on neighborhoods. That data would be needed to determine if these elevated cancers from 2000 to 2015 indicate clusters.
In McDermott's paper published in late August, she and her colleagues said that deaths during the same time frame of 2000 to 2015 were significantly elevated for both men and women in Butte-Silver Bow and Anaconda-Deer Lodge counties for stroke, heart disease, organ failure, and cancer when compared to all other Montana counties from 2000 to 2015. Adult deaths from stroke and heart disease were 36 percent higher, deaths due to kidney and liver failure were 24 percent higher, and cancer deaths were 19 percent higher than all other Montana counties from 2000 to 2015.
During her talk Thursday, she also said that when metals such as arsenic and lead are mixed, they can have detrimental effects on brain development in a fetus during a woman's pregnancy if she is exposed.
What happens to a person when exposed to more than one metal is a concern that has long been expressed in the Butte and Anaconda communities, but there have so far been few answers. Both communities have five metals – lead, arsenic, cadmium, copper, and zinc – designated as the metals of concern at both Superfund sites.
McDermott said that over the time frame she studied, from 2000 to 2015, she saw improvement by 3 to 5 percent in mortality rates.
"The remediation is having an effect. Is it good enough? I can't answer that question," she said.
She also considers Butte's active mine a potential source for metals exposure to the general public. She previously said she based that on Montana Tech Professor Katie Hailer's study from last year that indicated that in a very small Butte population, more arsenic was in the Butte bodies than in a similar set of Bozeman subjects.
Hailer also found arsenic and manganese elevated over typical U.S. ambient air concentrations over an 18-week period. Her study began in 2014. One of Hailer's air monitors was placed across from Montana Resources' concentrator.
Mark Thompson, vice president of environmental affairs for MR, said by phone Thursday evening that MR has a "demonstrated track record" for worker safety and "we're dedicated to protecting our employees and our neighbors.
"We're interested in proposals for studies," Thompson said. "We're watching this very carefully. We don't want to hurt anybody. If they want help from us, we're all for it."
A call to Nikia Greene, Butte Hill project manager for the Environmental Protection Agency, was left Thursday evening. A call and email to Atlantic Richfield Company Thursday evening was also left.
Greene and representatives from Atlantic Richfield and the state attended McDermott's talk.
Laura Williamson, the state's epidemiologist, said "there are lots of possible reasons why we might see elevated cancers."
"The devil's in the details," she said.
McDermott has been studying metals in South Carolina Superfund sites for years. Her focus in her home state has been birth defects.
McDermott said her son, daughter-in-law, and granddaughter live in Butte. (Her son is Ted McDermott, a reporter and editor at The Montana Standard.)
McDermott said the next aspect she wants to consider of Butte and Anconda's health as Superfund communities is survival rates.
In addition, she and Hailer are tag-teaming on a pilot project in Butte. They have gathered baby poop from eight newborns at St. James Hospital, Hailer said. They are looking for 18 samples total.
They intend to investigate the newborns' feces to see if there are metals exposure to the pregnant mothers.
They hope to use their findings on the 18 samples to apply for a large grant next year that would enable them to expand the research to a large sample size.
One man who did not identify himself said from the audience that living in Butte may be a kind of health time bomb.
"Animals seem to run away from danger," McDermott responded. "We seem to stick right with it."
Get local news delivered to your inbox!
Subscribe to our Daily Headlines newsletter.