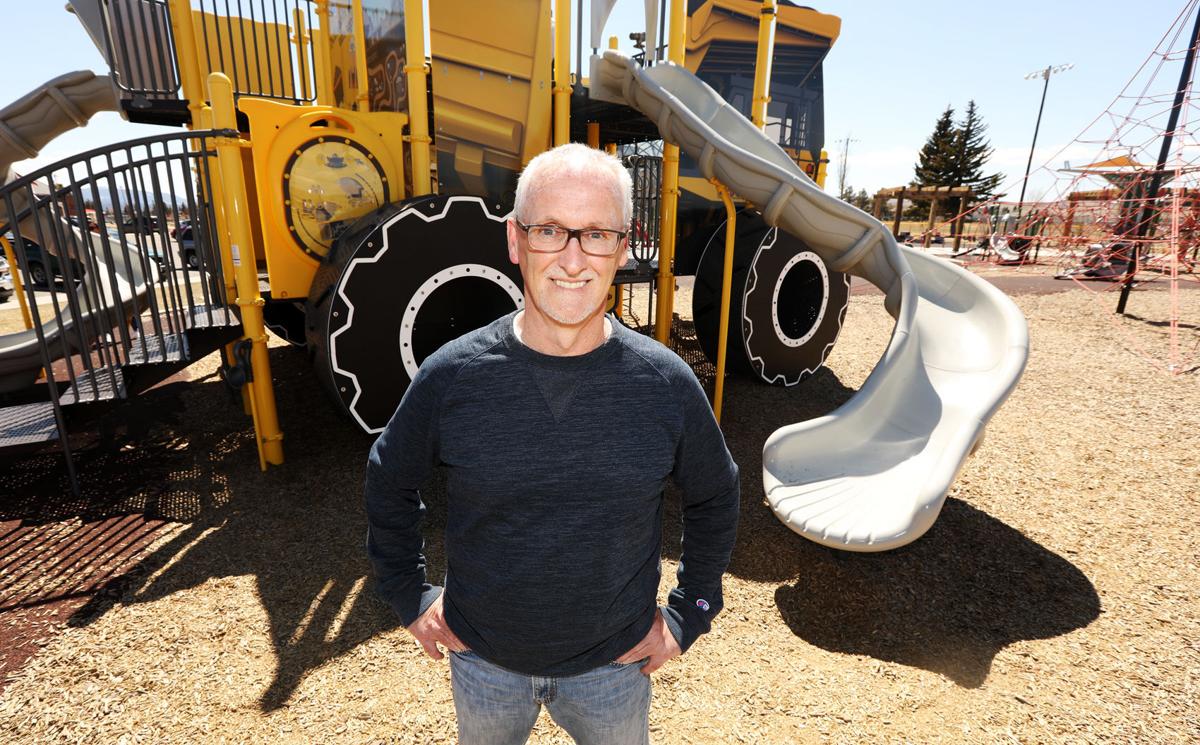 When it came to replacing himself as Butte-Silver Bow's parks director, J.P. Gallagher knew Bob Lazzari was a no-brainer.
Still, as the county's incoming chief executive, still feeling his way around, Gallagher thought it might be wise to cast a wide net in looking for his successor. Even a national search might be in order, so he told the media he'd probably do that.
Then Gallagher was sworn in, got his bearings, gained his footing, and changed his mind. No search needed. He was going with Lazzari.
Parks, more than anything, are for people and about people, and Lazzari — or "Laz" as so many in Butte call him — is really, really good at people.
"We couldn't have brought somebody in that has more love and passion for the job and cares more about the people than he does," Gallagher said, noting he was back to where he started. "It was a no-brainer situation."
Lazzari has done a lot during his 60 years of life in Butte.
He owned and ran a small bar for 20 years, was a laborer for Rocky Mountain Traffic Control, managed the bar and coordinated events for the Butte Country Club, and joined Butte attorney Rick Anderson in founding the Butte Cystic Fibrosis Calcutta in 2014, an annual event that has raised tens of thousands of dollars for research.
He was a code enforcement officer for Butte-Silver Bow when Gallagher, who had become parks director a few months before in 2015, brought him on as events and recreation coordinator.
That quickly morphed into doing most anything and everything for a department that oversees and maintains 37 parks, 60 miles of recreational trails, dozens of ball fields and courts, a public golf course and an $8.7 million water park.
They're in charge of other things, too, and Lazzari has had hands in all of them. For all intents and purposes, Gallagher said, he was an assistant director.
"He was an amazing guy in the fact that no matter what we had to do in a day, I could give him any responsibility and he would run with it," Gallagher said.
"He's not afraid to pick up trash, he's not afraid to help a kid in a park push a mower — he would take on any responsibility," Gallagher said. "Nothing is beneath him. And his relationships with the public just made my job easier."
Lazzari learned the ropes quickly, in part, he says, because he literally worked next to Gallagher.
"From the beginning we always shared an office because there was no other office space, so it was just kind of by osmosis that we both learned what each person was doing," Lazzari said.
It's likely a national search would have yielded some quality applicants — probably some current parks directors at bigger places and people with a college degree, or two, or three.
Lazzari studied two years at Montana Tech and spent a year taking engineering courses at Montana State University in Bozeman, then decided to "take just a year off" and bartend in Butte. Like so many who do that, he never went back.
But lots of folks agreed that Lazzari was a "no-brainer" pick.
"You know, they could have done a search nationwide and found somebody with impeccable credentials, but they couldn't do any better than Bob," said Glen Rafish, who knew Lazzari growing up but became close friends with him at MSU.
"Bob has the credentials but he also has that dedication," he said. "He was J.P.'s right-hand-man from the start. There was no better fit and it's probably one of the best fits the city has."
ALWAYS A PEOPLE PERSON
Lazzari says he's always been "pretty social," and maybe that started out by osmosis, too.
His father, Gil Lazzari, drove a bread truck for Eddy's Bakery in Butte until his retirement, and his mother, Geraldine, was a "stay at home mom," and for good reason.
There were eight kids to raise — five boys and three girls — and Bob was right in the middle. Four siblings were older, three were younger, and they grew up together in a house on West Granite Street. You learned to get along.
His folks are gone now, but it's clear his father passed down part of his personality to Bob.
"Gil had a knack for making friends easily and then keeping those friends forever," reads a line in his obituary in October 2010. "He loved people, and they loved him back."
Lazzari graduated from Butte High School in 1978 and after three years of college and some time bartending at the Black Angus, he opened up a little bar in 1985 he called "Laz't Call" on Harrison Avenue next to the "5 Mile'' bar.
The small building once belonged to the grandparents and parents of Lazzari's wife, Marsha, and for years was the "156 Bar," because it was located at 156 Cherry St. near Columbia Gardens. The bar closed the same night the Gardens did in 1972 and was later moved Harrison Avenue.
Lazzari loved his bar, mostly because of the patrons, so he ran it for 20 years before someone offered him a great price for the place and the land.
"To this day, I have a lot of contacts from people I met across the bar," Lazzari said. "I mean, my bar was a melting pot. Professionals, working guys, truck drivers, everything. A lot of sports fans. You got to learn to appreciate all the different jobs from all the folks that came in there."
Lazzari says he enjoyed his years with Rocky Mountain Traffic Control, where he learned a lot about labor and gained more appreciation for deadlines, and the Country Club, which was frequented by many of the same folks who came to Laz't Call.
He had been with the county about a year-and-a-half as a code enforcement officer when his and Gallagher's work crossed over during the Evel Knievel Days festival in July 2015. The event coordinator post within parks opened up soon after that and Lazzari applied for and got the job.
Part of his role was helping to organize or facilitate festivals and other events held in parks or other county venues and coordinating their use of chairs, tables, garbage cans and other inventory.
It's through parks that many people are able to play volleyball and softball and other sports, and it was Lazzari who got pickleball off the ground by helping arrange venues and courts and timeslots. It has grown in popularity since then.
The leagues that do the best, Lazzari said, are the ones the players or coaches manage themselves, but parks takes care of the fields and courts and coordinates their use. And it wasn't long before Lazzari's duties covered most anything.
GETTING THE BIG PICTURE
Lazzari was already a key player and team player in parks when Gallagher appointed him to the top post in February. Commissioners backed the choice unanimously.
Lazzari accepted the post with humility, saying he was lucky to live in a place like Butte "that offers so many recreational opportunities."
They have grown significantly over the past decade, with miles of new trails and more open spaces, establishment of Skyline Park and new baseball stadium, and construction and operation of an $8.7 million water park, among other things.
The department has also overseen major upgrades to Stodden Park and Highland View Golf Course made possible by $10 million in donations from the Dennis & Phyllis Washington Foundation and Montana Resources.
A big, new opportunity arrives June 1, when the Mining City Tommyknockers open their inaugural Expedition League baseball season at 3 Legends Stadium. The wooden-bat league has college-level players and mimics the minor leagues, with other features to add fun on top of the games.
"This is an event where a baseball game breaks out once in a while," Lazzari said with a smile. "It's entertainment they're selling."
The games should draw more people to the Copper Mountain Sports Complex off of Beef Trail Road, Lazzari said, which has trails and other amenities besides the baseball stadium that many still don't know about.
"Our struggle up there is to get people to realize how nice that park is," Lazzari said. "We want to see more participation in the park so we're excited about that."
Interest and participation in outdoor activities actually increased last year, he said, and he hopes as parks director that continues.
"Especially with COVID, I think people found out how important outdoor spaces were, and even in adverse circumstances, you can still get outside to a park or trail," Lazzari said. "Our numbers on the trails especially went up last year."
Lazzari hopes the county can expand the trail system even more, including the Greenway Trail aimed at linking Butte with Anaconda. And he wants to add new partnerships and activities to the long list that already exists.
Under one he just recently forged, Skyhawks Sports Academy, which offers summer sports camps for kids all across the country, will do the same in Butte this June and July. They will include weeklong camps in flag football, soccer, baseball, tennis, basketball, swimming and more.
But there's already a lot to the big picture.
There are 37 parks themselves to look after, many with multiple amenities, including picnic tables and pavilions that can be reserved and rented. There are always things that need repairing, vandalism to be erased, and lots of calls and questions from the public.
That's not going to change with Lazzari's new title, and that's OK by him.
"Some are complaints, and rightfully so. We try to address everything," he said. "Of course, they don't always like the answers. But the best part is, most of our calls aren't complaints. Most of what we get are compliments and great suggestions, and I'll tell you what. I've never had a good idea but I can steal a good one."
Gallagher is Lazzari's direct boss, but Laz knows he works for far more people than the chief executive.
"He never left somebody wondering with that unanswered phone call or unanswered e-mail," Gallagher says. "He always made sure he took care of the customer first. And that's what makes him invaluable."
Rafish, who manages the landfill operation in Butte-Silver Bow, said his friend knows parks, but he knows people even more. 
Many who just meet him, Rafish says, come away thinking they've known Lazzari for a long time.
"That's how comfortable it is to be around him," he said.