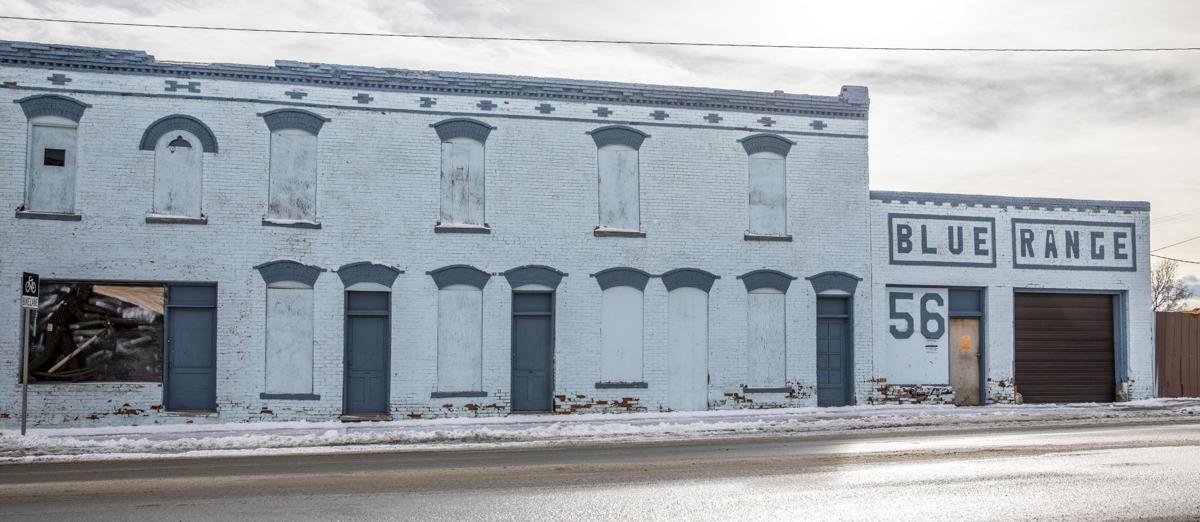 The fate of the "Blue Range cribs" is still up in the air following a meeting of the county's Historic Preservation Commission, though it appears the old houses of prostitution in Butte's once thriving Red Light District at least have a temporary stay from demolition.
Under a directive the commission approved Monday night, any demolition would be postponed at least 90 days while the cribs and another portion of the building at 56 E. Mercury were advertised for sale or lease for uses other than demolition.
But there was still confusion about the directive Tuesday and whether it could be appealed to the Council of Commissioners or be negated quickly by other county officials because of heightened safety concerns.
Staack's Motor Sports wants to buy the vacant, dilapidated structure from Butte residents Larry Hoffman and Nancy Russo, tear down the cribs and warehouse sections, and renovate a third section to use as additional space for its inventory.
Staack's says a certified engineer determined those sections are unsafe and suggested they can't be cost-effectively repaired, and based on that report, Butte-Silver Bow's building official posted it as a dangerous building. An abatement plan submitted by Hoffman and Staack's included partial demolition.
But preservationists want to save the cribs, saying they're part of Butte's heritage and the history of the West.
They are the only remaining example of brothel architecture "that clearly expresses its internal function on the exterior of the building, with each crib marked on the front façade by its own door and a window," Historic Preservation Officer Mary McCormick said in a recommendation that the HPC block demolition.
Kevin Feldman, a structural engineer from Bozeman, told the HPC Monday night the warehouse and cribs sections of the building were in such bad shape, they posed serious safety threats.
There were interior columns missing in the warehouse and the roof and main levels were at risk of collapse, he said. There were signs of brick failure and bricks falling from upper levels of the cribs, he said, and one wall bowed outward 6 inches, among other concerns.
Feldman said he's been part of numerous historic preservation projects over his 20-year career, but it would cost $600,000 to $800,000 just to stabilize and save the façade of the cribs. A low-grade renovation of everything would cost $1.3 million, a high-grade about $2 million, he said.
But he said time was a bigger concern.
"Historic preservation projects, in my experience, take a substantial amount of time and there are some immediate threats to life safety that this building is currently exhibiting," he said.
Hoffman, a longtime mining engineer in Butte, said he has owned the building for 40 years and had it listed for sale for some time without any interest, but it's now a safety hazard. The snow this weekend made it more dangerous, he said, and there were heavy snows to come.
Ed Staack said he's been in business for 55 years and is aged 70 now, and wants to expand for his son, who has taken over, and his employees. Demolishing the warehouse and cribs sections was the only safe and practical thing to do, he said.
"You can't be in it to remodel it because it will fall on your head," he told HPC members. "Number two, you can't store nothing in it, and you can't get insurance on it, so it's really of no value the way it is."
But McCormick said the cribs "are one of the most historically significant buildings left in Uptown Butte." She has suggested that grant funds could be found to rehab the building and she read letters from several people who want it saved.
"I just don't think we've had enough time to consider all the options," she said.
McCormick wanted the HPC to approve a 45-day stay of demolition so more alternatives could be explored, as it did later Monday night for a house in the Floral Park neighborhood on the Flat. That has sparked separate issues and controversies.
If the HPC ultimately recommends a demolition permit be denied for the cribs, that decision can be appealed to the Council of Commissioners. But McCormick said a 45-day stay before that could not.
But HPC member Mitzi Rossillon pointed to another part of the historic preservation code that calls for alternatives to be explored first, and one involves transfer of ownership.
It says if a property owner does not have the financial resources to rehabilitate an otherwise useful, economically viable building, the owner will advertise it for sale or lease for a minimum of 90 days with a local newspaper or realtor and then analyze offers.
The building was not economically viable for Staack's purposes, Rossillon said, but it might be for others, so she moved that Hoffman meet that provision. The HPC approved the motion 7-0 and McCormick said Tuesday it meant at least a 90-day stay.
But it wasn't clear Tuesday whether that section could be appealed to the Council of Commissioners, or whether other county officials might seek to override historic preservation provisions with heightened safety concerns.
Jim Fisher, who represents District 6 on the council, already weighed in with a letter to the McCormick saying he supported demolition of "all or parts of this building."
"This location needs to be used for the future upgrades to our Uptown area," he wrote. "Butte has many restorable structures. I do not think this is one of them."