When Monte Smith of Billings was 10 years old he got to experience what most children only dream of: he and his family found buried treasure.
The treasure that the Smith family found more than 50 years ago was a nearly 3-ounce gold nugget that Smith's father found while digging for the precious metal in Confederate Gulch of the Big Belt Mountains near Townsend.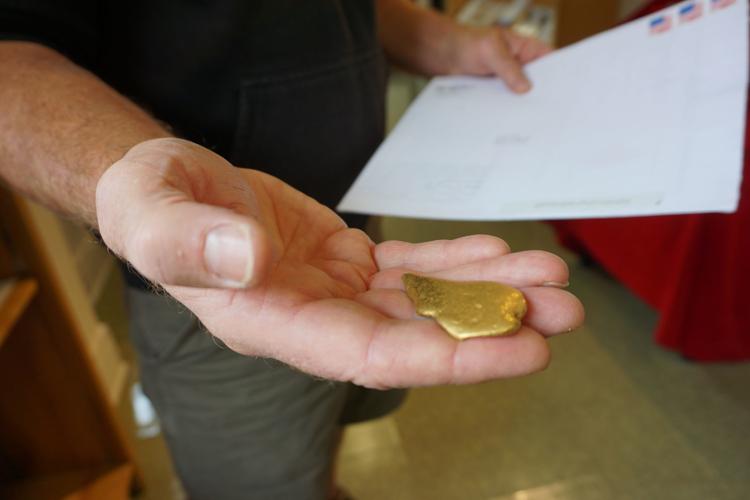 Weighing in at 2.7 ounces, the gold nugget has become a family heirloom in the Smith family, having been passed down from father to son. But on Wednesday, Smith donated the nugget to the Mineral Museum on Montana Tech's campus, which is overseen by the Montana Bureau of Mines and Geology.
Smith, a retired geologist, said he decided to donate the nugget to the museum because he and his wife don't have any children. Plus, he said, he formerly worked for the Bureau of Mines.
"I really loved those few years I worked for them," said Smith. "It just seems like this would be the ideal spot."
As the story goes, Smith's father Eldon H. Smith was the one who uncovered the gold nugget.
"He just happened to have the lucky shovel," said Smith, who drove from Billings to Butte Wednesday to deliver the nugget in person.
A wildlife biologist, Eldon started hunting for gold as a hobby after hearing about the practice from acquaintances.
Having found a good spot for camping, Eldon often brought his children to the Confederate Gulch area to look for the elusive metal.
The trips were more like family outings than serious gold-finding expeditions and were a time for the elder Smith to bond with his children.
It was these trips, Smith said, that solidified his fascination with geology and ultimately steered him on a path toward becoming a geologist.
You have free articles remaining.
You're out of free articles
Sign in or create a FREE account to keep reading.
When asked what his 10-year-old self thought when his father pulled the nugget out of the ground, Smith replied simply, "I was impressed."
After the big find, Smith's father declared he was retiring from gold hunting because he would never find a nugget like the one he found with his children in 1965. But his vow would only last for a few years, as he would take up the hobby again — perhaps a symptom of  "gold fever."
Smith said his father never did find another nugget as large as the one he uncovered during the family excursion.
But that didn't stop him from trying.
Eldon died in 2001 . Since then, Smith has been keeping the nugget stored away in a safty deposit box.
Before handing the nugget over to the museum, Smith got it appraised at around $9,000.
As of Wednesday, gold was trading at $1,198.30 per ounce, meaning that 2.7 ounces of gold should only be worth about $3,235. But Smith said the appraiser tacked on an additional $5,000 based on "intrinsic value."
John Foley, assistant curator at the museum, said determining the value of gold nuggets can be difficult at times.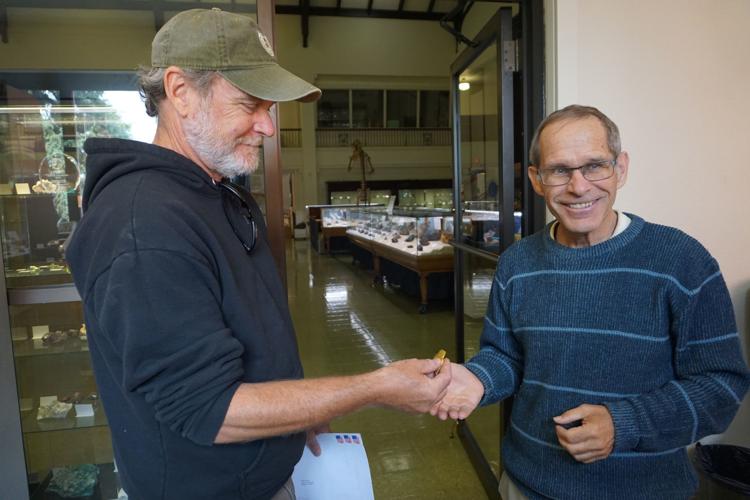 Foley explained that the price reflected by the market is based on the price of nearly pure "fine gold." And although gold nuggets can contain impurities, having come straight from the earth, they can often sell for more than fine gold because of other factors, such as geological importance, the time and place of their discovery and, in the case of the Smith nugget, the stories they tell.  
"When you can relate to the person and the family… that really brings it home to a lot of people," Foley said, reflecting on the museum's newest specimen.
In other words, there are some things you can't put a price on.