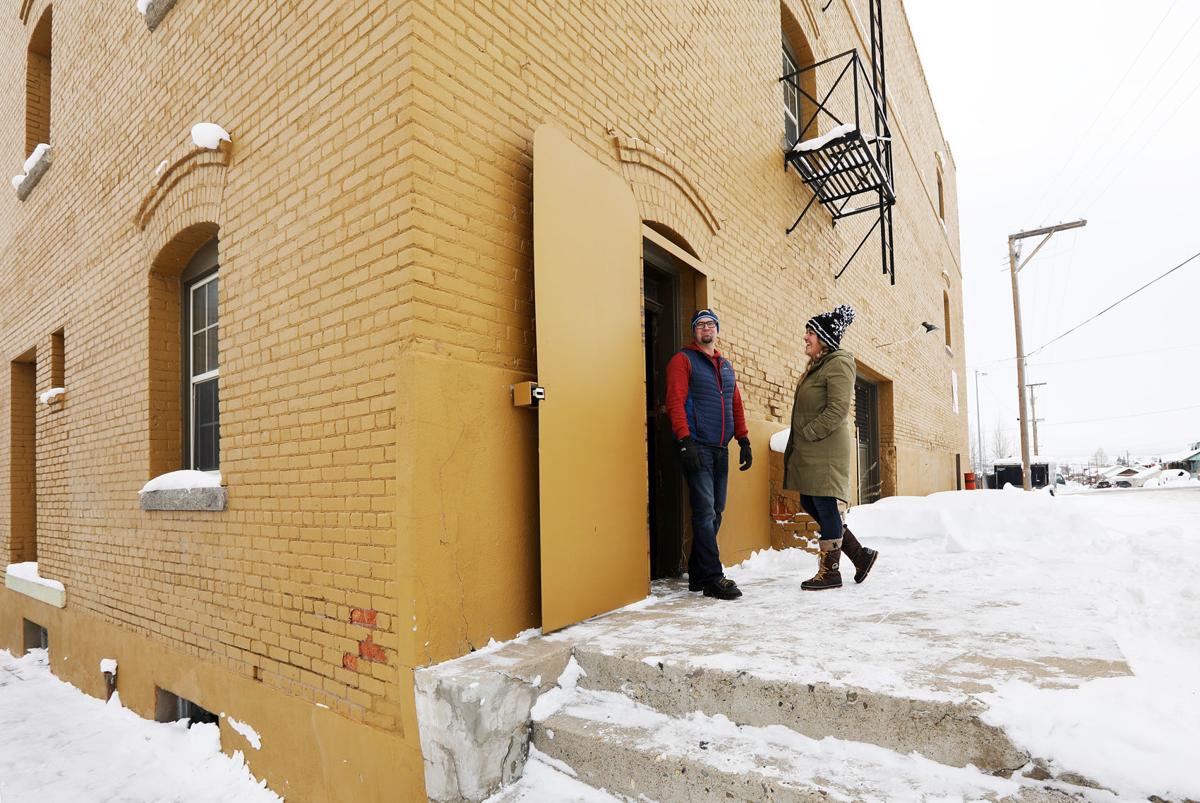 Butte's factory district could soon see more activity thanks to two developers from Billings who hope to turn a former cold-storage warehouse into a residential complex replete with hip, urban-inspired apartments.
Maisie Sulser and Mike Handley purchased 701 S. Arizona St. in 2017, and should everything go according to plan, they hope to begin demolition work later this month in the three-story building, where they will eventually install six one-bedroom apartments.
Sulser and Handley are the owners of the design and contracting firm Restôr Design + Build.
The couple is going all in on the Mining City, with plans to move to the first floor of the building, which they'll transform into a private residence. They spent about three years looking for an investment property in Butte before settling on 701 S. Arizona St.
The building where Sulser and Handley hope to turn their vision into a reality sits near Casagranda's Steakhouse, Christie Transfer & Storage Co., Alpha Technology, and the Butte Depot, among other businesses.
To some, the district may look like a graveyard of dilapidated old factory buildings, but to the husband-and-wife team, it's an up-and-coming neighborhood with a restaurant, technology company, and entertainment venue nearby — a kind of Brooklyn before Brooklyn was cool, and minus the gentrification.
"It just had a really good vibe," said Sulser, reflecting on what drew them to the neighborhood and the building. "Warehouses are great for residential (redevelopment) because they're really stout buildings. The layouts are pretty regular, so it's easy to put in walls and divide those into units."
Plus, warehouses provide ample opportunities for exposed heavy-timber beams and brick walls.
The building — which Sulser and Handley believe hasn't been occupied since the '80s or '90s — was formerly home to Fairmont Creamery, a Nebraska company that distributed dairy products throughout the U.S.
At its height, Fairmont was a Fortune 500 company and even had a seat on the New York Stock Exchange. In the 1980s, however, American Financial Corp. purchased the company and later sold or closed its properties.
Today, the ruins of Fairmont Creamery buildings across the U.S. are finding new life through a handful of development projects. In 2013, local developers embarked on a project to turn a Fairmont Creamery building into a 30-unit apartment complex in Cleveland. A similar project was completed in a Fairmont Creamery building in Buffalo in the 2010s.
In Butte, a tour of the former cold-storage facility Friday showed a bare-bones structure with a handful of walls and beams lightly charred throughout, the remnants of a fire from the 1980s. An empty elevator shaft ran through the building while a wooden chair with a broken arm rested eerily in a corner on the top level, the perfect sitting spot for ghosts.
Despite its rough-around-the-edges appearance, Handley said the building has good bones. It's structurally sound, while a previous owner has installed new windows and a new roof — the perfect canvas for a couple that has built a business on transformations.
Sulser, 36, has a master's degree in architecture from Montana State University and has been working in the field for about 10 years. Last year, she served as the interim development director for the Billings economic development organization Downtown Billings Partnership Inc.
Handley, 48, has been working as a builder for over 20 years.
Together, the couple has been operating Restôr Design + Build for three years.
"We'll do everything," said Sulser, noting the company runs the gamut from design projects to construction.
Sulser and Handley said a large part of their company's mission is based on the principles of preservation and restoration. The couple is big into architectural salvage and finding creative ways to use old materials.
"The greenest form of construction is repurposing an existing building," said Handley. "We strongly believe in that kind of work."
To that end, the couple plans to reuse much of the wood inside their Arizona Street property and will find new uses for other elements, such as the building's large cold-storage doors.
As for the apartments, the units will boast an aesthetic similar to urban lofts, featuring exposed wooden beams and brickwork. The couple said they think the apartments will appeal to Montana Tech students and young professionals.
Sulser and Handley plan to rent the apartments for anywhere between $800 and $900 a month, with utilities and internet included.
When asked if they're worried about being able to find tenants, Sulser and Handley said they're not sweating it. They believe their building and its location will bring something unique to the Butte rental market.
"I believe in this concept," Sulser said.
Get local news delivered to your inbox!
Subscribe to our Daily Headlines newsletter.