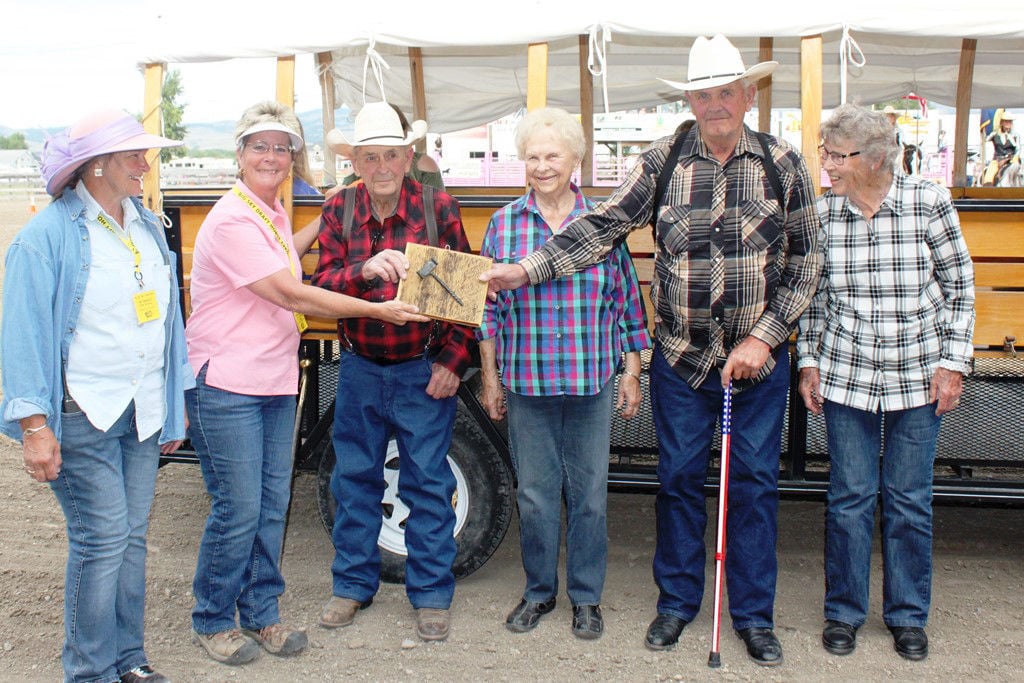 DEER LODGE — During the Grand Entry of the 22nd Big Sky Draft Horse Expo Saturday evening in Deer Lodge, the Benson Ranch of Avon and Deer Lodge was honored as the newest inductee to the Montana Draft Teamster Hall of Fame.
The Benson Ranch has been in the family for more than a century and used draft horses until the mid-1990s, one of the last ranches to depend on teams after most ranchers turned to tractors. The Hall of Fame honor recognizes their long use of draft horses, education of others, and service to their communities. They are also long-time sponsors of Draft Horse Expo.
In 1960, when the interstate bypassed Deer Lodge, Bensons were still haying with horses. Amazed by the scene, many passers-by parked along the freeway to watch horses pull mowers, rake hay with dump (sulky) rakes, and bunch and move hay to the stack with buckrakes. Horses pulled up the beaverslide baskets of loose hay, dumping it onto the stack.
The Benson Ranch home place is at Avon. Earnest Benson, born in Sweden, early on drove ore wagon teams from Castle to East Helena. He later started ranching near Stevensville but moved from the Bitterroot area at the insistence of his wife Ida. Rocky Mountain Spotted Fever was claiming lives, and she wanted to protect her family. Their son John, age 14 at the time, remained on the ranch. He married Ester (Welch), and they had a family of three boys and two girls. Two of the boys, Bruce and Fred, became partners and third-generation owners. Bruce and his wife Pauline (Bignell) remained on the Avon place while Fred and his wife Dorothy (Eliason) live on the ranch north of Deer Lodge (acquired in 1954).
The Benson families are known for helping others. Stories abound about their unhooking a team from the feed wagon to pull a neighbor's car out of the snow or helping neighbors to break or buy teams. They have taken those teamster skills learned from their grandfather and father to do their work and teach others.
The Montana Draft Teamster Hall of Fame was established in 2007 as a way to recognize individuals, ranches, businesses, or other entities who promote the preservation, education, or use of draft animals and/or draft equipment for work or pleasure in Montana.
Get local news delivered to your inbox!
Subscribe to our Daily Headlines newsletter.