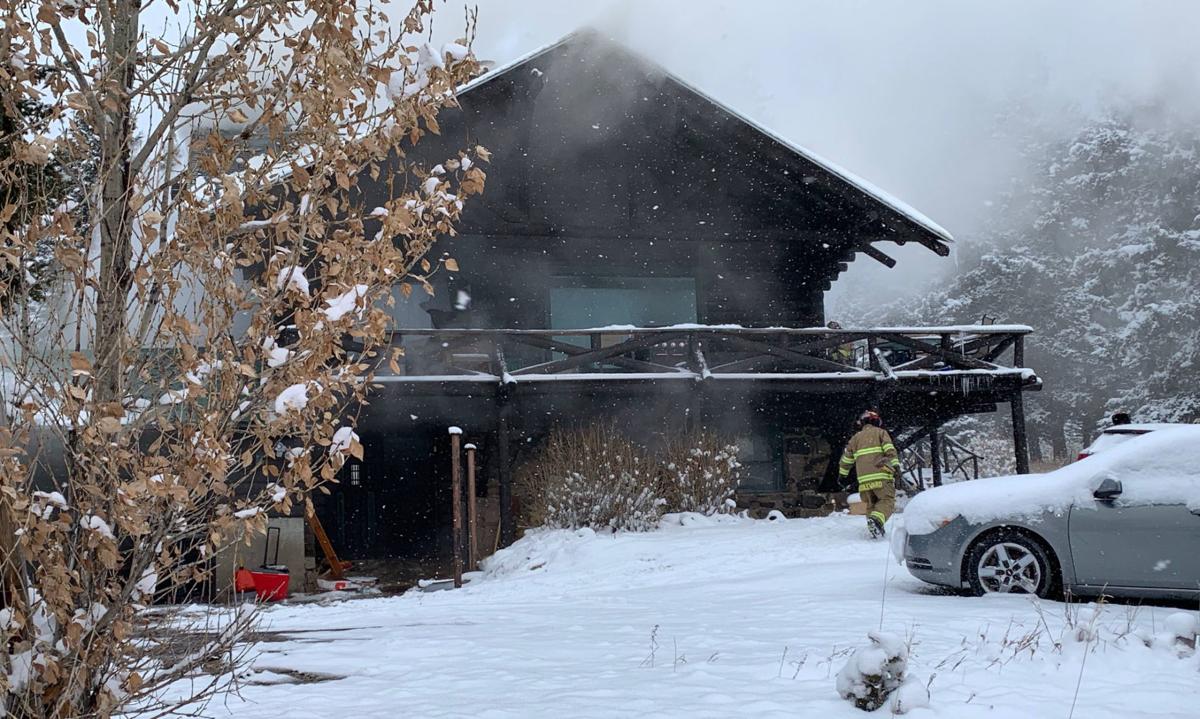 The parents of four young children were out hunting on the Friday after Thanksgiving when a house they rented near the East Ridge caught fire while the kids were home alone, police say.
Three girls and a boy, ages 4 to 10, got out of the house near 4500 Saddle Rock Road safely, as did a dog, and were outside in the yard when a man passing by on Interstate 15-90 saw the fire and called police.
The fire in the rustic, log-style house was started accidentally on a dresser in a bedroom two of the girls shared, Brian Doherty, Butte-Silver Bow's fire marshal, said Monday.
Firefighters thought they had it contained and went inside briefly but flames hit an attic full of items and the fire started raging again. The bedroom where the fire started is directly below the attic, Doherty said.
"It looked like they had it knocked down really well and the attic space began to rear its ugly head," Doherty said. All firefighters retreated outside and the roof ultimately collapsed.
"It's a total loss," Doherty said.
The kids were taken to St. James Healthcare to get checked and authorities reached their parents, who met them at the hospital, Undersheriff George Skuletich said Monday. Three of the kids are girls, ages 4, 7 and 8, and the boy is 10.
The children were turned over to Child Protective Services that day, Skuletich said, because they could provide clothing and immediate care and shelter to the children.
It was not because of any alleged negligence, he said, although police are still conducting interviews and investigating. Relatives of the parents did not have room to accommodate the children.
Skuletich was not sure Monday if the kids were still with protective services. The names of the parents were not released.
The owner of the house lives in California now and has rented out the house for years, authorities said. The house caught fire around 11:30 a.m. Friday, when it was snowing lightly and temperatures were slightly above 10 degrees.
Doherty said the boy was in another room but smelled smoke and was able to get everyone outside quickly.
Flames were shooting out when firefighters arrived from Butte-Silver Bow and the Home Atherton Volunteer Fire Department, and several tanker trucks brought in water because there are no hydrants near the house.
Firefighters hit the house with water from the outside at first, made entry briefly, but got out when it was clear the attic was burning. It wasn't long before the roof collapsed.
"The attic space was full of stuff and it was locked, too," Doherty said. The fire was fought defensively from that point and the house is considered a total loss.
"It is standing but structurally it will never be able to be rebuilt," he said.
Get local news delivered to your inbox!
Subscribe to our Daily Headlines newsletter.