The kitchen at Butte's Holy Trinity Serbian Orthodox Church was abuzz with activity Thursday as female parishioners gathered to prepare food for Saturday's Serbian Food Festival.
The women were preparing pita, a strudel-like dish that features an apple filling. It's a dish, the women said, that is often served during Christmas, Easter and other holidays in the Serbian community.
Serbian desserts are not for the faint of heart, but for those who dare, here are some Serbian recipes from the "Butte Heritage Cookbook," pri…
Amid the kneading of dough and the slicing of apples, Father Russell Radoicich, the church's priest, arrived. Everyone paused as Father Radoicich gave a blessing.
Saturday will mark the second run of the Serbian Food Festival, which organizers hope to add to the pantheon of festivals put on in the Mining City each year.
Lisa Shea Vucurovich, who is leading the public relations for the festival, said last year's event was well-attended.
This year more people are expected to travel from out of town for the festivities, Vucurovich said, adding that a few folks have already pre-ordered their food.
Pita will be just one of the culinary delights available Saturday on Holy Trinity's campus on Continental Drive, as they'll be plenty of other dishes to tantalize the senses, including baklava and a Butte mainstay: the humble yet regal povitica.
Povitica is a dish familiar to most Mining City residents, but a few of Saturday's dishes will be off the beaten path, such as priganica, which is best described as a Serbian doughnut hole.
Attendees of the festival last year lined up for the priganica, which volunteers made one at a time as they are best served fresh.
But this year, said festival food chair Sue Radoicich, parishioners are coming prepared for hungry festivalgoers with a commercial-style fryer on loan from the Annunciation Greek Orthodox Church in Missoula. The intent is that no Butte resident will have to go without fluffy, fried-dough goodness.
"Hopefully we'll keep up with demand," said Radoicich.
Radoicich is the wife of Father Radoicich, to whom she has been married for around 30 years. She said she didn't grow up with Serbian recipes, but they've become dishes she's learned to cook over the years.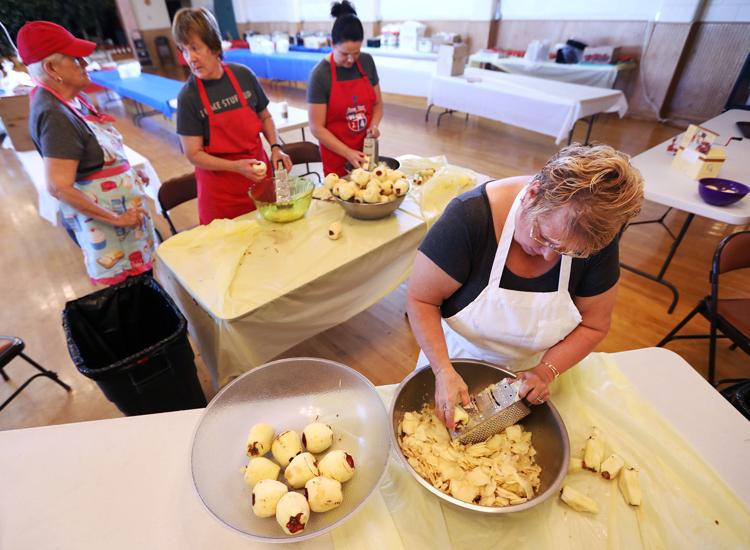 She explained that the Orthodox Christian faith is practiced among ethnicities all over the world, including in Greece, Ethiopia, Russia and Turkey, making Saturday's festival an international affair.
In keeping with the Church's international reach, Greek dancers from Salt Lake City will travel to Butte to show off their moves, while music will be supplied by Krisko's Dance Party.
There will also be tours of the inside of Holy Trinity, which features elaborately rendered floor-to-ceiling frescoes. The frescoes were hand-painted by modern-day iconographers from Europe, who spend years learning their craft.
Sue Radoicich described the Serbian Orthodox community as welcoming and warm — a realm that's rich in family and cultural traditions. It's a way of life, she said, that has enriched the lives of her children, who in their youth attended Orthodox summer camps, where they learned cultural traditions like Serbian dance alongside religious teachings.
Register for more free articles.
Stay logged in to skip the surveys.
For Radoicich, being part of the Orthodox tradition brings about a feeling of connectedness — not only to one's family and community but also to a faith that has existed for thousands of years.
"You're connected," she said. "You're not just an island."
What also gets passed down from generation to generation are family recipes.
Jennifer Koprivica Shea, who's serving as the festival's dessert chair, learned to cook as a teenager from her aunt Mary Koprivica Asanovich.
"I was a junior in high school and I learned how to make it in her house," said Shea Thursday while kneading dough for the apple pita. "She was a phenomenal baker and cook."
Shea explained that she and the other volunteers will stretch the dough by hand over a table until it becomes paper-thin. The dough, which ends up as a flaky pastry, needs to be stretched and not rolled — otherwise, it can't achieve the desired thinness.
The festival's menu Saturday won't be just for those with a sweet tooth as there will be a host of savory dishes too – plates like homemade kielbasa, roasted lamb, Serbian polenta, and zeljanicia, a layered dish that features spinach and phyllo dough.
The showstopper will arguably be the festival's whole pig, which will be barbecued on a spit outdoors, along with the ćevapčići – a skinless sausage made from pork and beef served with flatbread and an eggplant red-pepper sauce.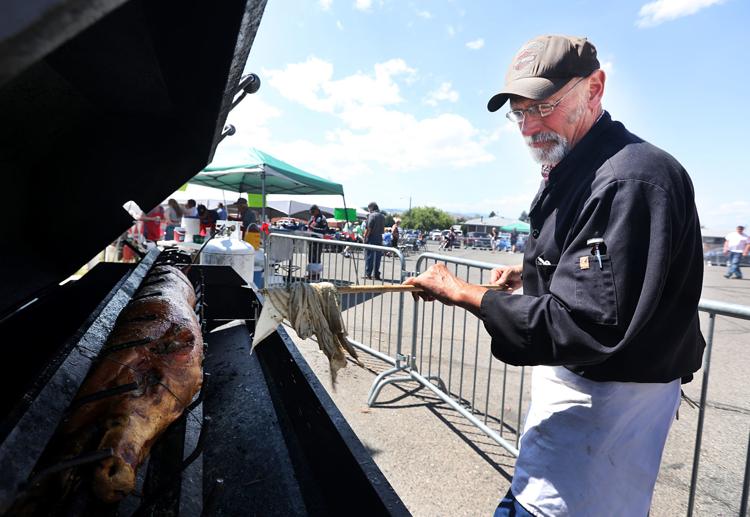 Darlene Battaiola Thursday was busy peeling apples on a hand-crank peeler.
As the skin of an apple unwound like a red ribbon, Battaiola explained that, while she was growing up, her grandmother did most of the cooking. Her grandma spoke mostly Serbian, so Battaiola didn't learn to cook Serbian food until she was an adult. It was the women of the church, she said, who taught her the Serbian cooking tradition.
"You want to carry on the heritage of your family and your ethnic background," said Battaiola, explaining why she sought the women's collective culinary wisdom.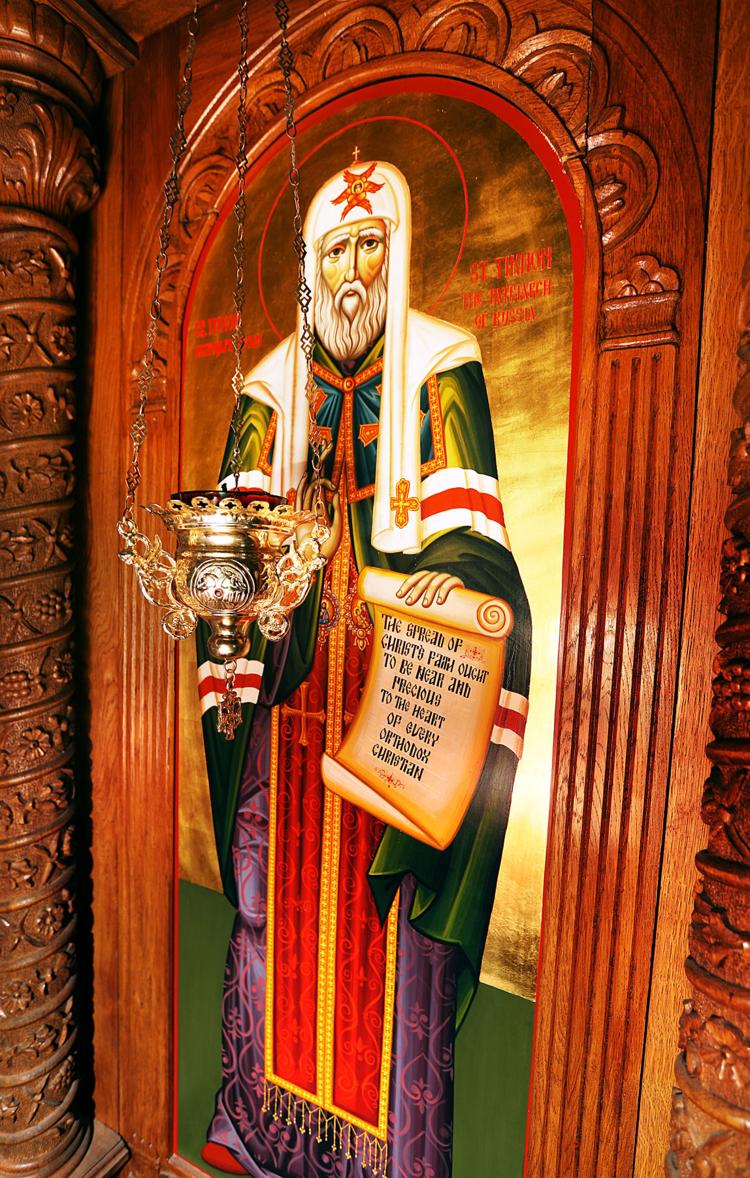 Since then, said Battaiola, who doesn't have any children of her own, she's gone on to cook pita and povitica with her nieces.
Denise Horn, congregation president, said Thursday that parishioners had already prepared five poviticas for the festival. She added that there will be four pitas in all, each with 26 apples for a total of 104 to be peeled and thinly sliced.
Horn said she felt last year's festival was a success, adding that a highlight was being able to share the church and its traditions with the Butte community. The church tours included choral singing and were led by Father Radoicich, who she said spoke eloquently about the meaning behind the architecture and frescoes.
"It's a lot of work," said Horn of preparing for last year's festival. "But we loved it."