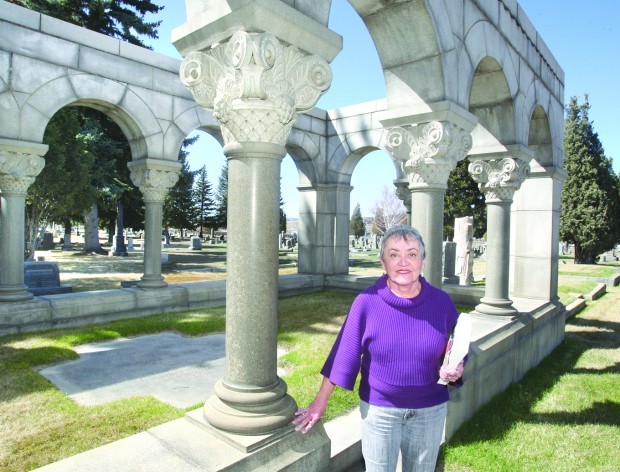 Headstones may be quiet, but they sure tell plenty of stories.
Zena Beth McGlashan, of Butte, has been
stories for many years. The result is a self-published book she's written featuring
photographs of headstones in Butte cemeteries and the stories about the people they mark.
For the past nine years, McGlashan photographed headstones and then researched the history of the people buried there. Interesting stories abound.
anybody who likes stories and I think the stories are so compelling," McGlashan said.
Some of their lives sound like a movie straight out of the Lifetime network.
At Mountain View Cemetery, McGlashan found the graves of a husband and wife who died on the same day in the 1920s. Digging deeper into the story of Burt and Mabel, McGlashan discovered a murder-suicide. Burt slit his wife's throat and then drank poison after the couple had only been married one week.
She also found the grave of a veterinarian who worked for a traveling circus from back East. He died while trying to rescue animals from a train fire which occurred as they passed through Butte.
McGlashan did much of her research at the Butte Public Archives. She also credited Tim "Chili" Kearney, as he allowed her to peruse his old newspaper clippings collection.
"It's more of a piece of journalism than anything else," McGlashan said of the book.
The project started rather unexpectedly.
McGlashan said her late husband, who was a photographer, got her into the habit of carrying a camera everywhere. One day she saw an interesting tombstone and took a picture of it. She found herself shooting more.
"I'm not a cemetery person; I wasn't then, either, but I just shot things that looking
interesting to me," she said
McGlashan is a trained journalist, but admits she's no expert photographer.
photographer and tombstones are ideal when you're not a good photographer, because they don't move," she said.
Author signing books today at Hastings
Zena Beth McGlashan will sign her book, "Buried in Butte," at Hastings Books and Music, 2307 Harrison Ave., from 1 to 3 p.m. Saturday. The 464-page book features 277 photographs and illustrations.