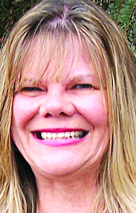 Joan Melcher always felt her one-act show "I, Mary MacLane," should debut in Butte.
And when the play she finished nearly 20 years ago finally took to the stage Thursday, she got her wish.
"It's a piece of Butte history," she said. "It's the first play I wrote, and I'm really happy to have it open in Butte."
Melcher started working on the project in the mid-1980s while she was living near where Mary MacLane's used to call home on Excelsior. She read all of the famous Butte author and provocateur's books and realized it would make for great theater.
"I was just astounded by her writing," Melcher said. "I thought she was fabulous. In my opinion she was one of the best writers of her time — man or woman."
So Melcher started to meld a one-act play out of MacLane's writing and a few years later, after moving to California, she workshopped the piece with a group of friends.
By the early 1990s it was finished and received a stage reading at a theater in Santa Barbara, Calif. But by then Melcher was on to other things and the play was never professionally produced.
About five years ago she heard about a professional troupe in Butte, Big Sky Repertory Theatre, and sent the manuscript. It sat on director Andreé O'Shea's desk for years.
"I don't even know why I picked it up," O'Shea said. "But once I did I thought this is the perfect time for this. I knew we had to put in on."
Melcher, too, said the work, despite its age, still feels current.
"I don't think it has any problem with aging," Melcher said. "Her stuff is over a hundred years old. It was dated to begin with."
She said MacLane's struggles still speak to today's issues.
"She just was so far beyond her time," Melcher said. "Her message of confidence and believing in herself is still important. She didn't back down from things."
Melcher, who lives in Missoula, said she had not seen any of the rehearsals before taking in Thursday's opening night show. She hopes others will see the shows.
"It will be like a trip back in time" she said.
Big Sky Repertory Theatre presents the one-act play "I, Mary MacLane" and an evening of Butte Burlesque Friday and Saturday, March 4-5, at the Silver Dollar Saloon, 133 S. Main St.
Shows are scheduled for 8 p.m. Friday and 2 p.m. and 8 p.m. Saturday. Seating is limited. Tickets are $15 each and are on sale at Books and Books, 782-9520.
In the MacLane play, Haley Nelson plays Mary MacLane and Rob Cox plays the devil-god.
Butte Burlesque features performers Cory Wendling, Haley Nelson, Melissa McGregor, JoAnne Nordhagen, Brian Mogren, Jason Driscoll, Shayla Cox, Andree O'Shea, Paula Canfield and Rob Cox, accompanied on piano by Joanne Lewis.