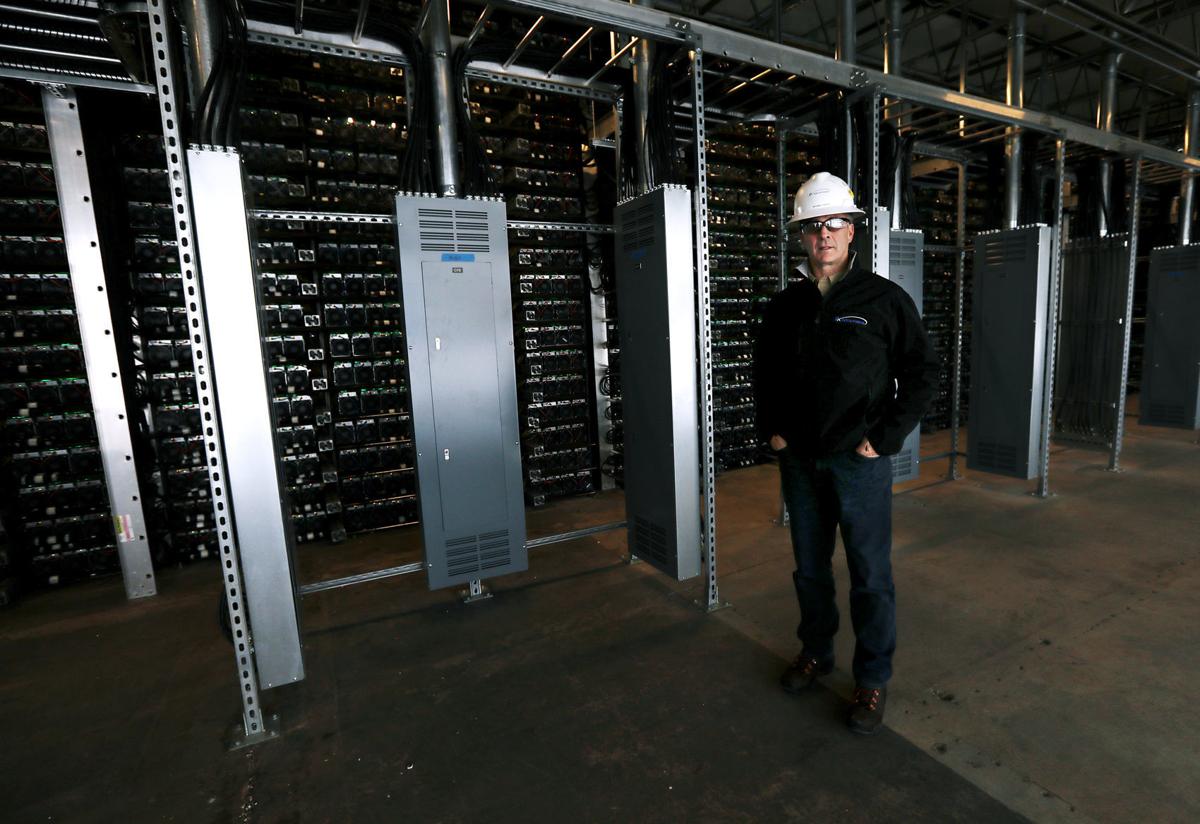 FX Solutions, owned by Rick Tabish, and Kevin Washington both filed lawsuits in Butte-Silver Bow District Court Thursday, demanding millions in damages from the jailed majority owner of CryptoWatt, the Butte bitcoin "mine."
Matthew Brent Goettsche, the majority owner, was indicted Dec. 5 by a federal grand jury in New Jersey, charged in connection with what authorities called a $722 million bitcoin Ponzi scheme. Charges include conspiracy to commit wire fraud and conspiracy to sell unregistered securities.
Tabish is president and CEO of FX Solutions, which has contracted with CryptoWatt since January 2018 to operate the Butte facility at 200 Technology Way, the former MSE site. Kevin Washington, son of billionaire industrialist Dennis Washington, owns an individual minority stake in CrytptoWatt, unconnected with the Washington Companies. 
Washington says he's invested "tens of millions" and is owed damages of at least $10 million.
Friday, Tabish said the plaintiffs would quickly seek injunctive relief to set up a receivership for CryptoWatt, which he said, "is the only available mechanism to get the plant operating" because no vendors want to have anything to do with Goettsche while he is under indictment. Tabish said that request could be filed with the court as early as Monday.
In an affidavit attached to Washington's suit, Tabish says that Goettsche is currently in jail pending trial, and that his "inability to conduct financial transaction(s)" has caused all CryptoWatt operations to cease, resulting in all 32 of CryptoWatt's Butte employees to be laid off. He said some $84,000 in checks from CryptoWatt to his company, FX Solutions, primarily for payroll for employees, have been returned for insufficient funds.
Tabish's affidavit said CryptoWatt's electrical power contract with Northwestern Energy is "in arrears," threatening the continued viability of the plant. If the power contract is not paid within a short time, it could imperil the plant's ability to operate.
Tabish said the cryptocurrency mining facility in Butte, which his company constructed for the previous owner, represents an investment of $142 million as it stands, with servers and other necessary equipment. He said the plant itself, including its own electric substation, is worth $68 million.
According to the indictment, Goettsche, 37, of Lakewood, Colo., created and operated BitClub Network, "a worldwide fraudulent scheme that solicited money from investors in exchange for shares of pooled investments in cryptocurrency mining." It said the scheme "rewarded existing investors for recruiting new investors."
Craig Carpenito, the United States Attorney for New Jersey, said the fraudulent club was "little more than a modern, high-tech Ponzi scheme."
"We are building this whole model on the backs of idiots," the indictment stated Goettsche said, and quoted him as referring to the investors as "sheep."
Tabish asserts in FX Solutions' suit he is also owed millions from two other uncompleted Montana bitcoin mining facilities his company contracted to build for Goettsche — one in Pablo and the other in Broadview.
In August 2018, more than seven months after FX Solutions began its work at CryptoWatt, Goettsche bought controlling interest in the Butte facility. At around the same time, he contracted with FX to build a bitcoin plant in Pablo. According to the suit, the contract called for Goettsche to pay $1.5 million to take title to the land, and fund the remaining build-out for more than $5 million — more than $4 million of which was to be a direct payment to FX.
Goettsche made the land payment, the suit says, and then FX began to develop the property, hiring a subcontractor to excavate and pour a concrete floor. The company also commissioned a power availability survey. FX "incurred substantial costs by paying for the services of CTA Engineering, Treasure State Construction and Mission Valley Power."
In late 2018, the suit says, Goettsche breached the Pablo contract "without explanation," refusing to pay FX, and leaving FX both out of pocket for work done and with "lost profits in an amount to be determined at trial," the suit says.
Also in August 2018, Goettsche contracted with FX to build a bitcoin facility at Broadview. The suit states Goettsche made an initial payment of $2.8 million on what was expected to be a facility worth approximately $100 million. That price tag included "a $14 million profit for FX Solutions," the suit says.
As with the Pablo project, the suit says, FX Solutions spent substantial upfront money after Goettsche's initial payment. Among those expenditures was $990,000 to NorthWestern Energy for a comprehensive "megawatt draw study" of the proposed Broadview facility.
"In addition, FX Solutions Inc. hired and paid subcontractors, rented heavy machinery, purchased materials, paid freight bills, hired and paid engineers and consultants, hired and paid labor and incurred other substantial costs," the suit says, adding that work done by FX "resulted in the construction of 4 miles of cement treated roads, an electrical substation, infrastructure, building pads and drainage control."
In late January 2019, the suit says, Goettche breached his contract with FX on Broadview, "refusing to pay any more money."
At that time, FX "had advanced $8,273,360.00 in performance of its (Broadview) contract with Goettsche," the suit says, leaving the company out of pocket some $5,376,928, in addition to anticipated future profits.
At the bitcoin mine in Butte, Goettsche and FX entered into a contract in November 2018 for FX to retrofit the facility with more powerful bitcoin mining servers. That contract called for Goettsche to pay approximately $3.5 million for the upgrade. According to the suit, Goettsche made payments totaling "approximately $830,409," then refused to make any more payments, while owing FX $2.56 million.
Tabish and his company say Goettsche has also failed to pay invoices related to operating expenses at the CryptoWatt plant totaling $4.183 million, and said because of his failure to pay, Tabish has experienced losses "in an amount exceeding $3 million to be determined at trial."
Immediately after the indictments, Tabish says, he was paying the CryptoWatt employees from his own pocket, but that could not be sustained long term. "A lot of people wanted time off around Christmas," he said, so the plant is idle at present. Tabish said Friday security personnel are still at the site.
Washington and Tabish both assert in their respective suits they were outright fraud victims, saying Goettsche never told them he was leveraging his ownership in CryptoWatt to fool investors.
Washington contends as majority owner, Goettsche "was able to obfuscate and hide the true number of Bitcoin actually mined" and assigned fewer bitcoin to Washington than the number to which he was actually entitled.
Further, Washington says, Goettsche used "Bitcoin mined at the CryptoWatt facility … as his personal piggybank to make outside investments amounting to millions of dollars" without Washington's knowledge, thereby depriving Washington of his ownership interest — including an interest in funds in accounts now targeted for forfeiture by the federal government.
Washington, reached briefly by cell phone in a quest for comment on Friday, said he was moving out of cell range but could be reached later.