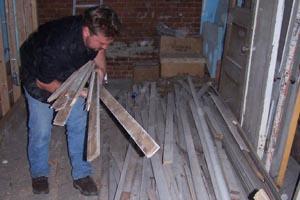 Editor's note: The following is one of a series of columns to run throughout the summer from the Butte Citizens for Preservation and Revitalization, or CPR.
Butte encourages and helps with preservation and restoration of Butte's historical architecture. Sometimes demolition is unavoidable, whether the result of a century of neglect or an accidental fire, or change in the use of a structure. When that happens, you'll hear us talking about salvage.
Salvage is about historic elements of structures staying here in Butte, as well as about providing low-cost incentives for historically appropriate restoration and rehabilitation. We've diverted radiators, sinks, doors, windows, and piles of lumber from bead board to floor boards from disposal.
Former owners donate all salvaged materials and the proceeds become part of CPR's fund for Historic Improvement Grants. In this way, the community benefits from both the material and the dollars.
Some of CPR's larger salvage efforts have included a major renovation of a building on the Montana Tech campus, the Superintendent's House at the Montana State Hospital at Warm Springs (in cooperation with the Anaconda Historical Society), and various residential properties that St. James Healthcare intended to demolish.
Recently, most items are donated simply because their owners wanted to clean stuff from storage. CPR was able to salvage maple, oak and fir flooring, staircases, moldings, pillars, hardware, doors and door frames, casings, baseboards, drawers, tin ceiling tiles, marble, windows, banisters and bathroom furnishings.
Thanks to multiple donors of storage space — most recently Kay and Carl Eccleston — CPR's salvage materials are housed at no cost, and are picked up and organized by volunteers led by Robert Edwards.
If you have salvage to donate, or want to make an appointment to see what CPR has to sell, call Robert at 723-1219, or plan to attend the Salvage Garage Sale this Saturday at the Grand Hotel, alley access. (See breakout story.) Dick Gibson is secretary and web master for Butte Citizens for Preservation and Revitalization. For more information about CPR, visit www.buttecpr.org or stop by the office on Thursdays from 10 a.m. to 2 p.m., 405 W. Park St., Suite 200.
The Salvage Garage Sale will be held at the Grand Hotel, 124 W. Broadway St., alley entrance on south side, from 8 a.m. to 4 p.m. on Saturday Aug. 23. Available materials include doors, windows, plumbing fixtures, beadboard, diverse molding and wood of many types.
It's sponsored by the Butte Citizens for Preservation and Revitalization.