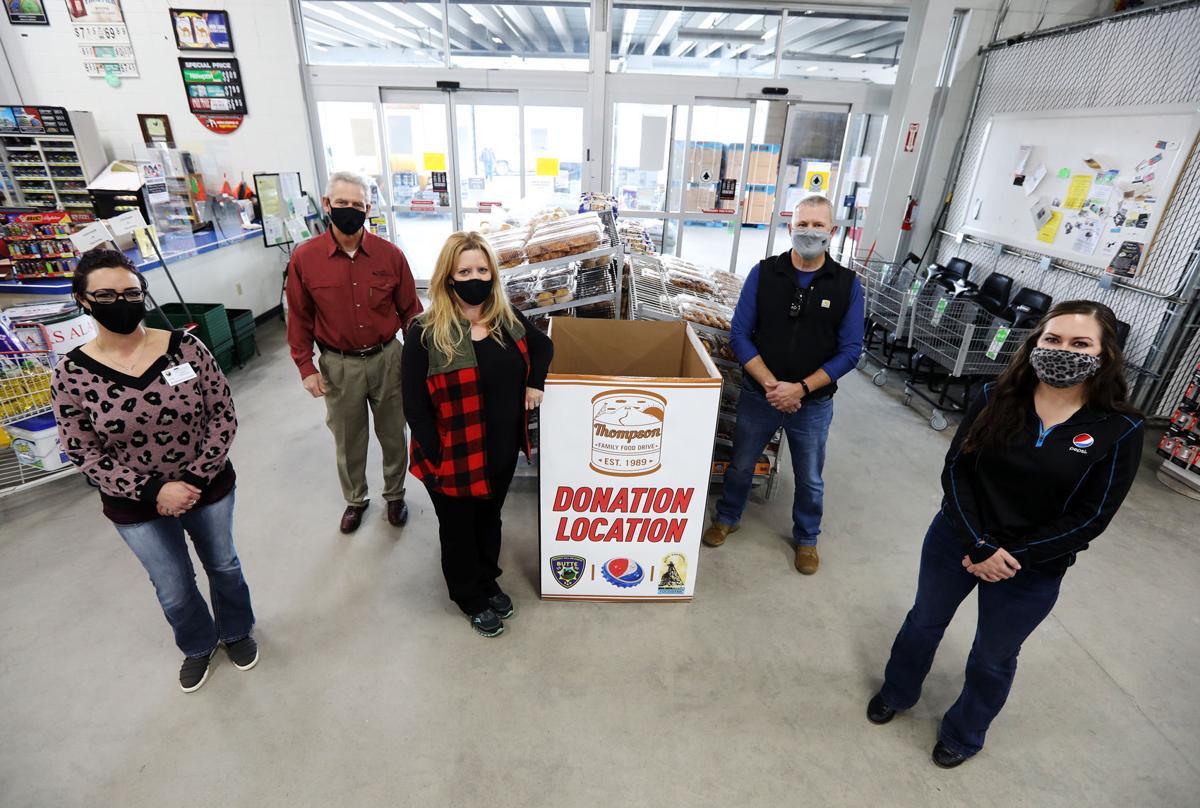 This year, the organizers of the Thompson Food Drive had to do something different.
The coronavirus made it virtually impossible for it to be "business as usual." Changes needed to be made.
So, for the first time in 32 years, residents need not put their donations in bags and place them near their gates. There will be no volunteers visiting Butte neighborhoods the first Saturday in December to collect food for the Butte Emergency Food Bank.
But the main organizers were not without a backup plan. After all, the food drive is a Butte tradition and no one wanted to see it go the wayside.
Organizers, which include members of the Thompson family, representatives from Butte 15-90 Search & Rescue, Harrington Pepsi Cola, and the Butte-Silver Bow Fire Department along with Butte's volunteer firefighters, have placed food bins at grocery stores and local businesses throughout Butte.
"We were throwing ideas out and felt this was the best plan," said Scott Thompson, son of the event's originators, Jim and Margie Thompson.
Thompson noted the virus caused everyone to think outside the box, given all the current constraints.
Jim Bennett of Harrington Bottling agreed. "We can't canvass neighborhoods the way we have in previous years," he said.
Bennett explained the yearly event takes 700 to 800 volunteers and with social distancing now mandated and large gatherings also nixed, it just couldn't happen this year.
"The volunteers through the years have been phenomenal," said Thompson. "We will sure miss that controlled chaos."
The food drive will have a "last call" event Saturday, Dec. 5. That day, Bennett said, a big truck will be centrally located in Uptown Butte for donations; another down on the Flat.
"The exact locations have yet to be determined," Bennett said.
While acknowledging he and others will miss the traditional food drive, Bennett believes there is a bright side.
"Having bins throughout town enables residents to make more than one donation," said Bennett.
That's what Kathy Griffith of the Butte Emergency Food Bank is hoping for.
"Our shelves deplete pretty quickly," said Griffith, "more so now with people being laid off."
Thompson said bins will be collected at least once a week and transported to the food bank.
Griffith and her crew have seen a definite increase in needs. They are serving more than 500 families monthly. Normally, that number would be about 380.
"People are really struggling," Griffith said, "financially and health-wise."
For those reasons alone, the food bank is also making more and more home deliveries.
In 2019, the food bank served approximately 21,000 individuals throughout the year and gave out about $2.1 million worth of food. So far this year, Griffith estimates that number has increased to 23,000 recipients, and $2.5 million in food items has been distributed.
"We have really seen our numbers increase," Griffith said.
Get local news delivered to your inbox!
Subscribe to our Daily Headlines newsletter.