A push to transform the alley behind the M&M Bar & Cafe in Uptown Butte into a communal space is partially complete.
Julie Jaksha, regional director for the economic-development organization Headwaters RC&D, appeared before the Butte-Silver Bow Council of Commissioners in June to ask for support of the project, which calls for the installation of overhead garden lights, removable seating areas, planters, and public art displays.
Commissioners voted 11-0 to support the effort, and by the time the Montana Folk Festival rolled around in July, Jaksha said, the county had flushed and cleaned the alley.
Save for the public art, all of the elements of the alley makeover are in place.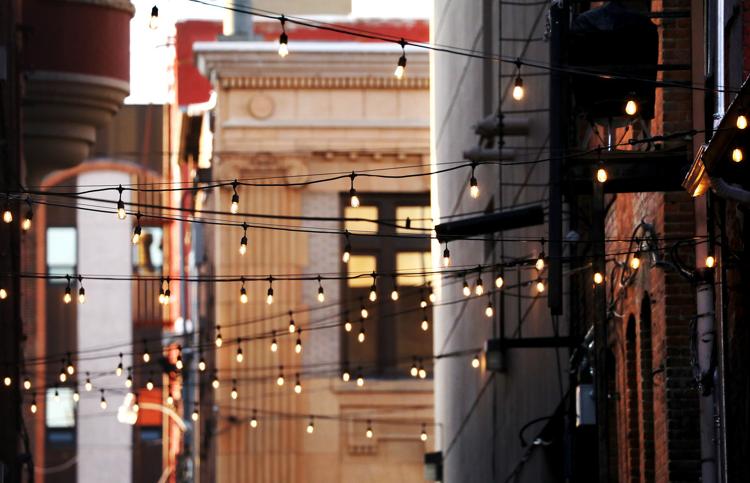 Over the weekend, An Rí Rá Montana Irish Festival-goers were treated when students from Butte's Tiernan Irish Dancers sashayed their way down the backstreet, which was recently adorned with lights by volunteers from Butte's R&R Electric.
According to Jon Wick, who owns 5518 Designs, a graphic-design and apparel company located along the alley at 27 N. Main St., around 60 viewers crowded in the alley to see the spectacle.
"What I was most proud of is that…our vision has come to life," said Wick, who wrote a letter to commissioners supporting the project. "We take a neglected part of town, we make it beautiful and then it comes to life," he continued, describing the vision he and other supporters have for the alley, which has been dubbed the Lizzie Block Pedestrian Alley.
"People have commented that this feels like Italy or that this feels European," she said, noting that decorated alleyways, often called art alleys, have been popular throughout the U.S. and create an old-world vibe.
You have free articles remaining.
Keep reading for FREE!
Enjoy more articles by signing up or logging in. No credit card required.
Lasting until mid-September, the project will temporarily close the alley during the day to vehicle traffic, turning the backstreet into a walkway and seating area.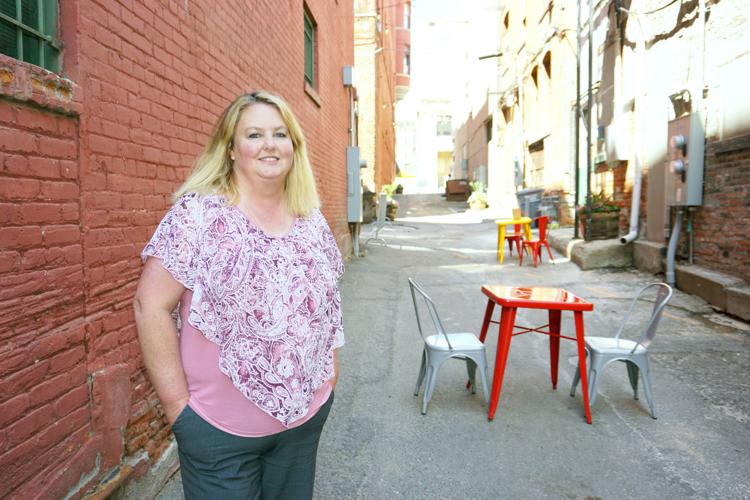 Tom Cronnelly, owner of OMG Mongolian Grill, located along the alley corridor between Broadway and Park streets at 17 N. Main St, has added a food truck to his business.
He said he has had to work around the alley revamp, but is happy the project aims to keep the alley clean and safe. He added that he's seen people nearly every day taking advantage of the tables and chairs.
"I really like the fact that they have cleaned it up," said Cronnelly.
Jaksha said the cost of the project is around $5,000, which she said was covered mostly by donations and in-kind support.
Volunteers from Community, Counseling, and Correctional Services have been patrolling the alley two times a day to keep it clean, she said, while the M&M, 5518 and Gamer's Café helped acquire the tables and chairs. Barrels for the planters came from Headframe Spirits, while flowers were donated by Butte's Petunia Factory, among other donations by locals and businesses.
Up next, Jaksha said, will be the installation of public art. She has secured commitments from two Butte artists — BT Livermore and Rob McClain — to paint or organize murals. Jaksha hopes to locate more artists and start at least one of the murals in two weeks.
Jaksha added that Headwaters has set up an art committee that will approve mural proposals, while building owners will also get a say. Those wishing to submit an art proposal should call Headwaters at 406-533-6781 or email the organization at jjaksha@headwatersrcd.org.
Next season Jaksha hopes to add lights to other portions of the alley and include tree planters. In the short term, there will be a movie screening in the alley at 8:30 p.m. Aug. 22.