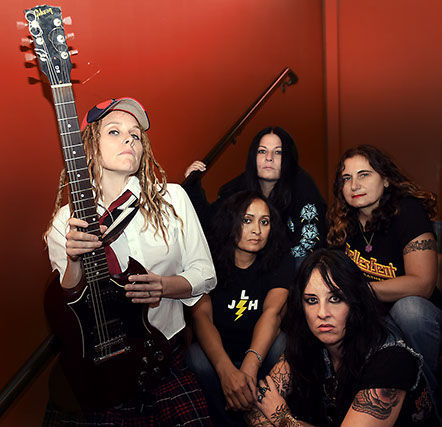 The world famous Hell's Belles, an all-female AC/DC tribute band from Seattle, will perform at the Old Montana Prison in Deer Lodge at 7 p.m. Friday, June 15.
Bring your blanket or chair and enjoy an evening of AC/DC rock 'n' roll, food and beverages. Tickets are $35; call 406-846-2094.
Hell's Belles strive to deliver with the same mechanical precision and passionate fury of AC/DC.
Angus Young, lead guitarist for AC/DC, told Blender Magazine (2003) Hell's Belles are the closest one can get without actually moving to Australia and joining AC/DC's road crew.
Hell's Belles formed in 2000, the brainchild of former members, guitarist Amy Stozenbach and singer Om Johari. Inspired by their mutual devotion to AC/DC and their commitment to leveling the rock and roll gender playing field, they assembled an all-female group of talented and like-minded female musicians to play AC/DC anywhere and everywhere people wanted them.
The band features Mandy Reed, rock solid bass guitar and background vocalist, Lisa Brisbois and Sharon Needles on rhythm guitar, drummer Judy Cocuzza, lead singer, Australian native, Amber Saxon a hard rock power vocalist and Adrian 'Angus' Conner on lead guitar.
In 2005, the band released an album, We Salute You, and performed at the Winter and Summer X-Games, the 2009 and 2010 Beerfest Asia in Singapore and Sundance Film Festival in 2007.
Thousands of sold-out shows Hell's Belles have played in Canada, Japan, Singapore and across the USA have left enthusiastic audiences awed by pitch perfect AC/ DC delivered with highly charged vigor and raw power. The concert will include such hits as "Highway to Hell", "Thunderstruck," "Back in Black", "Live Wire", "The Jack" and much more.
The concert is sponsored by Powell County Chamber of Commerce and kicks off the 29th Annual Territorial Days celebration.
Get local news delivered to your inbox!
Subscribe to our Daily Headlines newsletter.