A man walks into a restaurant on a recent morning. He says he's on his way to Kalispell from California, orders his food and eats his meal. Before he leaves, he tells the restaurant's owner and operator the only reason he chose this eatery was because his sister, who lives hundreds of miles away near the Montana/North Dakota border, said the Butte restaurant was a must stop.
That must-stop shop? Mr. Hot Dogs, the knife-and-fork hot dog restaurant that's been owned and operated by Butte's Buck Loomis, 78, for about 10 years.
Loomis talked about this recent customer run-in as he sipped on a Squirt soda from the can. Red and green decorative grapes hung from the wall adjacent to the back table Loomis sat at, a few of the many Italian-themed ornamentations that adorned the restaurant. Opera-style music added to the room's white noise.
But while the interior gave off an Italian fine dining vibe, along with menu items like Lasagna and spaghetti, it's the gourmet hot dogs that the restaurant is known for.
"Mine are a gourmet hot dog, they're a knife and fork dog…and there are very few knife and fork hot dog stands in America," Loomis said.
And Loomis is getting attention for his Butte stand. Last May, People magazine named Loomis' dogs the best in the state, showcasing a photo of the heaping "Butte Dog," covered in bacon, bleu and mozzarella cheeses, onions and steak sauce. He said he's got a 5-star rating on Yelp and that hundreds of tourists from all over the world walk into his restaurant every summer.
"People go wow, I want to go see what a 5-star hot dog stand looks like," Loomis said. "And if they don't speak English, they find photos of my food online, point to what they want and I make it for them."
When asked how Loomis came up with the idea to being gourmet hot dogs and Italian-American food together on one menu, he said they just sort of "came together."
But as he sipped his Squirt and talked more about his deep Butte roots, it seemed the fusion was more meant to be than he first let on.
In 1947, Loomis' family moved to East Butte from eastern Montana. His dad was a rancher and saddle maker that took a job at the Anaconda smelter, and his mom was a chef who worked for the Rocky Mountain Café, a nationally recognized and renowned Meaderville restaurant.
You have free articles remaining.
You're out of free articles
Sign in or create a FREE account to keep reading.
"I knew how to cook from my mom and knew Italian food from living in East Butte," Loomis said. "Cooking is in the hands and the fingers…it's an art, it's something you really can't go to school for."
But Loomis said he didn't get into the restaurant business right away. Growing up, he went through Butte Catholic schools, boxing for legendary coach Lou Mihelich for eight years, then joined the Navy around 1959, his senior year of high school. Loomis served four years in Guam and the surrounding islands, hauling food and missionaries to various island locations.
Around 1963, Loomis returned to Butte and got into the bar business, owning a couple local bars. He said he started making the transition into the restaurant business when he bought the Cabin Bar in Basin and added Montana's first "cook your own steak" restaurant to the watering hole.
"Everybody turned their steaks black, but they loved it," Loomis said with a smile.
One of Loomis' next ventures was the Bannack House, an Italian restaurant and bar in Dillon, which he ran for 17 years. He claims he had the largest selection of spirits in the state, with over 85 bottled beers, and served a lot of fly fishermen and movie stars. His restaurant was known for its clam chowder, which Loomis said a New York Times reporter deemed "the best inland clam chowder in America."
In 1991, Loomis made his way back to Butte, opening a one-man coffee stand in the Butte Plaza Mall. He said he ran that for a while, then got back into Italian dining, bouncing his Spaghettini's restaurant to various locations around town.
Loomis said was known as Mr. Spaghettini for about 12 years until he decided to retire from the supper club business—but that retirement was permanent.
"I thought, 'Well, I've got to do something,' so I thought I can take a hot dog to a higher level, a higher standard than a regular hotdog and that's what I did," Loomis said. And so Mr. Hot Dog's was born.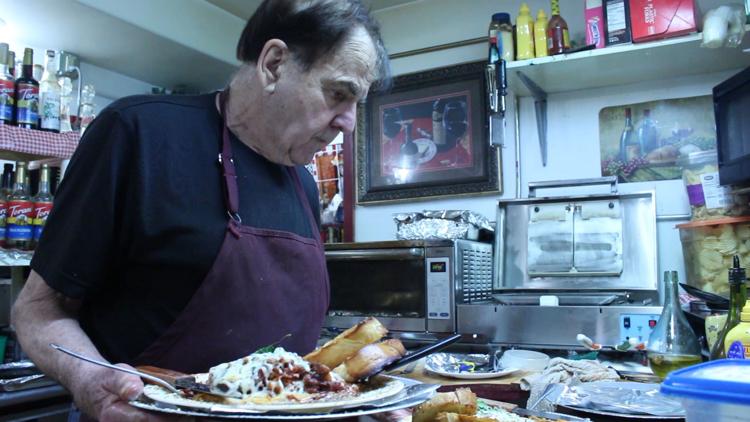 On a recent afternoon in Loomis' kitchen, he moved tirelessly from the order counter to the gas stove to the chilled condiment bar and out to the tables of customers. Loomis is a one-man show by choice, running his normal restaurant in the day and offering private Italian dinners as scheduled—and he has no intention of giving it up.
"I'm a one man show, it's just me," Loomis said. "I love it and I'm not going to retire anytime soon."