Butte residents young and old, a few of their furry friends, and one dinosaur gathered Uptown Saturday afternoon to take in the sights and sounds of Butte's annual St. Patrick's Day celebration.
Hundreds gathered Uptown along the streets for the St. Patrick's Day parade as waving politicians, decorated floats, and traditional Irish dancers passed by to the sounds of pipes and drums played by Anaconda's Ancient Order of Hibernians and the Edmonton Police Service.
St. Patrick's Day festivities in Butte are always centered around the parade, and what a parade it was this year! Here are some highlights.
Creating a sea of green, folks dressed up for the big event, some of them wearing emerald tutus, colorful St. Patrick's Day-themed wigs, and iridescent T-shirts. Despite requests from the county to not bring pets, some people brought their dogs, many decked out in St. Paddy's apparel.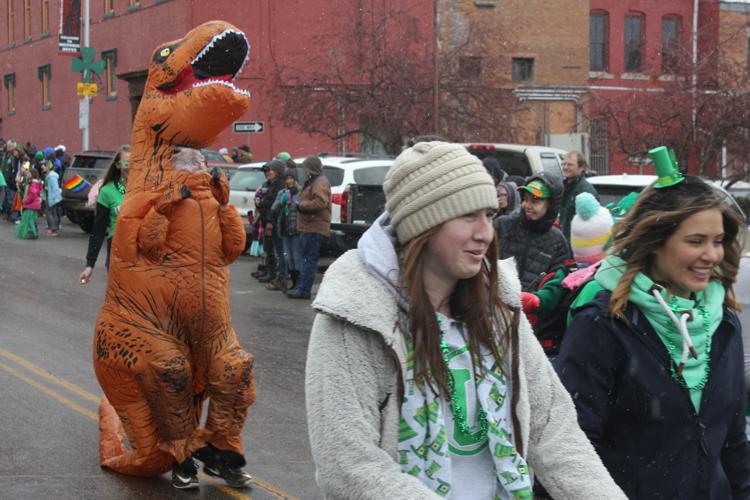 Instead of sporting a green outfit like other party-goers, teenager Eleanora Gillia opted for a Tyrannosaurus Rex costume to commemorate the occasion.
Gillia said she's seen loads of people wear funky hats on St. Patrick's Day, so she thought it might be fun to dress up this year.
Because of the cold weather, she decided to wear the dinosaur outfit to keep herself warm. Plus, Gillia said, she thought it would be funny.
St. Patrick's Day also happens to be Gillia's birthday. She turned 13 Saturday.
Gillia wasn't the only person who was celebrating a birthday Saturday.
Butte resident Sean Milligan turned 54 Saturday.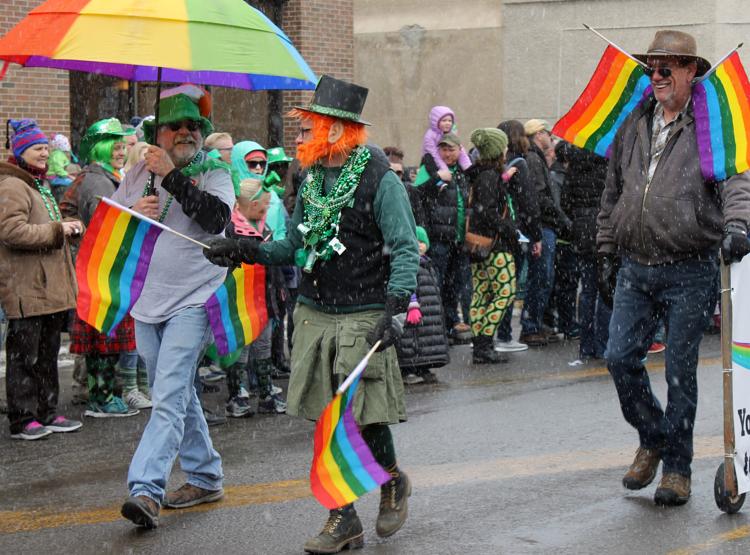 He and Kori Milligan have made attending Butte's St. Patrick's Day celebration part of their family tradition.
"We live in Butte, and it's his birthday," Kori Milligan explained.
Butte resident Kristi Scott and Harrison resident Ferna Geer decided to go traditional with the proverbial funky hat.
Scott, wearing an oversized top hat, and Geer, in a glittery cowboy hat, said they attended the Uptown celebration to meet up with friends.
"We're glad it's on a Saturday," remarked Geer on the timing of the celebration.
Flipping hamburgers and hotdogs on an outdoor grill was Idaho Falls resident Jon Jones.
Jones said he visited Butte last year during St. Patrick's Day and decided to come back this year.
"Because of all of the wonderful people that I met," said Jones.
Jones said he and a group of about 15 people from Idaho Falls traveled to the Mining City for the annual celebration. They're staying at the The Miner's Boutique Hotel on West Park Street, Jones said, having booked in advance during the summer.
One new friend Jones met during St. Paddy's is Butte musician Sonya Battermann, who serenaded celebrants from the back of a pickup truck, singing and playing guitar. She sang "Hole in my Life" by The Police.
As for Gillia the dinosaur, her family said she's not 13 years old.
She's actually 13 million years old.
At least on St. Patrick's Day, anyhow.
Get local news delivered to your inbox!
Subscribe to our Daily Headlines newsletter.