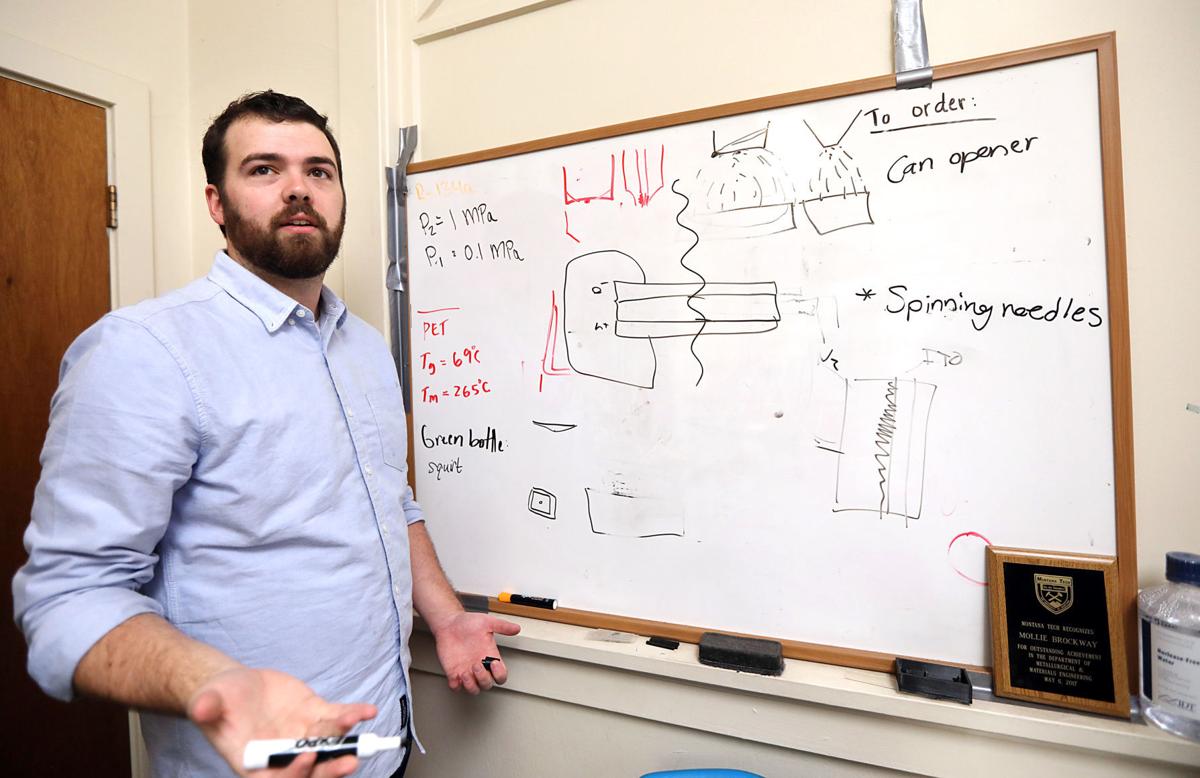 John Patrick Murphy's cramped lab is in the basement of the oldest building on Montana Tech's campus, but it's full of some of the university's most high-tech equipment.
This one, he tells visitors on a recent morning, can make a "fleck of dust look like the equivalent of a boulder."
This, he says, is a near field scanning optical microscope.
This one is so advanced "a guy comes from Israel to show us how to use it."
Murphy's path to this lab began back in 2014, at an American Physical Society conference in Denver, where the then-recent graduate of Lock Haven University in Pennsylvania happened upon a booth staffed by Beverly Hartline, Montana Tech's vice chancellor for research and dean of graduate studies.
Murphy was there to present some of his undergraduate research, and Hartline was there to recruit students for Tech's first ever Ph.D. program.  
"We started chatting," Hartline says, "and I said, 'We've got rivers and fly fishing.' And he said, 'Fly fishing? I love fly fishing.' And I said, 'I encourage you to apply.'"
Murphy did, of course, and on Saturday he, David Hutchins and Richard LaDouceur will be the first three graduate students ever to receive a doctorate granted by Montana Tech.
Though Ph.D. candidates have worked with Tech faculty in the past, Hartline says the school's doctoral program is "huge for us."
"It's a milestone for Montana Tech to be graduating Ph.D.s with transcripts that say they come from Montana Tech," Hartline says.  
According to Hartline, having doctoral programs helps increase Tech's stature, its research opportunities, its caliber of students and its funding.
The Materials Science Ph.D. program is a collaboration between Tech, the University of Montana and Montana State University, with students on each of the three campuses.
Jerry Downey, a Montana Tech professor of extractive metallurgy and the campus director for the collaborative Ph.D. program, says having doctoral students "opens up a whole new realm of research possibilities" and makes the school much more competitive when seeking research funding.
Evidence of that fact can be found in a $10 million grant from the Army Research Laboratory that is funding Murphy's and LaDouceur's research. Hutchins' research, which involves the development of a reactor system for recovering metal ions from contaminated wastewater streams, is being funded by the state Legislature's Montana Research and Economic Development Initiative.
Doctoral candidates help bring in research dollars, Hartline says, as a result of both their expertise and their availability to commit large amounts of time to research over extended periods of time.
That time and money has allowed Murphy to conduct research that is as cutting-edge as the tools he uses to do it.
Murphy's focus is on hybrid perovskites, an emerging nanotechnology that has shown potential to convert light into electricity. According to Murphy, the work he's doing could help scientists develop a way of producing solar cells that is cheaper and easier to manufacture than current technology that relies on the use of silicon.
"The whole goal of this was to produce a material that would actually be processable, low-cost and still have some functionality, so that it can actually operate long enough to pay back the cost of producing it in the first place," Murphy says.
He says the work he did for his dissertation was "interesting enough to provoke more research" — and he hopes to continue that research in a postdoctoral program. Downey says LaDouceur and Hutchins also plan to apply for postdocs that will allow them to continue the research they started at Tech.
And Downey is optimistic the success of these pioneering Ph.D. students will begin to pay dividends for the program, down the line.
"Once we establish a pattern of success, word is going to spread about the quality of the program," Downey says. Once that happens, he adds, "We anticipate that's going to continue to bring in high-quality applicants that we can choose from.''
Already, the Tech component of the materials science Ph.D. program is thriving at Tech, which has 18 of the 31 total students.
To build on that success, Hartline says Tech hopes to add additional PhD programs in the future. Currently, the school is looking into the possibility of developing one such program in geoscience and engineering and another in energy and power engineering.
Get local news delivered to your inbox!
Subscribe to our Daily Headlines newsletter.