Long way up with a hand-me-down
A long way up with a hand-me-down: A brother's gift makes a firefighter's life
Before October 25, 2010, some might say Meg and Bob Bristol were living the dream.
They had successfully raised three sons, Brant, Trevor and Justin, who were about to take their first steps toward living on their own and building careers.
But that day they would receive some tragic news: Brant, their oldest son, was diagnosed with a life-threatening kidney disease.
The days that followed were full of fear, tears and even laughter at times. In those days they found out that the bonds of family are more valuable than threads of gold.
Where the wild things are
Brant Bristol grew up on South Colorado Street in Butte with his two younger brothers, Justin and Trevor.
The Bristols were an athletic family. Brant played basketball, baseball and just about every sport, but his main love was hockey — a passion that he shared with his brother Justin.
Justin played hockey with Bristol in high school and says he always looked up to his older brother.
Being the middle child, Justin was often the recipient of hand-me-downs — his brother's well-worn hockey equipment.
One time Justin got a new hockey glove but he ended up trading it to Brant for a tried and true worn-in glove. Something just didn't feel right about owning something new — besides, the hand-me-downs were his brother's, and that made them special.
While he was in high school, two events made Brant want to become a firefighter: His best friend's brother died in a fire. And around the same time, the World Trade Center came crashing down, bombarding the world with images of chaos — and of the first responders who fought to save lives.
After high school, he enrolled in a fire school in Helena and later met up with his brother Trevor, who lived in Phoenix, to get a taste of big-city life and enroll in paramedic school.
There, Bristol learned how close to the edge his life was.
Students were taking each other's blood pressure when Bristol's partner noticed that Bristol's pressure was abnormally high.
Bristol went to a clinic, where he discovered he was suffering from a kidney disease, Focal Segmental Glomerulosclerosis, and would need a transplant to live.
Bristol's mother recalls learning of her son's illness.
She was in Kmart, she said, having just returned to Butte from a trip to Phoenix to watch her nephew's football game.
"I was devastated," she said. She, Bristol's father and other family members flew to Phoenix the next day.
Surprisingly calm through it all was brother Justin.
Rather than passively let the news of his brother's illness wash over him, Justin immediately immersed himself into learning everything he could about the kidney disease and what a transplant might mean. And by the end of it, he said, he felt calm. He thought that everything was going be OK.
Justin was one of the first people to offer to donate a kidney to Bristol, according to mother Meg.
Justin, who was studying to become an accountant, immediately put his education on hold. He headed to Phoenix, where he went through a litany of tests at the city's Mayo Clinic to find out if he was a match.
Justin said he wasn't worried about the test results. He knew his chances were good because he was Bristol's brother and was also Type O negative, known as the "universal donor."
Sure enough, one day doctors called and said Justin was a perfect match.
Despite Justin's confidence, there were no guarantees that the transplant would be a success. Even in cases involving a so-called perfect match, some recipients reject their donated organs. According to the Mayo Clinic, three percent of living-donor transplants fail within one year and 14 percent fail within five years. That's not to mention the usual risks that go along with major surgery.
If the transplant didn't work, Brant could be waiting for years to be matched with a donor on Arizona's transplant list.
Day of the transplant
Early on the day of the transplant surgery, the family, who had rented a house in Phoenix, packed into the car and headed to the city's Mayo Clinic.
"It was the longest day of my life," said Meg.
Brant burned a CD for the 45-minute ride, a transplant mix tape. Justin kept looking over at his brother to see if he was nervous. His brother sat quietly.
Surprisingly, the mood was jovial in the pre-operation room.
Just like in the movies, the two brothers were placed into hospital beds, side by side.
Meg said Brant and Justin kept joking with the nurses, making everybody laugh, and someone snapped a photo of the two boys cracking a joke.
"We were just laughing at each other, making fun of each other," said Justin. 
Family members cried as hospital staff wheeled away the two brothers to surgery, but Justin, already feeling the effects of a sedative, simply smiled, gave a round of hugs and cracked one last joke before going into surgery.
Climbing the stairs from surgery
Seven years after his transplant, Brant Bristol sits in a coffee shop in Butte.
He has a wife and two children, ages 2 and 7, and still finds time to play amateur hockey.
He says he's pretty fortunate.
On top of that, he got his dream: He's a member of the Butte-Silver Bow Fire Department. It's a dream he thought perhaps would never come true after his diagnosis.
Bristol started feeling better almost instantly after the transplant, and soon applied for a job in Butte.
Just six months after he sat across from his brother in a hospital bed, Bristol picked up the phone and it was Paul Babb, Butte's chief executive at the time, calling to tell him he had the job.
"It was pretty wild, going from thinking I'll never be a firefighter to getting a job back in my home town," said Bristol.
Today Bristol is a member of the fire department's health and wellness committee, which recently received a grant to purchase some exercise equipment.
Bristol sometimes climbs the equivalent of Seattle's Columbia Tower on the department's step-mill.
That's because he's training for two epic stair-climb competitions, which he's been participating in for several years.
Bristol, along with a handful of fellow firefighters from Butte, has competed three times in the Portland Firefighter Stairclimb in Portland, Oregon, a race up the 800 steps and 40 floors of the U.S. Bancorp Tower, and came in second two years in a row.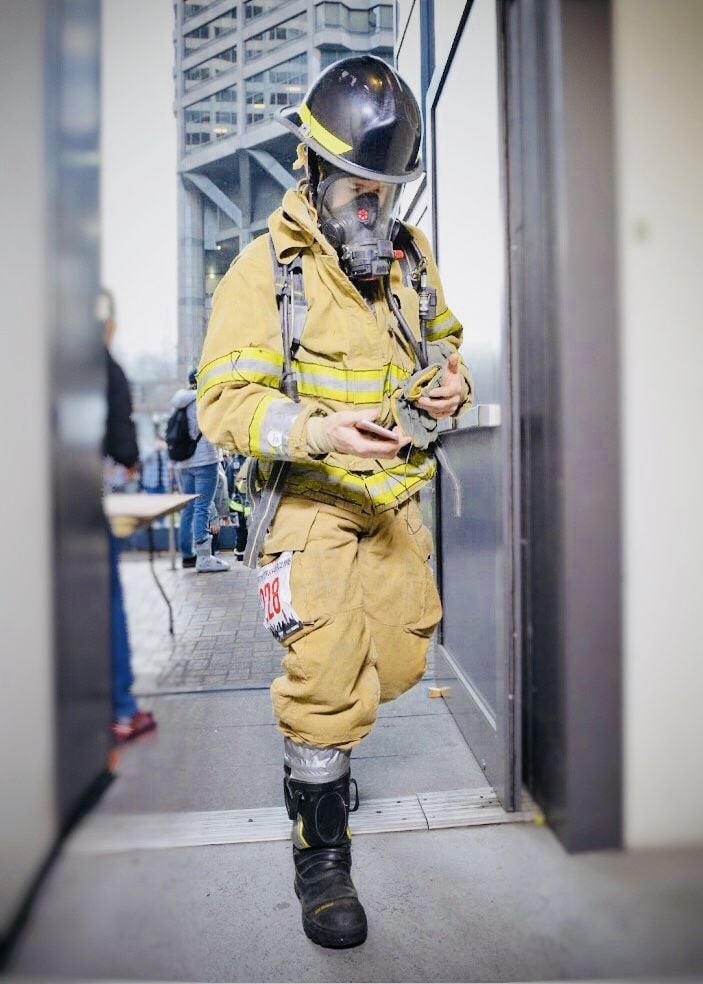 Similarly, four times Bristol has joined a Butte delegation in the Scott Firefighter Stairclimb in Seattle, ascending a brutal 788 feet, 69 flights and 1,356 steps at the Columbia Tower.
Last month at that event, Bristol came in 10th out of about 1,800 racers.
As if ascending the mega-towers wasn't enough, firefighters climb in their full gear, lugging around 45 additional pounds.
"It's brutal," said Bristol, describing the competitions. "Along the way in the staircase, you'll see guys throughout stopping, some will be puking. A lot of them take their helmets off, their masks off."
The key, he said, is to stay mentally focused and keep moving.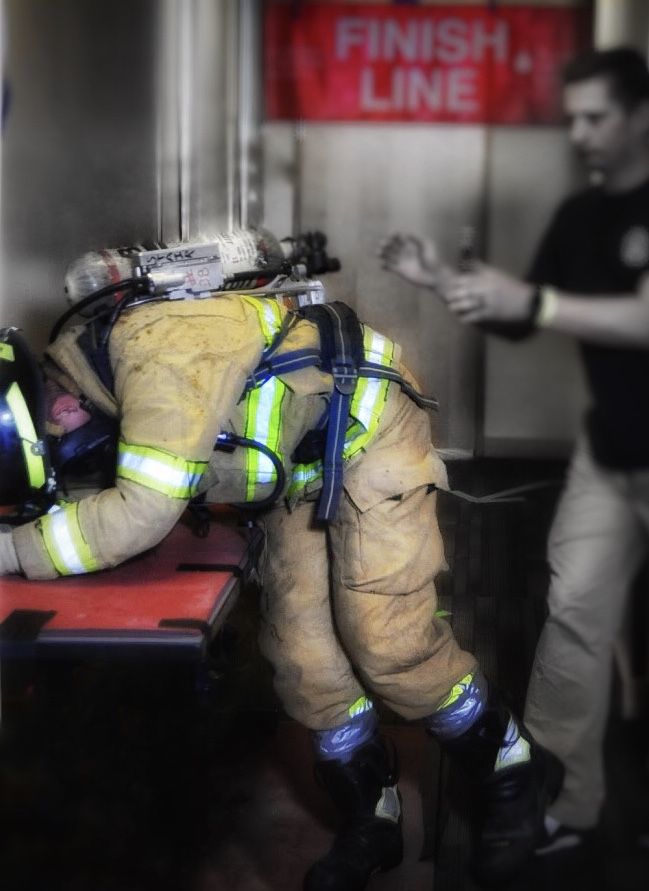 Jeff Miller, fire chief for the Butte-Silver Bow Fire Department, describes Bristol as a firefighter passionate about his job. And those stair-climbs aren't too shabby either.
"Just finishing is admirable," said Miller. "It takes a lot of training … It's really admirable."
The Portland and Seattle races are also fundraisers for the Cystic Fibrosis Foundation and Leukemia & Lymphoma Society, respectively. Speakers from the organizations give a pep talk before the race, which Bristol says brings him back to a time when he too faced an uncertain future at the hands of an unexpected illness.
"It's always inspirational," he said. "I always look back at where I was … because at one point I could barely walk up the stairs."
So what's it like walking through the world knowing your brother's kidney is inside you?
"We were always real close," Bristol said. "But it definitely brought us closer together."
Justin said he's proud of his brother's career and accomplishments. "And just the person he's become too. An awesome father, a husband," he said.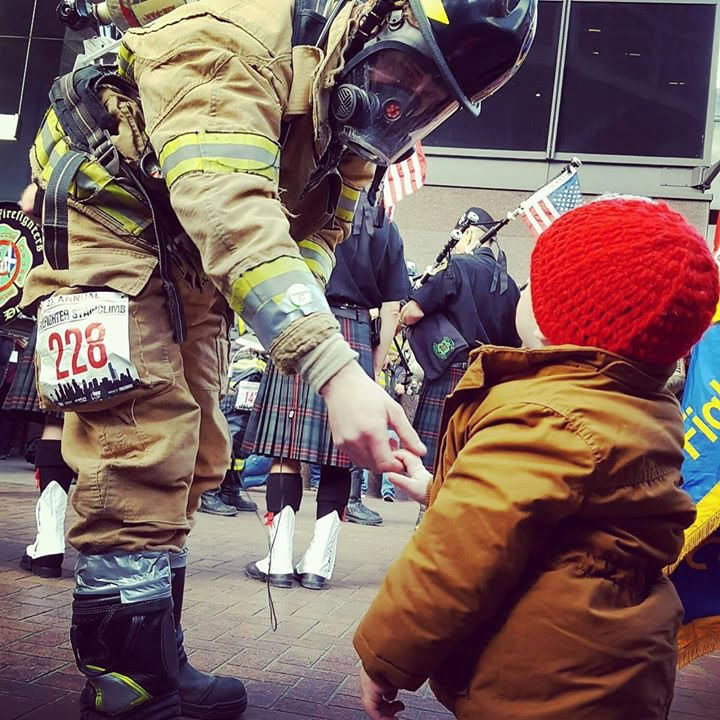 Justin added that he's got to thinking about those old hand-me-downs recently. "I always loved the hand-me-down stuff, the hockey gear from Brant because it was all broken in," said Justin.
But now, Justin said, he's the one who has given his brother a hand-me-down.