A Kindle for Christmas: Sometimes, miracles come in fur
"I want to bet on a miracle."
I was on my way home from work, driving north along Harrison Avenue, when I got the phone call from my wife. She was on the cliff's-edge of sobbing. My wife never sobs.
I was already in a bad mood: I'd spent the day brooding over politics, had failed to scratch anything off my to-do list, and had just remembered I didn't get anything out for dinner. My day was about to get a whole lot worse after I answered the phone.
"I'm taking the kitty to the vet!" Jean's voice was hoarse with tears.
"What's the matter?" I said.
"He's lethargic and won't eat and has been sleeping all afternoon. I think there's something wrong with him."
Something wrong. I sped up the Richest Hill on Earth, my heart beating hard even as it dropped to the pit of my stomach. We'd only had Kindle the Kitten two days, barely getting to know him, and now he was on his way to the veterinarian's for an after-hours visit. Over the past two decades, my wife and I had adopted half a dozen cats at various times and I'd come to learn that expensive emergency trips to the vet nearly always meant one thing: our kitten was dying.
I was a reluctant new-cat owner.
As I stood in the middle of the animal shelter waiting room two days earlier, one sentence kept looping through my head: We do NOT need another cat, we do NOT need another cat. Three cats — including a lovable gray fellow named Ember whom we'd picked up from this very room eight months earlier — were already waiting for us at home. My heart was already full; I didn't think I could squeeze more love out of it for yet another feline. I'd sworn earlier and I swore again that day: Ember would be our last adoption.
But then Jean got on Facebook and immediately went "Awww" when she saw the photo of a new arrival the animal shelter had just posted. My wife is not an "Awww"-er.
Jean turned her computer around and showed me the furry-faced mug-shot. "Can we at least go look at him?"
I sighed and willed myself not to give a second glance at the kitten's face on Facebook. We do NOT need another cat. I steeled myself and tried to harden my heart. "I don't know …"
"Please? I mean, just look at those eyes."
I flicked a glance down to the computer screen, and then just as quickly looked away. We do NOT —
Okay, those eyes were pretty adorable. They were a rich gold color and were rimmed with black, like thick eyeliner on a male rock star from the 1970s or 80s. I was looking at the kitten version of Ziggy Stardust.
"OK," I said. "But only for a look, and nothing else."
The first pieces of my heart were already starting to crumble.
My wife can be very persuasive when it comes to the adorable-animal department.
And that's how I found myself, two hours later, holding a one-pound ball of fur in the palm of my hand as I stared deep into those please-take-me-home Ziggy Stardust eyes. I sighed and fully crumbled. "OK," I told the animal shelter volunteer. "We'll take him."
That afternoon, I posted my own photo to my Facebook page with this caption:
We christen thee Kindle. He joins Ash, Cinder, and Ember in our House of Cats. In the end, we went with something both flammable and literary. Expect future confusion when I call out, "Have you seen my Kindle?"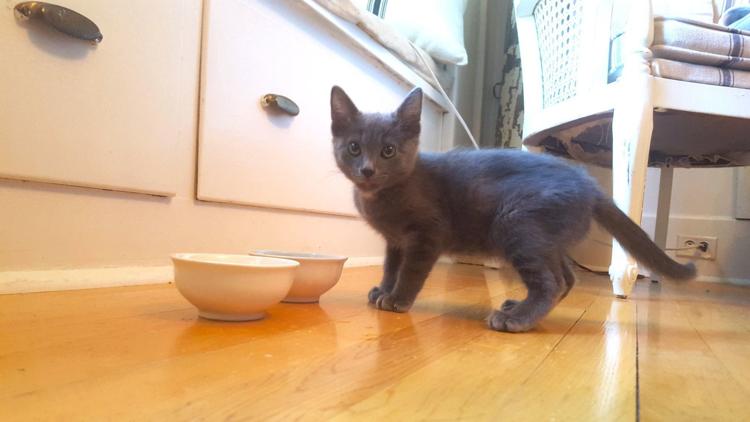 The marriage of cat and owner was complete. True to the other meaning of his name, the kitten had kindled a flame of love in our hearts.
And yet, something didn't seem quite right. Kindle seemed listless and a little agitated, frequently mewing like he was looking for something. Jean and I told ourselves that he was just tired from his time at the shelter and that he missed his mother.
We couldn't have been more wrong.
I pulled up to Highlands Veterinary Hospital and barely threw the car into park before I jumped out of the door and rushed inside.
It was our first time at the clinic because our previous veterinarian, a beloved animal doctor with a strong James Herriot vibe, had just retired. Jean had searched the Yellow Pages and called Highlands, hoping they'd still be open. The clinic had closed by that point, but the answering service put her in touch with the on-call doctor, Cindi Costin, who didn't hesitate for one second to come back in to the office. "Bring him in and I'll take a look at him right away," she'd told Jean.
When I walked in, Kindle could barely lift his head from Jean's arms to look at me. He was hot and his breathing was shallow. He gave a weak mew and my heart cracked.
Dr. Costin arrived and carefully took Kindle in the back room — he fit in the palm of her hand with room to spare — to give him an X-ray and an ultrasound.
Meanwhile, I held Jean in the waiting room as she cried.
We'd only had Kindle 48 hours. We were already in love. If he died, a piece of our hearts would go with him. Why was this happening to us?
Dr. Costin brought Kindle back to us and, while the little kitten started nuzzling against Jean's neck, the vet told us she found a troubling mass, which showed up on the ultrasound somewhere between his liver and his kidneys.
"I don't know what that is," she said. "It could be a foreign object or it could be inflamed lymph nodes or something entirely different."
It seemed to me that I could hear a bit of a tremor in her voice that made me think maybe she'd also fallen in insta-love with Kindle.
The best thing, Dr. Costin told us, was to give him some painkillers and antibiotics overnight and then see how he's doing in the morning. Maybe the drugs would take care of the infection or maybe it was just something to buy us some time.
When we got home I started reading a pamphlet on Feline Infectious Peritonitis the vet had given us: "The first thing cat owners should know is that FIP is nearly 100 percent fatal." I stopped reading and threw the pamphlet in the trash.
Jean and I spent that night on deathwatch. She cried. I cried. There was a lot of crying that night. Neither of us ate and we barely slept. We nestled the kitten between us under the covers and slowly stroked his tiny head, no bigger than a golf ball, as we sniffled and told him we loved him.
We were certain we'd wake up to find him gone.
The next morning, I broke through the grog of sleep and carefully — very, very carefully — rolled out of bed away from the furry body that had burrowed next to my belly for most of the night. I bent close and held my breath as I watched his body. His ribs moved! His heart beat!
When we turned on the light, though, we could see he was still listless and barely clinging to life. As Jean later said, "He had 'death eyes.'" David Bowie had died a year earlier and now Ziggy was passing into the great stardust beyond, too? It was almost too much to bear.
We wept a little more then pulled ourselves together to go into the vet clinic for our follow-up appointment.
This time, Dr. Costin brought in a new doctor, Jessi, and together they went back for another ultrasound to see if that troubling mass had changed during the night. Jessi came back to us with a worried expression, though she did her best to hide it with compassion and sympathy for us cat owners. They still couldn't determine what, exactly, was wrong with Kindle. Though they were leaning toward an infectious disease (FIP! FIP! looped through my head), they couldn't rule out it was a blockage of some sort.
"That would be the best-case scenario," Jessi said. Even her voice wobbled a little when she told us this and I could hear what she didn't say: "We always want to give everyone hope, but things are looking pretty grim."
The veterinarian looked at our faces, then said, "I'll give you guys a couple minutes to talk," then left the room.
Jean and I collapsed into each other. This was it. The end of another kitten. We'd run out of all but a tiny fraction of hope. That sliver of hope was exploratory surgery to see what was going on inside his intestines. The procedure was expensive — a lot more than we'd planned for (and it was coming on top of other unexpected medical bills earlier in the year when Jean was hospitalized with salmonella poisoning). It came down to this cold, hard thought in my head: Do I really want to spend a lot of money on a kitten that is nearly certain to die anyway? Wouldn't it be better to just take him home with us and make him as comfortable as possible in his final hours? Do I really want to subject him to the trauma of surgery? I forced myself to be as heartless as a cash register.
But then I looked into his oversized eyes and said, "I don't care what it costs, I want to bet on a miracle."
Kindle went into surgery an hour after that. As he slipped under the sedation, Jessi later told us, "I could see his stomach wall relax and then I got a better idea of what that mass was. I could follow it all the way down through his intestines to the colon." Jessi delicately cut open the tiny, jewel-like colon and got a happy surprise.
At some point — whether in the few short days at home or at the shelter — Kindle had ingested enough kitty litter to clump and block his digestive tract. I Google "cats eating kitty litter" and learn kittens most often eat cat litter out of curiosity. Much like a child, kittens are intrigued by their surroundings and will not hesitate to put anything in their mouth. Unlike our children, however, we can't be there to keep an eye on independent-minded cats all the time.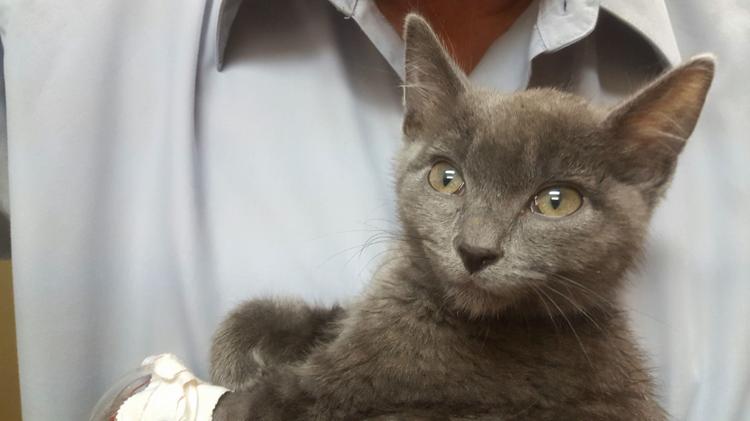 If we hadn't said "yes" to the surgery, the vet told us, Kindle would have most likely declined at a rapid rate as his organs shut down.
He spent another day recovering at the clinic. I took off early from work so I could be there by his side when he woke up from his sedated nap. When he saw me, Kindle struggled to get to his feet — one leg was still wrapped in a bandage where the IV fluids had gone in — and mewed loudly, which I immediately and anthropomorphically translated as "There you are! I'm so happy to see you!"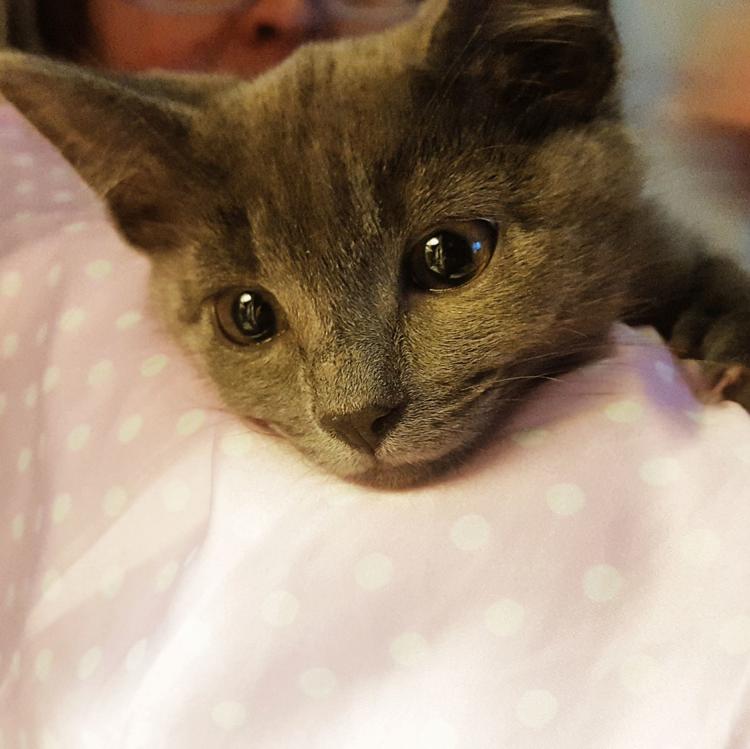 The next day I posted a status update on Facebook: Kindle is back home now, slowly recovering as he eats baby food off our fingertips, nuzzles our necks, and sleeps the sleep of the living.
I couldn't cram enough happy-happy-joy-joy emojis into that Facebook post to express how I truly felt.
Five months later, I'm sitting in our living room reading a book by the glow of the Christmas tree lights. Suddenly the tree begins to shake. Ornaments tinkle like tiny sheep's bells; a couple of them fall to the ground.
What's going on? Is it an earthquake? A semi-truck rumbling through our neighborhood? Some weird Nutcracker-y magic bringing our tree to life?
I set my book aside and peer through the evergreen branches.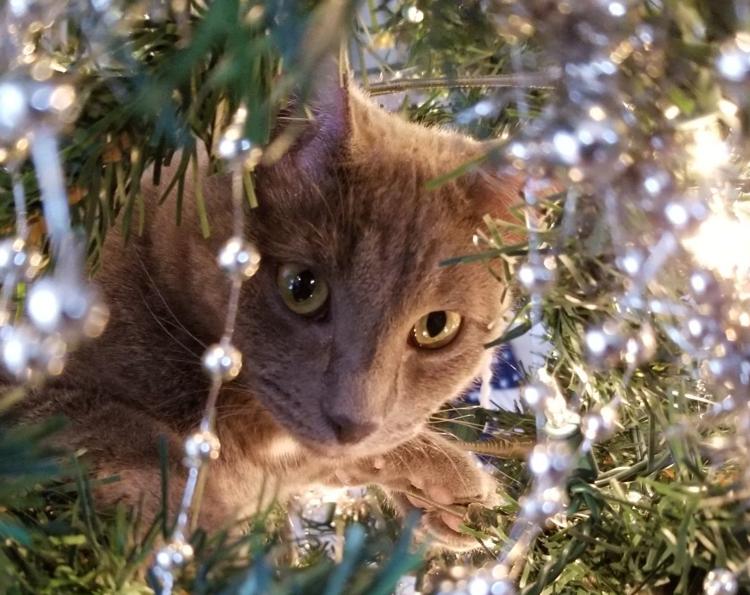 A face pops out at me and looks out with adorable — and now mischievous — Ziggy Stardust eyes. Kindle the Kitten, it turns out, is a tree climber.
He's also a faucet-drinker, squeaky-toy soccer player, and a drapes-clinger. In the five months since he's been pulled back from death's door by the team of awesome doctors at the vet clinic, Kindle has not only survived but thrived. These days, you can barely see the scar on his belly where he was once unzipped by a surgical knife.
Kindle has fully embraced his inner cat and goes about the house at full throttle. Every night, he sleeps curled against Jean's neck, putting himself to sleep by sucking on a corner of her pajamas. He, like all other cats, does not come when called. He sits directly in front of the TV watching the screen and following the action with his head (I'm always yelling "Down in front!"). He jumps up on the kitchen counter to "help" me cook. One of his greatest pleasures is taking a ride through our neighborhood in the special pet stroller we bought (yes, as it turns out, we are those kind of pet owners). In short, he is a source of endless comfort and joy.
But this ascent of the Christmas tree was something new. The first time it happened, I reached in and tried to pull him out, but he was all claws and flailing paws, insistent on his new role as tree ornament, so I let him go. Now he sleeps halfway up the tree, curled against the trunk and draped across the branches. That can't be comfortable, I thought. But I let him have his way (as all cat owners eventually must surrender to the demands of their feline masters).
He looks so peaceful that I'm tempted to leave the tree up all year. If nothing else, it would serve to remind me that sometimes the best Christmas presents walk into our lives on four paws.
As Charles Dickens, Mr. Christmas himself, once wrote: "What greater gift than the love of a cat?"
Forget a fancy new e-reader, I've got my own living, breathing Kindle for Christmas. And that's all I ever wanted.
David Abrams is the author of the novels Brave Deeds and Fobbit.  His short stories and essays have been nominated for the Pushcart Prize and appeared in Esquire, The New York Times,  Salon, Electric Literature, and many other publications.  Shortly after retiring from a 20-year career in the Army, he moved to Butte, where he now lives with his wife.  He blogs about books and the writing life online at The Quivering Pen.