In less than 48 hours, the 12th annual Montana Folk Festival will resonate across Uptown Butte as its 20 scheduled musical performers and countless visual artists share their work with the masses.
The Butte-based festival, dubbed one of the largest free outdoor live music concert series in the Northwest, was born out of the National Folk Festival, which was hosted on the Richest Hill from 2008 to 2010.
Now in its ninth year running as the state's folk festival, the event has evolved into a Big Sky summer tradition for locals across Montana and continues to bring thousands of people to Butte each year.
"It's amazing, people have so many festivals and things to choose from but they choose to come to Butte," said Montana Folk Festival Director George Everett.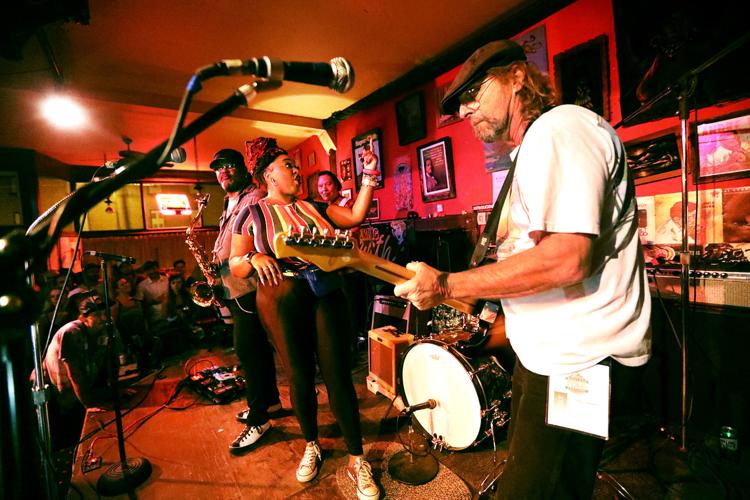 This year, Everett estimates over 165,000 people will be in attendance and said he is excited for them to experience a handful of new folk fest features.
Everett explained that he and his festival planning colleagues took some of the top suggestions put forth by folk fest attendees through last year's annual feedback and made them into a reality, including doubling the size of the dance pavilion off of East Granite Street and bringing in water fill stations to reduce plastic use.
The family area was also moved to a grassier, shadier area near East Broadway Street and will include a tent where families can feed nectar to butterflies, Everett said.
But although the folk festival has always been about exposing people to unique, diverse music from all over the world, Everett stressed that it's not just about the music — it's about celebrating all artists.
The folk fest's Montana Traditions Arts Market in the Original Mineyard will feature work from artists and craftspeople across the region. The Montana Folk Life area on Quartz Street will focus on celebrating the contributions of women to Big Sky culture and heritage, including talks and demonstrations from over a dozen Montana women.
And this year for the second year, young artists will come to the Mining City from Indian reservations across the state for the Native Youth Arts in Action, a project spearheaded by the Butte-based Indian Peoples Action and Creative Indigenous Collective groups to harness the passion and creativity of young Native American artists for social change.
This year, the project's theme will commemorate Montana's Missing and Murdered Indigenous Women through a collaborative, mobile mural students will create at the folk fest's First People's Market, which features the work of traditional and contemporary Native American artists.
"Some of the girls who have vanished or been murdered on reservations were high school students and classmates," said Michaelynn Hawk, director of Indian People's Action. "We were looking for an issue that would resonate with the youth. The passage of Hanna's Act showed how Native women could raise concerns with the Legislature and initiate change." 
The young Native artists will also be mentored by leading indigenous artists on how to position their work, challenge stereotypes and make both national and international reputations as working artists, Hawk said. 
But this year, there will be a new place to see and experience art during the folk festival: at the Uptown storm drains.
Roughly a dozen artists have taken non-toxic paint to the pavement surrounding storm drains in the folk fest area in an attempt to remind festival-goers that Butte's stormwater isn't treated before it flows into Blacktail and Silver Bow creeks.
This rebirth of the Clark Fork Watershed Education Program's Stormwater Public Art Working Group, which beautified the storm drains for the 2015 Montana Folk Festival, comes after years of requests and aims to spread awareness through the positive, colorful messaging, said Kayla Lappin, communication and events coordinator for CFWEP.
"We feel this sparks awareness and provides a good avenue for local artists to get their art out when there's a lot of traffic," Lappin said.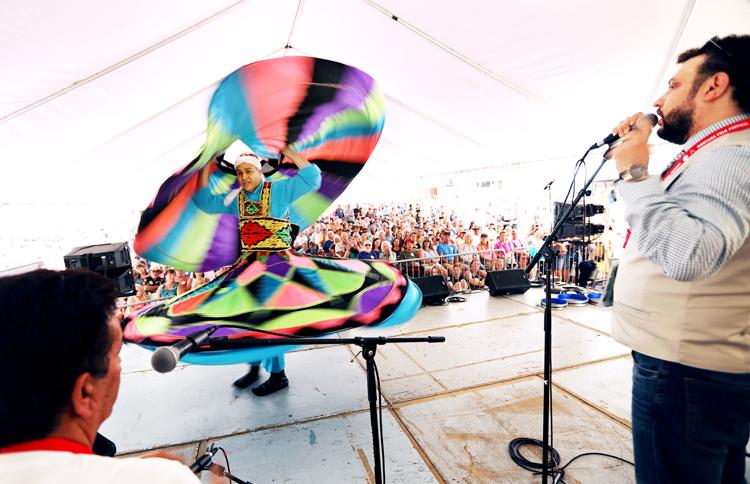 As of Wednesday afternoon, preparations for the Montana Folk Festival were well underway and running smoothly, Everett said.
The only hiccup and bad news for gospel fans? Everett said Cora Harvey Armstrong will no longer be performing at the festival due to a medical emergency she experienced last week. Other scheduled folk fest musicians have been selected to fill her three show slots, Everett said.
Otherwise, Everett said he expects this year's folk fest to be just as brilliant as in years past and to continue to promote cultural diversity through art.
"It's become a cultural magnet," Everett said of the Montana Folk Festival. "The people who come to Butte go away with a lot more than they came with. It really transforms some people … I'm proud of the impact it's had on the community and the entire state."