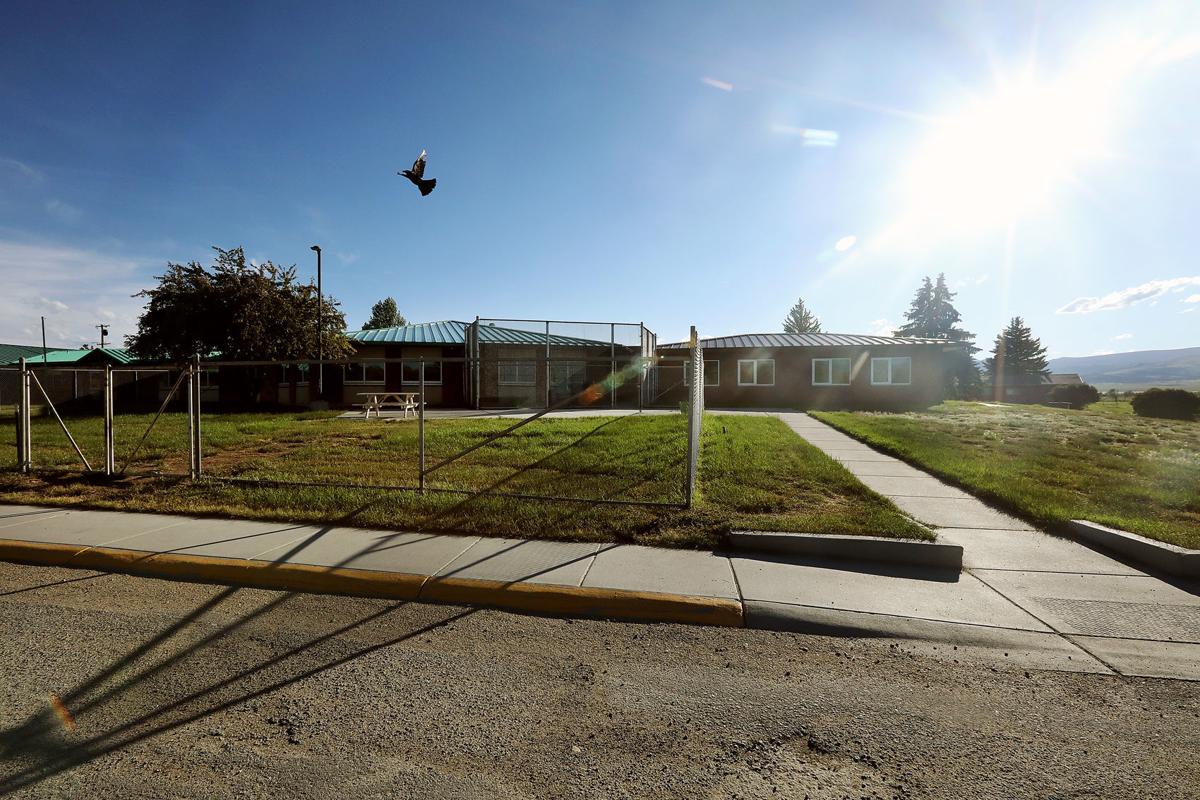 Editor's note: This story is the last of a two-part series. 
Complicating the already difficult situation on the Montana State Hospital's Spratt Unit, where some two-thirds of patients are receiving end-of-life care outside a hospice setting, is the fact that "about half" of the unit's patients have dementia and other untreatable neurocognitive disorders, rather than treatable psychiatric disorders like schizophrenia.
That's according to Jon Ebelt, a spokesperson for the Montana Department of Public Health and Human Services, which runs the state hospital.
"Although the Spratt unit is not designated specifically for patients with memory issues, this unit is where such individuals frequently receive care," Ebelt said. 
But Dr. Christina Quijano, one of two psychiatrists who has raised serious concerns about Spratt after working on the unit in a temporary capacity late last year, questions whether patients with such conditions even belong in a psychiatric hospital — and so does the Montana State Hospital's own admission policy.
"Co-morbid dementia may be accepted if the dementia is mild and a clear Community Re-Entry plan is in place," reads the hospitals admissions policy. "Patients with primary dementia diagnosis or clinical presentation are not treated at MSH."
While the state hospital has an admission policy that apparently forbids it from treating patients with such conditions unless it "mild" and a re-entry plan is in place, Ebelt said it's not necessarily up to hospital administrators who is admitted.
"Courts also occasionally commit patients to MSH despite potential conflicts with our admissions policy," Ebelt wrote. "We try to work with county attorneys to divert cases that give rise to these problems; but in the end, a court's order trumps our admission policy."
Ebelt also noted that many of Spratt's dementia patients have come the state hospital after seeking treatment elsewhere, writing that they "have frequently been denied care at nursing facilities, resulting in the court placing that individual at MSH."
Asked whether the hospital is able to properly care for a patient population its admission policy indicates it is not suitable to treat, DPHHS Addictive and Mental Disorders Division Administrator Zoe Barnard said, "I actually think that on Spratt that we have risen to the need and that we have provided the medical care that is necessary to meet the needs of the patients who are committed here."
But Quijano said that Spratt, despite housing numerous dementia patients, "was not at all like a dementia unit, with environmental therapy, groups and activities geared toward patients with dementia, and that on dementia units the internist or FP (family practitioner) is the attending, and psychiatrists are consultants. 
"I mentioned that there were virtually minimal to no groups for our patients," Quijano continued in her written statement. "That most of the groups were in a different building at that our patients had no way to get there, and the ones who could often did not know when the groups were, as they are announced overhead, and the unit is always too loud to hear overhead announcements."
Craig Fitch, acting director of the Montana Mental Disabilities Board of Visitors, which is housed in the Office of the Governor and aims to provide outside oversight of mental health programs in the state, said he noted — and sympathized with — Quijano's concerns about dementia patients being treated at the Montana State Hospital.
"She was really, really frustrated that these people were locked up in the state hospital," Fitch said of Quijano. "And she was right (to be frustrated). A lot of these people that are on Spratt would not be in a facility like this in other states. They would be in nursing homes or at least not in a state psychiatric facility."
Daly said she and Quijano "had the exact same concerns" during their time on Spratt but that her colleague "was more vocal than I was" about bringing them forward.
Quijano acknowledges she was vocal about her concerns, and she believes that was the reason she received an email on Dec. 3 abruptly terminating her from her temporary contract at the state hospital two months early.
According to that unsigned email, "My office has directly received, or become aware of, a number of complaints regarding Dr. Quijano's unprofessional demeanor when interacting with personnel both at our hospital, and in external venues. Despite the efforts of your office, our medical director, and myself, Dr. Quijano did not modify her interactions with MSH staff to the degree necessary to have her remain in a contract providers role here at our hospital. It is my understanding Dr. Quijano held an unfavorable view of the hospital protocols which was observed to manifest in her daily interactions with all parties involved. Dr. Quijano's unsolicited negative comments to, or about external providers, and members of the legal community, along with her frequent use of profanity, does not reflect the standards of this hospital, nor the presentation to the community expected by the State of Montana. Regrettably, as a result of the continuation of these type of incidents, we must immediately severe our agreement with Dr. Quijano to provide locum tenens provider services at the Montana State Hospital."
Quijano said she was never reprimanded before her contract was terminated and believed that termination was a consequence of her vocal complaints about the facility.
Dr. Christine Daly, a psychiatrist who worked alongside Quijano and shared many of her concerns about Spratt, said she agreed that Quijano's termination was "absolutely not" justified and was instead retaliatory.
"And the fact that they fired her without any replacement shows that they had a complete lack of duty to the patients," Daly said. "It was irresponsible for them to do that (fire her) when there was no one to replace her."
Daly said, "It was clearly just retaliation because she was voicing concern for the unsafe environment in which we were practicing."
After Quijano's termination, Daly says all of Quijano's patients were shifted to her, leaving her with 46.
"And they (hospital administrators) were not responsive when I said, 'I'm feeling overwhelmed. This is not an appropriate number of patients for me to take care of and I need assistance,'" Daly said. "They were not sending people over to help me."
Overwhelmed and feeling like she had not support, Daly said, "I felt like something — a bad outcome was possible. And I was concerned about my own medical license."
As a result, Daly said she put in notice to end her own temporary contract with the state hospital early and left her position in January.
But DPHHS Director Sheila Hogan pushed back against the doctors' claims, saying, "It's disappointing that a couple of individuals are mischaracterizing the complex nature of care for patients at MSH."
Fitch acknowledges there are problems at the state hospital, in general, and at Spratt, in particular, that he attributes to the small labor pool in the Warm Springs area, the statutory requirement that the state hospital accept anyone the courts commit, and the broader lack of services for people with mental health issues.
And he notes that "Spratt had really fallen apart a tiny bit" late last year and that "there was a little bit of turnover in the staff" when Daly and Quijano were there.
"She saw kind of the worst," Fitch said of Quijano.
But since Quijano left in December and the CMS survey was completed soon after, Fitch said DPHHS administrators brought in consultants, conducted audits, "eliminated a significant number" of staff, and "restructured the treatment plan" for some patients.
With the changes, Fitch argues MSH and Spratt are doing an adequate, if not exemplary, job.
"I think Spratt was definitely not the best unit for a couple-of-year period there — and for pretty much the 17 years I've been working here — but even at Spratt I don't have any residual, strongly held concerns about how people get treated overall," Fitch said. "I think it needs to improve. But does it meet the bottom line (licensing) requirements? Yes, it does."
And he said that's enough.
"If I had a family member and I could choose between any of the other hospitals in our state — if I could choose between those private hospitals and any bed in the Montana State Hospital, I would choose those private hospitals every single day of the week," Fitch said. "This is not a place where any of us want to be treated. But are people treated humanely and fairly well and are they getting the treatment they need day in and day out to get better and leave here? Absolutely. Is it the Cadillac of care? Not by a long shot."
But the advocates from Disability Rights Montana say the standards for Spratt and state hospital should be — and actually are — higher.
"I don't think that the law says 'Do your best'," DRM Director Bernadette Franks-Ongoy said. "I think you need to do what you're legally responsible for doing. And I think the state has an obligation to provide the care it is supposed to be providing. And even if they are under difficult conditions, they have to figure out a way to do it right. Their best doesn't count. … We understand some of what's going on for them, but just because we understand doesn't mean it's OK. They have to be following the law and doing what they're supposed to be doing."
And Bridgitt Erickson, a DRM staff attorney, agreed, arguing that the state exacerbates the difficulty of caring for the kinds of patients who end up on Spratt by spending its funds on the state hospital instead of in community-based services.
"I think it boils down to a crisis of their own creation," Erickson said. "They choose to spend their money that's given by the Legislature on institutional care. They choose to do that. … If the department would instead invest that money in the kinds of resources that would meet the need rather than trying to fit people into a predefined institution ... provide community services that would meet that need, they wouldn't have this problem. So it's hard to feel sorry for them when they refuse to provide the community services that would keep those people out (of the state hospital). They have the money to do it, but they put that money back into those institutions."
While DPHHS's Ebelt disagreed, saying the Legislature "is the policy making and funding body for such decisions," Erickson argued it's up to the department to decide how the money is spent. 
"We don't, as an agency (DRM), fault the employees at the hospital at all," Erickson said. "These are higher-level decisions being made here in Helena, in terms of where to invest legislative appropriations."
Get local news delivered to your inbox!
Subscribe to our Daily Headlines newsletter.