Editor's note: This is the first in a series of stories about local people dealing with cancer. The stories run this week in conjunction with the Relay for Life, which is Sunday at the Butte Civic Center.
Butte residents and cousins Marla Semsak and Barbara Crnich have two things in common.
For one, both women cared for loved ones with cancer.
Secondly, both have a message: If you're caring for someone with a terminal illness, you're not alone.
For Semsak, the wound of losing her sister Ramona Dunn is still raw. Ramona passed away just a few months ago, in May, at age 57. Three years earlier, Ramona's husband lost his own fight with cancer at age 58.
Semsak and Ramona grew up in a house with eight siblings, and Semsak describes her sister as someone with a lot of spunk.
"There was always a lot of chaos," said Semsak, describing their childhood.
But Semsak says there was a positive side of growing up in such a large household: there was always someone to be with and somebody always had your back.
Semsak said her sister received her diagnosis about five years ago when she had symptoms consistent with a bladder or urinary tract infection. But when antibiotics didn't seem to alleviate the symptoms, doctors decided to take a closer look and discovered that Ramona had ovarian cancer.
In those five years after her diagnosis, Ramona did her best to live an active life.
"She was determined that cancer wasn't going to get the best of her," Semsak said.
But Ramona wasn't alone in her fight with cancer, because she had her sister and other family members by her side.
For three years, Semsak said, she drove her sister to Missoula for her medical treatments and didn't miss a single session.
The first round of treatments seemed to diminish the cancer, Semsak said, but Ramona never went into remission, and the cancer seemed to keep growing over time.
During this time, Semsak would often cook for her sister and run errands in addition to taking her to her medical treatments. And sometimes she would just visit her sister, not talking or doing anything, just visiting because she knew her presence was comforting.
Semsak said the hardest part of the whole saga was the end – seeing her sister pass away.
But Semsak says she wouldn't have changed her role as caregiver for the world.
When asked for her advice for caregivers, Semsak said caregivers shouldn't be afraid to accept help.
Crnich, like her cousin, took on the task of caring for a family member with cancer.
It was lung cancer that took away her mother Minnie Dotson's life in 2015. Dotson was 80 years old.
Crnich said her mother didn't want to pass away in the hospital and opted to stay home during her fight with cancer.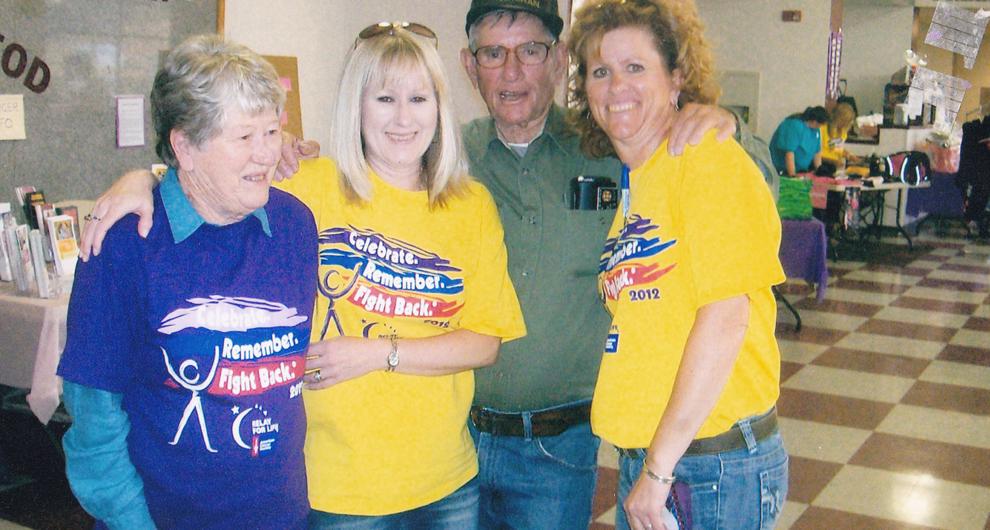 Crnich's father, Jack Dotson, needed help caring for his wife, so Crnich, a nurse, helped with bathing, housekeeping, getting ready for bed – "whatever they needed," Crnich said.
Crnich's three sisters also helped care for Minnie.
"It takes a group, that's for sure," said Crnich, noting that she felt supported by friends and family members as she, her father, and sisters helped Minnie in her final journey.
Crnich said her background as a nurse helped her care for Minnie, but it wasn't like caring for a patient, because it was her own mother she was caring for.
"I did it from a nursing standpoint," said Crnich. "But then that daughter part came in."
Like her cousin, Crnich said the hardest part of her experience was the end, when nothing more could be done for her mother.
"I just had to let her go," said Crnich.
When she thinks back on her mom, Crnich says she tries to think about the good times instead of the end — about the times they took walks together at night, the days of baking during the holidays, and their conversations.
To honor her mom, Crnich will be taking part in Sunday's Relay for Life event in Butte.
From a caregiver's perspective, Crnich said caring for someone with a terminal illness takes its toll. She described it as "an exhaustion you just can't explain."
Given this, Crnich said, it's important for caregivers to take care of themselves in addition to their loved ones and to reach out to their support systems. For those who aren't married and don't have any children, Crnich recommended reaching out to medical providers who might be able to point them toward places where they can find support.
"Don't try to do it alone," she said.