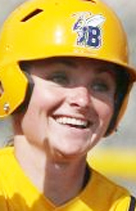 BILLINGS — An assistant softball coach at Billings Central Catholic School said she was dismissed Monday because of her work at Planned Parenthood.
Tarn Duff, 26, was an unpaid volunteer during the Rams' 2012 season and received about $1,500 for her work coaching hitters and outfielders during the 2013 season.
Duff, of Billings, said head coach Coleman Rockwell delivered the news to her Monday morning.
"The only reason they gave me was that I work at Planned Parenthood," she said.
The story follows in the wake of an unmarried Butte Elementary School teacher, Shaela Evenson, who was fired Jan. 10 after getting pregnant. Evenson taught sixth-, seventh- and eighth-grade literature and physical education for just over eight years.
Meanwhile Duff, in Billings, said that she'd always had a "fantastic" relationship with the head coach.
"I could tell by the look on his face that something was up," she said.
Rockwell did not return a telephone message in time for this story.
Patrick Haggerty, superintendent of Catholic Schools in Montana, said he concurred with the recommendation not to offer Duff a contract for the upcoming season, but did not agree that she'd been fired. Contracts for the spring sports season have not yet been offered to coaches, he said.
"I don't know if you can say she's been fired," he said Tuesday. "We fulfilled the terms of the contract, and so did she."
Duff began working as a clinical assistant at Planned Parenthood's office in Billings in November. Her work entails "pulling people's charts, scheduling people, things like that," she said. "I do the basics. I'm the new kid there."
"I absolutely love the work. I have amazing coworkers," said Duff, who was known as Tarn Potter until her marriage last year to Mike Duff. "I believe everyone has a choice to decide what they're going to do with their body. Planned Parenthood advocates for equal rights, and women and men both go there. People go there to get checkups."
Duff was a two-time All-American outfielder at Wenatchee (Wash.) Valley College, then played a year at Central Washington University in Ellensburg, Wash., before suffering a shoulder injury. She completed her playing career — and her undergraduate studies in criminal justice — at Montana State University Billings in 2010.
Duff said she "never thought twice" that her work at Planned Parenthood would "be an issue" with her coaching.
But it is, Haggerty said.
"Certainly being employed by Planned Parenthood, an organization that by its nature violates Catholic moral teaching by providing abortions, is not being a good role model to the children attending Catholic schools," he said.
Duff said she signed a contract but couldn't recall if it contained a morals clause.
"My mission was to share my knowledge of softball with (players)," she said. "I never mixed that with my personal life, and never put my beliefs on them."
"I'm not upset that I lost my job," she said. "I'm upset that I won't get to be there for the girls. I like to consider myself a role model to young girls, that hard work and dedication will get you places you want to go in life. That's what I love about softball — you can have so many life experiences with just how the game is played. When you have teammates, you have family for life."
Stacey Anderson, director of public affairs for Planned Parenthood of Montana, issued this statement: "Our hearts go out to Tarn Duff whom we know to be an exemplary employee and dedicated to improving the lives of Montana women and teens.
"Planned Parenthood of Montana provides health care and education to thousands of patients each year, many of whom would otherwise not have access to breast and cervical cancer screenings, STD tests, birth control, and other essential health care. For over 40 years we have proudly helped the women and families of Billing lead healthier lives and make informed and responsible decisions about their health and well-being."
Duff said not being able to coach "is a situation I never thought would happen to me."