Around 11:30 a.m. Tuesday morning, a line of emergency vehicles rolled into the south Civic Center parking lot with their lights on but no sound. In front of the building, veterans, government officials and community members gathered for the United Veterans Council's 9/11 remembrance ceremony.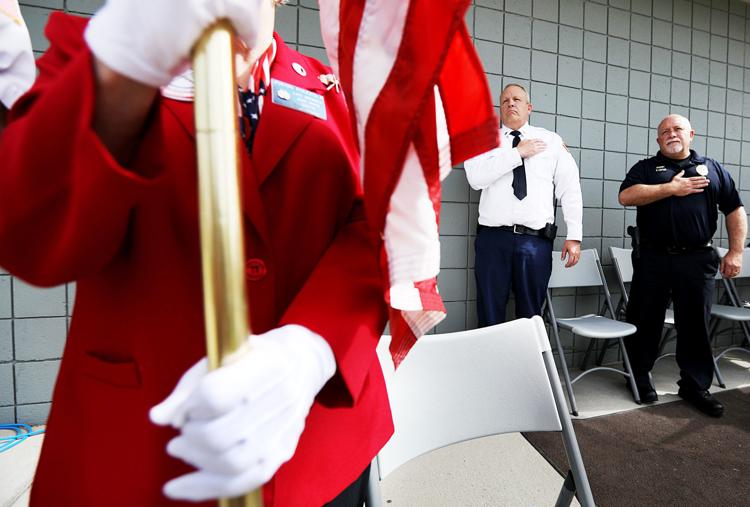 After a UVC color guard marched in front of the crowd, the Rev. Douglas Rykiel of First Baptist Church gave the opening prayer.
"We pause to remember that moment of horror," Rykiel said. "We remember the way our thoughts and prayers were with those people affected and, this morning, our thoughts and prayers are with them again."
Butte-Silver Bow Chief Executive Dave Palmer, Sheriff Ed Lester and Fire Chief Jeff Miller, along with representatives for Sens. Jon Tester and Steve Daines, all spoke during the ceremony. They touched on the devastation of losing almost 3,000 Americans during the attacks, including hundreds more in the years after from related health conditions and the ensuing wars in the Middle East. They talked about the acts of heroism and patriotism performed by first responders and civilians that day. They said 9/11 drastically changed the world as we know it, forever.
Later on Tuesday evening, a second, related memorial took place, the Greater Butte-Silver Bow Harmony Day. 
Organized by the Greeley Neighborhood Community Development Corporation with the aid of various community members, the Harmony Day celebration began around 7 p.m. at at the Civic Center Annex. 
Many who were involved in the planning of the Harmony Day event suggested they view 9/11 as a tragedy that triggered purpose and unity across our country. Through this year's Harmony Day, they hoped to emphasize the importance and necessity of harmony in Butte by remembering how our nation came together during those dark days 17 years ago.
"Our country desperately needs more unification," Debbie Todd, one of the event organizers, said. "As a small community, we can come together and carry the spirit of harmony so it will spread."
According to Ed Banderob, who also helped organize and coordinate the event, this isn't the first time Butte has had a Harmony Day celebration.
In 2008, Banderob said a woman who served in Iraq was violently attacked not long after she returned home to Butte. Banderob and others wanted to respond to the act of discrimination by promoting peace and love, he said, so they held an event that mimicked Australia's annual Harmony Day, which celebrates the country's cultural diversity.
Ten years later, Banderob said the event still emphasizes embracing diversity and inclusiveness for all, though the focus this year is on sharing the courage that first responders and civilians had on 9/11 to promote harmony in various ways.
On Tuesday night, speakers got up on the stage in the Annex's small gym and spoke about various kinds of "harmonies," including personal, familial, educational and economic harmonies. There was song, dance and drama as the 80 or so people in attendance were asked to make "I stand for harmony" statements that were associated with the featured speaking topics. In a declaration written by Chief Executive Dave Palmer and read by Butte-Silver Bow Council Chairman John Morgan, Sept. 11, 2018, was recognized as the county's first Harmony Day.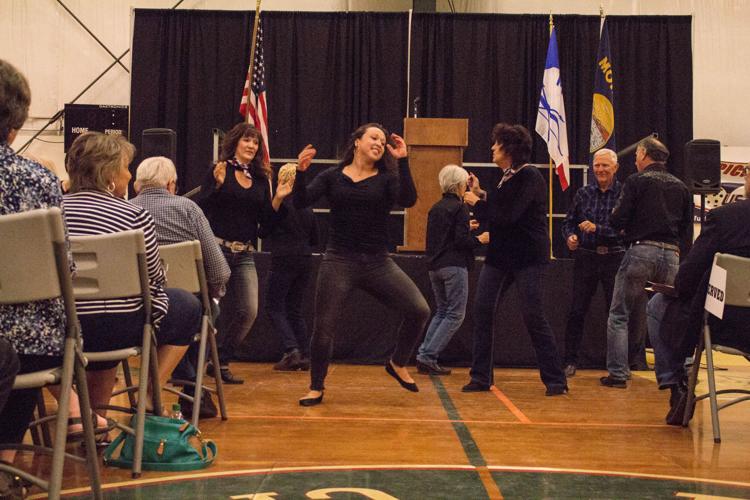 Every performance sought to verbalize or demonstrate the power and importance of harmony in some way.
The question, said Montana Tech Professor Burt Todd, is how we implement that harmony. The answer, he suggested, can be found in Butte's heritage.
"People from all nations came here and brought their culture with them," Todd said. "There was reason to suspect a clash. But those people were stronger working together than apart, they needed each other to succeed. They turned this place into the Richest Hill on Earth."