The line to enter Butte's brand-new, $8.7 million Ridge Waters water park stretched from the doors to the parking lot late Wednesday morning, just before it officially opened at noon.
While it was hard to tell who was very first in line, such was the bunching, 12-year-old Autumn Alkire was very near the front and, boy, was she excited.
"I have adrenaline in my body," Alkire said. "I can't stop shaking."  
Right behind Alkire waited Lyn Stordahl and Pam Rozan, therapists who were there with a group of kids from Butte's Altacare program.
A bit older than Alkire, Stordahl and Rozan were both looking forward to Ridge Waters and looking back to the old Stodden Park pool, which closed in 2006.
As girls, Stordahl said, "we walked here every day."
Being back, Rozan said, it felt like "we've kind of come full circle."
Behind them stood Tony Sullivan, Jeri Phillips and their four kids, who ranged in age from 10 months to 9 years old. They'd been waiting in line for two hours, said Sullivan, who was trying to fulfill a promise: "I told them they'd be the first in line."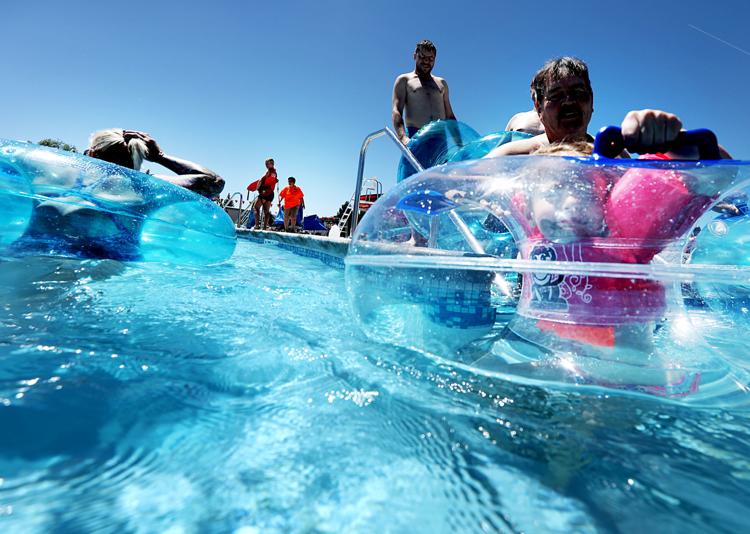 When the doors finally opened, the long wait — two hours or 12 years, depending how you look at it — was over.
As the line streamed inside, Mark Fisher, Butte-Silver Bow's water park operations manager, watched with a mix of relief and excitement.
Calling the moment both "insane" and a "reality check," Fisher said, "This was a long time coming."
While the moment was personal for Fisher, who also swam at the old Stodden Park pool and who said he looked forward to making new memories at Ridge Waters with his kid, he was also cognizant of the bigger picture.
"This is going to be a big boost for Butte-Silver Bow and local economy," Fisher said. "I think we're gonna get people from near and far to enjoy this beautiful facility."
Inside, yellow caution tape marked off areas where workers were still putting the finishing touches on the landscaping, but that didn't stop J.P. Gallagher, the county's parks and recreation director, from feeling a sense of accomplishment as kids jumped and waded into the water park.
As he looked back on the years when Butte lacked a place where kids could swim, Gallagher lamented the fact that there was "a generation of local kids" who missed out on having a pool — and he was happy to see that wrong being righted on Wednesday.
"It's something every kid should have," Gallagher said.
As kids traveled down the lazy river in clear inner tubes, slid down the park's twin water slides, played on the Kid's Cove aquatic jungle gym and held their noses as they jumped off the diving board, it seemed they all agreed with Gallagher.
Blake Becker, 12, of Cardwell, was perhaps the first kid to reach the top of the Aqua Climb — a climbing wall mounted on the side of the pool — and he had some advice for the countless kids who will come after him.
"At first, when you get pretty high, it's pretty scary," Becker said. "But when you fall in the water, it's fun."