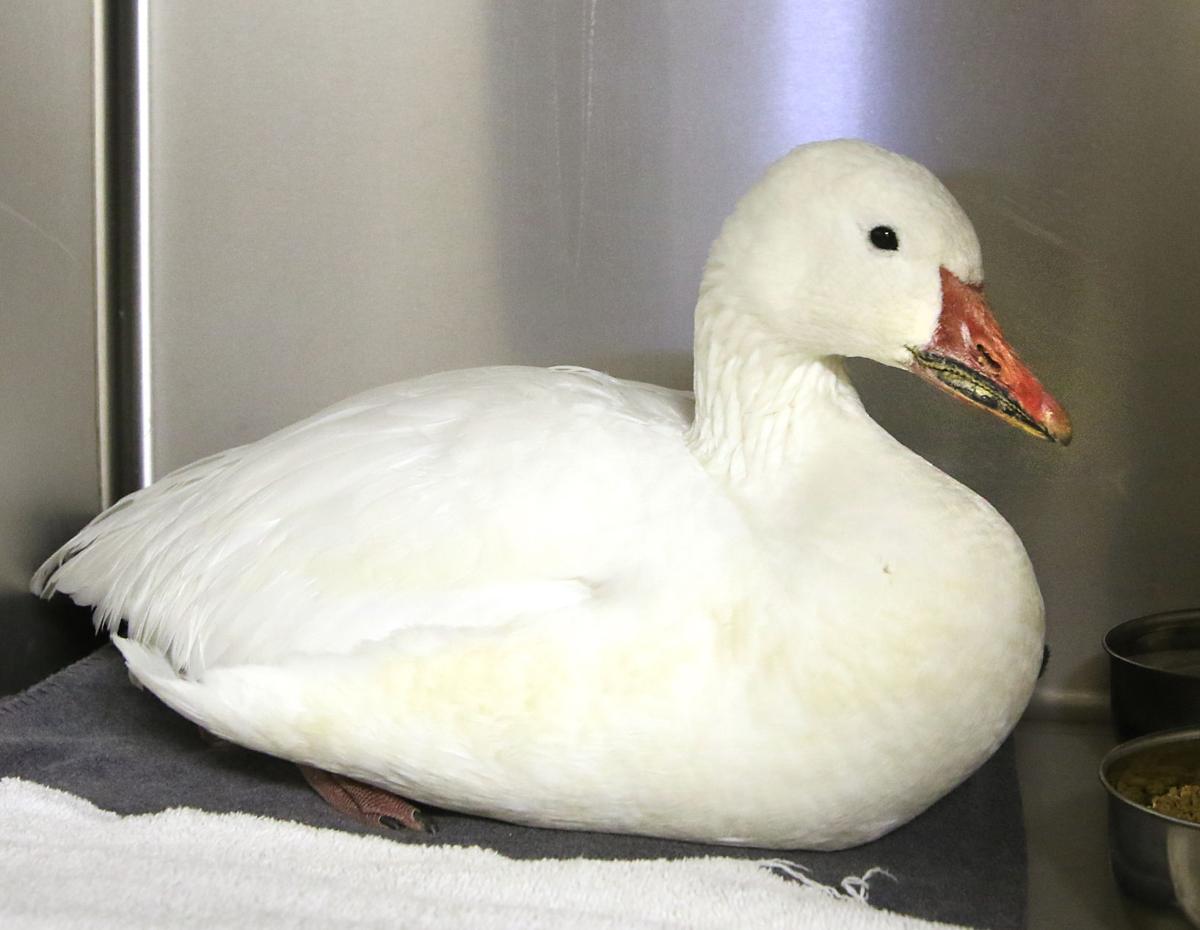 The snow goose captured and treated last week died Friday night while recuperating at the Butte animal shelter, a U.S. Fish and Wildlife Service official said Monday.
Ryan Moehring said everyone was rooting for the bird to survive. The agency hoped to release it Monday.
Had the bird lived, it would have been a bit of good news for Butte after 3,000 or more migrating snow geese died after drinking water in the Berkeley Pit the night of Nov. 28. Mine officials say the pit's lake was "white with birds" when thousands came to rest on the toxic water during a snow storm. Workers spent a week hazing to get the snow geese to leave the pit, say mine officials.
The agency had originally hoped to release the treated bird Friday, but after a check-up with a veterinarian, officials held off. Reportedly eating, the bird was "very active" last Thursday but became less so on Friday.
Moehring said Butte-Silver Bow animal control captured and treated another snow goose over the weekend and that bird is being held to recover.
Butte animal control supervisor Jacki Casagranda said Monday that bird is "doing OK."
Moehring said the agency is working with mine officials to strengthen the Berkeley Pit hazing program in time for spring migration.
Montana Resources manager of environmental affairs Mark Thompson said Monday that he is talking with officials who keep migrating birds off the oil sands in northeastern Alberta, Canada, to get more ideas on how to keep flocks off the pit's toxic water.
"We're in the 'what now' phase," said Thompson.
Environmental Protection Agency spokesperson Robert Moler said EPA is planning a formal inquiry into whether MR and Atlantic Richfield Company were in compliance with the bird hazing program. Designed by federal and state agencies, the plan was designed to keep large numbers of waterfowl off the pit. Thompson previously said he is "very confident" the companies were in compliance.
Moler said EPA won't issue a public advisory on harvesting snow geese until necropsies come back on 20 dead birds pulled from the pit's water. Once results are in, EPA will determine if there is a potential risk to human health.
Moehring said test results may not be available for another two weeks.
Steve Hoffman, director of the Montana Audubon Society, previously told The Montana Standard the snow geese migrating through southwest Montana were headed for Texas, Louisiana, New Mexico and northern Mexico.
Fish, Wildlife and Parks issued an advisory last week to hunters in southwest Montana not to eat snow geese harvested after Nov. 28. The department suggested hunters freeze the birds until it's determined whether they're safe to eat. Goose hunting season continues into January in Montana.
FWP regional supervisor Sam Sheppard said Monday that no hunters have come forward with potentially contaminated harvested birds.
"Even though the likelihood is very small, we chose to err on the side of caution with hunters," Sheppard said. "The way snow geese migrate, they don't stick around here very long, so we don't have a lot of hunters harvesting them."
Fish and Wildlife won't make a decision on fining MR or ARCO on the geese who died from pit water until after necropsies have been completed. A federal law protects migratory birds, with a potential maximum fine of $5,000 for each dead bird. 
One bright spot is that with the weather getting colder, there is no forecast for additional mass migrations to fly over Butte, said Moehring.
Be the first to know
Get local news delivered to your inbox!