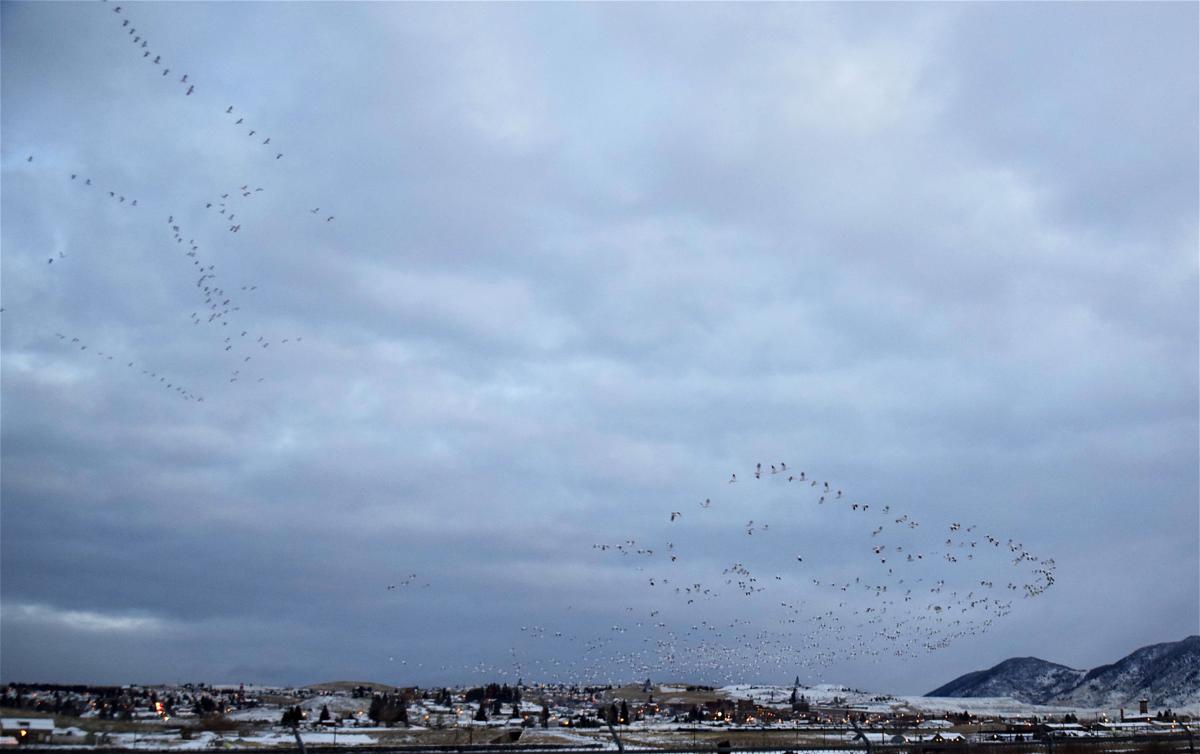 After a tense few days of struggling to get more than a thousand snow geese to leave the Berkeley Pit's contaminated water, Montana Resources officials spotted dead birds at first light Thursday.
Due to safety precautions, MR cannot determine the number of dead birds. But manager of environmental affairs Mark Thompson said he spotted a small number shortly after dawn broke.
Due to concerns that the pit's southeast wall could slough off and cause a large damaging wave, MR no longer puts a boat into the Berkeley Pit. Without a boat, MR will not be able to retrieve the dead birds.
That will likely mean no one can get an accurate number of how many birds died.
But Brent Esmoil, deputy field supervisor for Helena-based U.S. Fish and Wildlife Service, said that at least a few dead birds will likely wash ashore.
Esmoil said MR has been in contact with the agency to get the birds analyzed when that happens.
The birds landed Monday night during a snow storm. Federal agency officials and bird experts in both Helena and Dillon reported seeing and hearing a multitude of snow geese flying overhead until around 2 a.m. Tuesday.
An MR employee alerted the mining company ahead of time about the enormous snow goose flock traveling over Anaconda Monday night, Thompson said.
Thompson said the mine immediately ramped up its bird hazing program, which has long been in place to deter and discourage bird landings on the pit's lake. Mine officials and Atlantic Richfield Company, the responsible parties for the Berkeley Pit Superfund site, implemented the program 20 years ago in response to the 1995 die-off when 342 snow geese stayed too long on the toxic water.
The program has largely been successful. Designed by both federal and state agencies, the bird hazing program includes a variety of noises — from loud rock and roll to white noise to gun shots. Birds don't stay on the water longer than 12 hours, Thompson said.
Thompson stressed that no one wants to see the snow geese die and they have been working diligently since the birds landed to try to get the fowl to take flight. That effort has included using a drone and high-powered rifle shots to encourage the birds to leave.
Thompson said Thursday that MR now believes as many as 10,000 birds landed Monday night. He believes initial efforts got as many as 9,000 snow geese to take flight Tuesday morning.
"The pit was white with birds," Thompson said Thursday.
Environmental Protection Agency Berkeley Pit project manager Nikia Greene estimated previously that he might've seen around a thousand Tuesday afternoon.
Thompson said some birds left the pit Wednesday night at dusk. He estimates that as many as 80 flew out Thursday morning.
Be the first to know
Get local news delivered to your inbox!