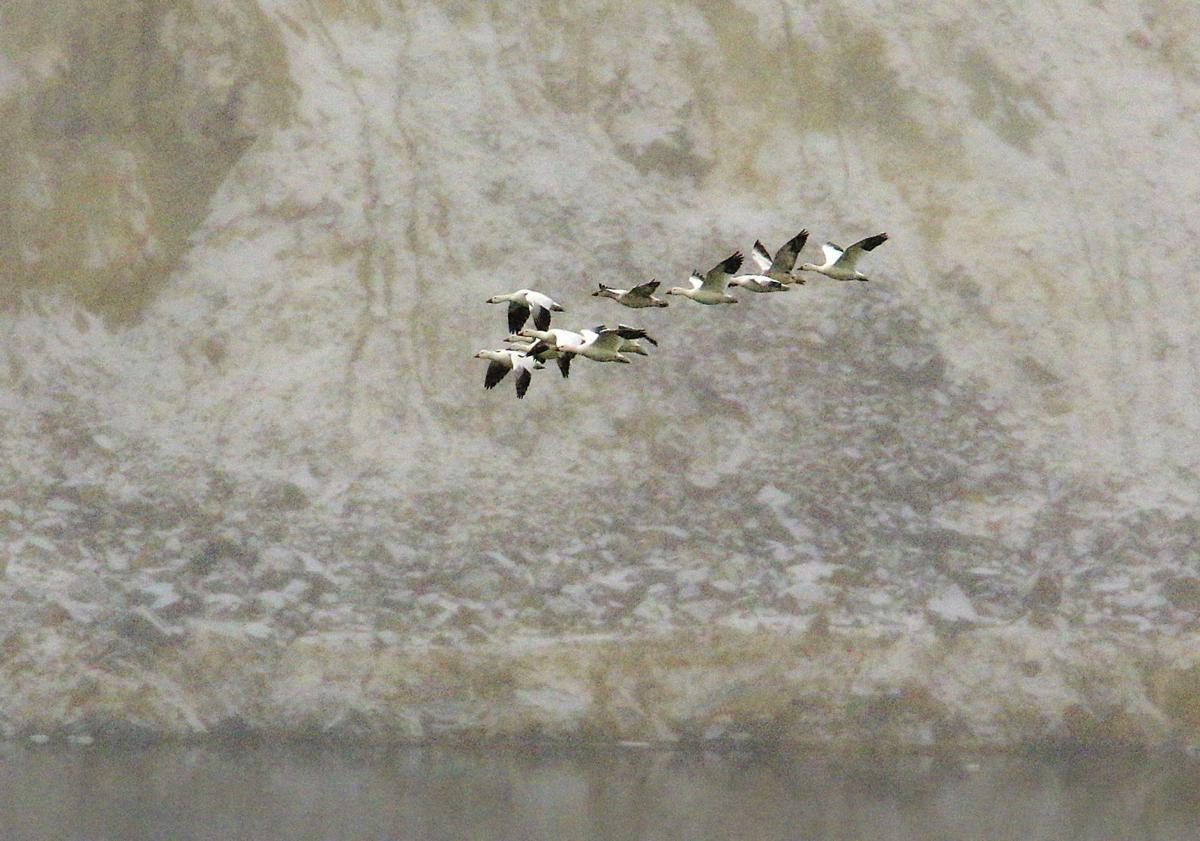 When more than a thousand snow geese landed on the toxic Berkeley Pit Monday night, the birds weren't just responding to the need for rest, but to the much larger problem of climate change, says one bird expert.
Helena-based Montana Audubon Society executive director Steve Hoffman said that with a warmer fall, many birds, including those swimming in the Berkeley Pit water, are migrating later than usual.
The change in length of daylight hours largely drives when birds take flight for a sunnier clime. But a warmer-than-usual fall also figures in.
Normally, snow geese begin migrating in the first two weeks of November, Hoffman said.
Missoula-based National Weather Service meteorologist Dave Noble said this November was the fourth-warmest on record for the Mining City. November's average mean temperature for Butte in 2016 was 36 degrees, said Noble.
The National Oceanic and Atmospheric Administration reports that the first nine months of 2016 had the warmest January-to-September period in the 137 years of temperature record-keeping across the globe. Before 2016, NOAA reported 2015 as the warmest year on record. Before that, it was 2014.
University of Montana-Western professor Jack Kirkley, who specializes in ornithology, agreed that birds are leaving later because the milder winters are not encouraging them to head south. The change in migratory pattern also means "some are staying in places where they've never stayed the winter before," said Kirkley.
Hoffman said that if there's a silver lining to this story, it's that there are 4 million to 6 million snow geese on the continent.
"There are some concerns the population is too high," said Hoffman.
Too many birds could mean the breeding ground habitat cannot sustain the population, Hoffman said. That breeding ground is in the Arctic, in either the northern reaches of Canada or Alaska.
By the time the snow geese reach Butte, they have traveled anywhere from 1,500 to 2,000 miles.
Freezout Lake, northwest of Great Falls, is Montana's primary snow goose resting spot as they travel south.
But at this point in November, Freezout Lake is already mostly frozen over. Fish, Wildlife and Parks spokesperson Greg Lemon said he received a report that the lake was frozen over a week or so ago.
Warm Springs Ponds are also mostly frozen over, said Deer Lodge ornithologist Gary Swant. That means the birds don't have many resting spot options.
Hoffman said the birds fatten up before they take flight. So the birds on the Berkeley Pit may not be that hungry, even though they've been there for more than 30 hours.
The birds are headed for Louisiana, Texas, New Mexico and northern Mexico for the winter, said Hoffman.
In the 1990s, says Montana Department of Environmental Affairs project manager Darryl Reed, the Berkeley Pit would freeze over. It does not do so any longer, and it's not entirely clear why.
Mark Thompson, Montana Resources' manager of environmental affairs, said it could have to do with changes in the chemical composition of the water. Due to the potential of pit walls sloughing unexpectedly, MR and Atlantic Richfield Company had to stop monitoring the water a few years ago. So no one knows for sure the chemistry of the water at this point.
Another, simpler cause could be that "winters are not long enough anymore," according to Thompson. "This used to be predictable," he said.
Be the first to know
Get local news delivered to your inbox!