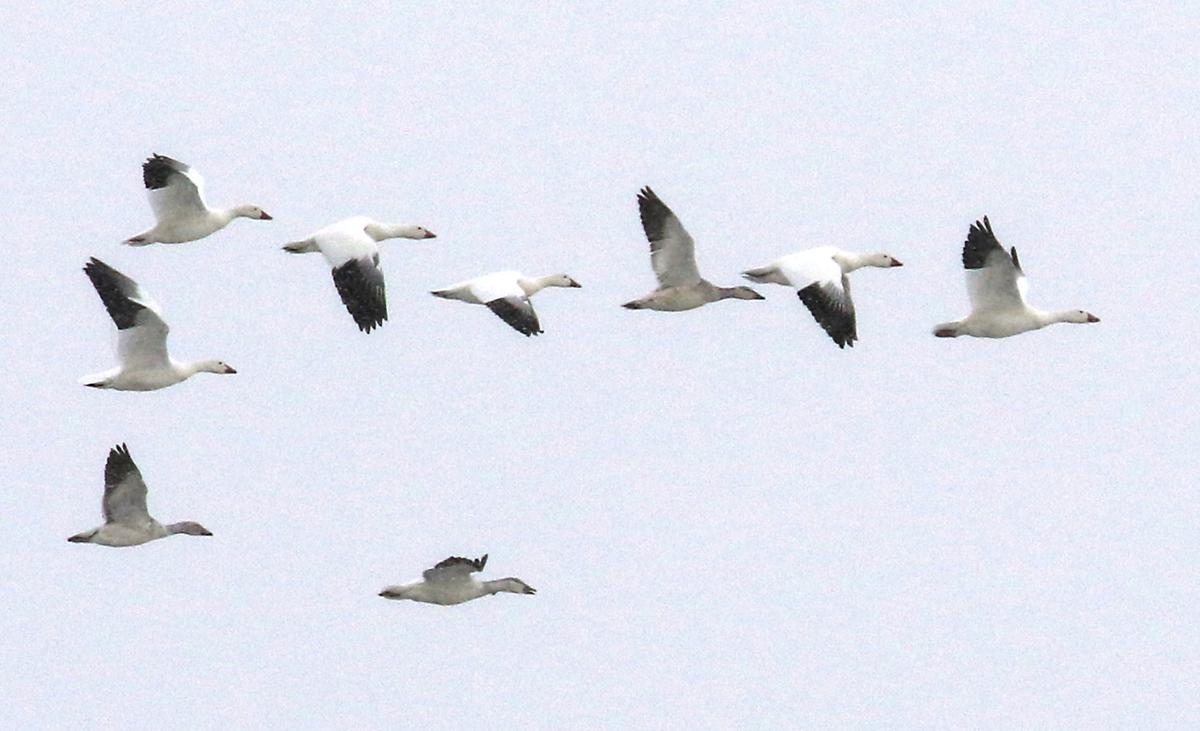 A free Earth Day event raising awareness of the snow geese that perished in the Berkeley Pit last year runs 3 to 6 p.m. Saturday, April 22, in the Knights of Columbus Hall, Park and Idaho, Uptown Butte.
The get-together is packed with music, art, poetry, and information about the hope for future hazing of birds away from the toxic pit water.
• Local songwriter and singer Chad Okrusch will perform, including some of his original songs.
• As was done 21 years ago after the first snow geese catastrophe in the pit, a Native American blessing will be provided, this time by Rocker resident Floyd Bearing.
• Mark Thompson, environmental engineer from Montana Resources, will explain the events that led to thousands of migrating snow geese landing on the pit and dying.
• Stella Capoccia, a Montana Tech biology professor who heads the mine's Bird Advisory Committee, will discuss new technologies that are being used or tested to keep birds from landing on the pit.
• Kennedy School fifth-grader Samantha Landsair will present her gold medal-winning science fair project on keeping geese off the pit.
• Dark Sevier of KBMF Radio 102.5 FM LP will emcee a program that includes Kristi Hager's poem "Not Water," written for the original snow geese memorial in 1996, following the deaths of 342 snow geese in the pit in 1995.
• David McCumber, editor of The Montana Standard, will provide an eyewitness report of the scene at the pit after the geese landed.
• Poet Mark Gibbons will recite an Ed Lahey poem. Rayelynn Connole of the CFWEP presents ideas on environmental stewardship. Kevin Lowney has written a song for the event.
• A "Snow Geese Shop" will sell commemorative "HOPE for Snow Geese" T-shirts, an original Pat Dobb rainbow trout sculpture, porcelain snow geese plates by artist Terri Ruggles, prints of Kristi Hager's Berkeley Pit painting, and DVDs of the Butte Cool Water Hula performance 17 years ago.
• Artist Nolan Salix will display his recently completed Berkeley Pit Snow Geese Painting on Copper. Other artists are invited to display their art related to the pit and snow geese.
• Children's art activities include painting paper snow geese feathers.
The event is sponsored by the Clark Fork Watershed Education Program and by Citizens for Labor and Environmental Justice. Donations are invited to support the educational work of CFWEP.
Details: Mary Kay Craig, 406-723-3851, or cfwep.org.