This story has been updated to correct an editing error. Ed Renfro owns Bad Beaver Bikes, and Sara Dennehy is the owner of Derailed Bike Shop. 
Butte and southwest Montana are the state's hottest mountain biking growth area. The combination of the Butte 100 race series, the nearby Discovery Bike Park, and the popularity of the Continental Divide trail system is fast producing a mountain biking destination.
When Ed Renfro planned to open a bike shop in Butte in 1995, there were already five retail bike shops in town. After assessing the competition of the market he decided to start his operations in Dillon, Montana and opened Bad Beaver Bikes. After nine years, he decided it was time to move his business to Butte after a series of "peaks and valleys" in the mountain biking market overtook many of the specialty shops.
Most recently, the Derailed Bike Shop emerged on the local scene in April 2018. Sara Dennehy manages and owns the business. Together, the two shops are eager to introduce more of Butte to the wide variety of riding that immediately surrounds the community.
Dennehy is eager to introduce people to the wide variety of riding that immediately surrounds the Mining City.
"There's just so many rewarding things (about owning a bike shop), but I love helping get people on the trails," said Dennehy.
In addition, Gina Evans began a shuttle and rental service in Butte three years ago. Linked Adventures offers riders of all skill sets the opportunity to explore the trail systems around Butte.
The Butte 100 race series celebrated its twelfth birthday this July by hosting over 300 riders from 16 states and two countries. Avid Butte 100 competitor and Olympic mountain biker Tinker Juarez dubbed the race "the most difficult mountain bike race in the country," which has inspired amateurs and professionals alike to attempt to conquer a course that traces the spine of the Continental Divide.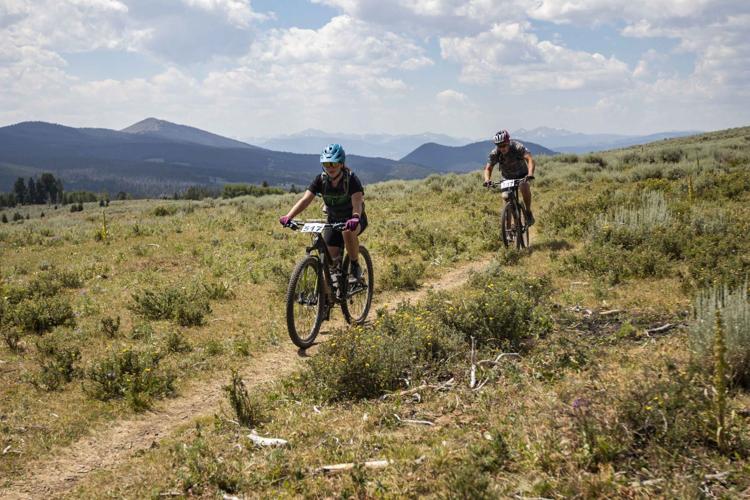 In 2016, Stephanie Sorini purchased the race from Bob Waggoner as a tribute to her late husband, Dr. Pete Sorini, the namesake of the Sorini 25, the shortest race of the three in the series. According to Sorini, the Butte 50 and Sorini 25 fill up within the first 30 minutes of registration opening in January.
The mix of downhill, cross country, and road biking opportunities that surround Butte provides locals and tourists an assortment of options.
"It gives you a better variety so you aren't like a hamster in a wheel," said Renfro.
This spring, Singletracks, a popular mountain biking blog, named Butte one of 10 U.S. mountain bike towns with the lowest cost of living, citing a low median home price and 300 miles of single track in the area.
Butte is also home to two community riding clubs, the Highlands Cycling Club and the Butte Coca-Cola Racing Team. 
Discovery discovers biking
A small dirt road off Highway 1 just west of Georgetown Lake winds through trees and Forest Service land before arriving at the bottom of Discovery Ski Area's Silver Chief chairlift.
There, on Discovery CEO Ciche Pitcher's privately owned land, sits Discovery Bike Park, which has a rustic charm not found at large-scale mountain bike parks. There is no running water, no electricity, and only one pit toilet. Riders are responsible to pack their own amenities for the weekend-only operation.
"It feels like you're driving to a trailhead, not a lift-access bike park," said Pitcher.
But while it looks modest, the Discovery Bike Park has played an important role in a recent burst of growth in southwest Montana's mountain biking scene.
According to Pitcher, the decision to build a bike park was a long time coming. Pitcher spent a summer touring Canadian ski resorts to explore options for expanding his ski area's business into the summer months. He had considered adding large trampolines or downhill alpine coasters, but in the end, the decision to develop mountain biking on the ski area seemed the most natural.
"Mountain biking felt like it could fit well, almost seamlessly," said Pitcher. "We already had mountain biking skills in-house, we just didn't have the skill set to develop the trails."
But the idea was shelved until Pitcher partnered with Charles "Chuck" Braden and his crew of seasoned mountain bike trail developers. It then took nearly two years to prepare the Silver Chief area for its 2014 debut.
According to Pitcher, the park was successful in that first season and attracted riders from Big Sky and Bozeman, where downhill mountain biking was already popular. But after the first season, it was clear to Pitcher that those original trails had missed the mark for beginners.
"I like serving that (beginner) population. Since opening, we are trying to skew even further into the beginner skill set," said Pitcher.
Discovery Ski Area is known for runs that challenge skiers of all levels, and he hopes to do the same he continues to develop the bike park. Since introducing downhill mountain biking to Discovery, Pitcher has tried to attract more riders of differing abilities and experience. This is the first year the bike park has a fleet of rental bikes and full-face helmets available.
"We are trying to engage that user group (beginners) and develop a mountain bike culture," said Pitcher.
Trail crew employees recently finished constructing a building to serve as a ticket counter and possible retail space to offer riders tire tubes, gloves, and other bike parts.
A new road is being built to create smoother access from Rumsey Road to the Silver Chief chairlift and could be completed as soon as this fall, according to Pitcher. The road will offer travelers a shorter drive time to the bike park and provide a way to add facilities to the area. Pitcher hopes to include food truck service for the weekend operations.
Register for more free articles.
Stay logged in to skip the surveys.
Pitcher and his crew of eight full-time trail crew workers have developed seven downhill-style mountain biking trails, rated from beginner to expert. The crew works Wednesday through Friday to perform trail maintenance, such as rock removal, trail raking, and trail building. The trail crew also develops a series of features on every trail, such as jumps, wall rides, and road gaps. Every feature includes a ride-around option.
Saturday and Sunday are spent managing the operations of the mountain. Riders can expect smooth trails with clay-capped berms. And according to the trail crew, the trails don't see the usual wear and tear of larger-scale resorts like Big Sky, Whitefish Mountain, and Silver Mountain because the mountain is only open twice a week. The bike park averages anywhere from 20 to 30 riders a day during their weekend operations.
"If that's not comfortable for you — then let's build something else," said trail crew employee Chase McChesney. "Ciche puts a lot of trust in us."
According to employees, most weekend riders travel from Butte, Missoula, Helena, and Bozeman.
"For me, it's definitely more quality over quantity. You never have to wait in line here," said Sean Mackinson, a rider from Big Sky.
"We come up here at least once a year. We're hoping to make another trip this fall since it's open later than Big Sky," added Adam Glick of Big Sky. "You can bet we'll be here when the flakes start flying at home."
Due to Silver Chief's low elevation, the Discovery Bike Park is able to stay open into October, later than other bike parks that have to close to begin winter operations.
In the future, bike park employees say they are eager to continue developing trails on Pitcher's property and are currently in the process of building at least three new trails.
"Discovery has played a key role in progressing the mountain biking scene in Butte," said Carson Bechtel, the former president of the Montana Tech Mountain Biking Club. Bechtel spent a summer building trails at the Discovery Bike Park in 2016.
As Discovery Bike Park has found its footing, it has helped southwest Montana follow a blueprint for mountain bike growth that was drawn up, in many ways, in the Helena area. 
A blueprint for growth
Helena's long history as a mountain biking hub stems from two prominent bike shops that opened in the 1980s. Since that time, the Queen City has blossomed into a mountain biking destination through a tight-knit network of community support.
The International Mountain Bicycling Association has deemed Helena a Silver Level Ride Center, a point-based certification that assesses trail quality, environmental practices, and amenities from the supporting community. There are only 12 Silver Level Ride Centers in the world. Bike Helena, a local cycling resource, is currently in the process of renewing the certification. In addition to its Silver status, National Geographic recently dubbed Helena one of America's 20 best mountain biking towns. 
Many local businesses invest in the town's efforts to become a mountain biking destination by supporting the Trail Rider, a free community shuttle that brings riders to three trailheads with access to the Continental Divide, Mount Ascension, and the Helena Ridge five days a week.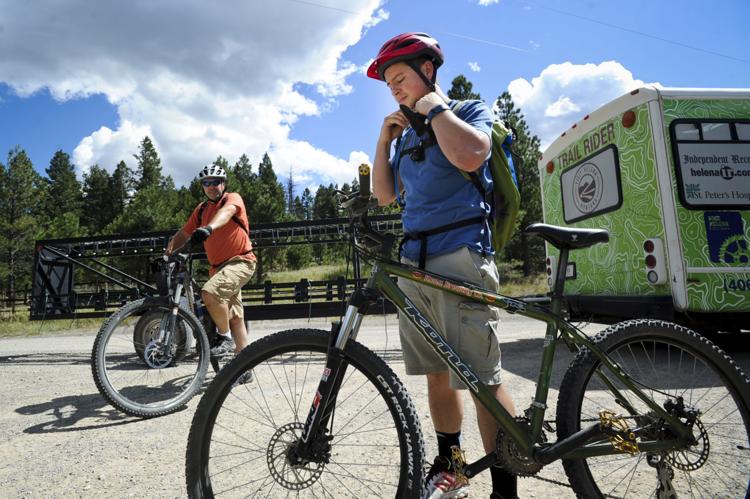 "I think it's a whole-community-wide effort, where people are passionate about outdoor recreation and the trail experience as a whole," said Andrea Opitz, executive director of Bike Helena, a community resource for the local trail systems.
The popular South Hills trail network hosts nearly 80 miles of premiere riding with nearly direct access from Helena's prominent residential areas and downtown center. The trail system passes through a variety of public and private landowners.
Last summer, Bike Helena partnered with the University of Montana Institute for Tourism and Recreation Research to conduct a trail usage and value study of the South Hills trail system. The findings were published in February 2018.
According to the survey, 78 percent of trail use is by local residents from Lewis and Clark, Broadwater, and Jefferson counties, and visitors who use the South Hills trail systems for recreation spent over $4 million in the local area last summer.
"The economic impact is huge for our small community," said Opitz.
Twice a year, in the spring and summer, Bike Helena hosts Shuttle Fest, a three-day event with nearly continuous access from the Trail Rider. It is typically timed to coincide with a local event. This summer, for example, Shuttle Fest ran Aug. 3 through 5, overlapping with the Montana Brewers Association Summer Rendezvous in Helena.
Opitz said that as Shuttle Fest continues to grow, it has forced the group to add an additional shuttle to keep up with the expanding crowd. "We are always looking for ways to expand and work ahead of the curve," said Opitz.
Getting organized
In response to mountain biking's growth in southwest Montana, a group of Bozemanites recent formed the Southwest Montana Mountain Bike Association, a nonprofit that aims to expand mountain biking access throughout the region by building new trails and maintaining existing ones. Since splitting from the Dirt Concern of the Gallatin Valley Bike Club nearly two years ago, the group has taken on a variety of projects to enhance the local biking experience.
"The gas pedal has been to the floor for this organization since we started," said Melissa Cronin, the development director for Southwest Montana Mountain Bike Association.
Most notably, the group is tackling the Copper City Trails project in partnership with the Bureau of Land Management. Just northwest of Three Forks, the project includes 18 miles of trails for riders of all skill levels and styles. The volunteer-based project is currently working on its second phase, which includes building 8 miles of trails and a vault toilet.