Boaters on Helena-area reservoirs now have a new resource to help keep them safe before venturing out onto the water.
The National Weather Service in Great Falls launched an "experimental" website at www.weather.gov/tfx/lakeweather this week with lake forecasts for Canyon Ferry, Hauser and Holter reservoirs. The site provides information on wind speed and direction and forecasted wave height for the upcoming 48 hours.
"Even going back to the '90s we've had requests for some type of recreation forecast, especially for Canyon Ferry as one of the busier lakes in Montana," said meteorologist Jason Anglin. "In the '90s it just wasn't there with the technology, but now we do have the technology."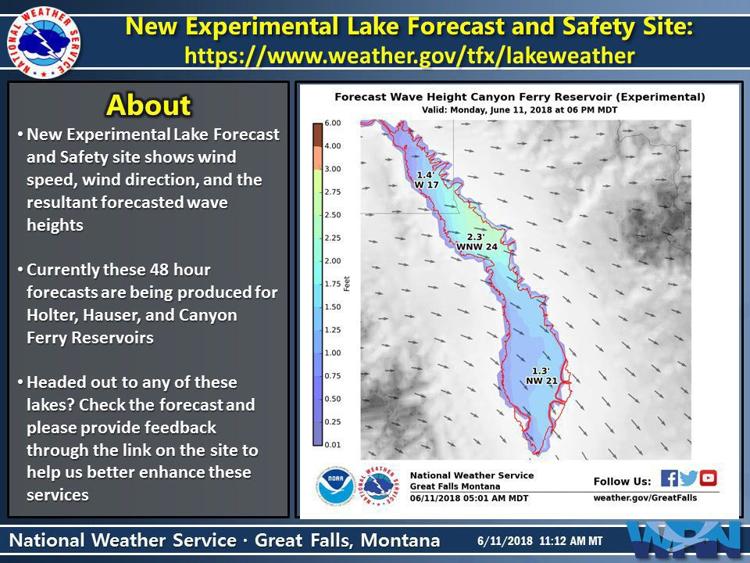 Similar techniques have been used on the Great Lakes, but they have been utilized on inland lakes only recently with the development of higher-resolution modeling. Rather than physically measuring reservoir conditions, modeling allows forecasters to predict wave height and provide safety information, including warnings.
The website is currently in the experimental phase, as forecasters follow up and verify the quality of the data. NWS is taking feedback on the new website from the public to check the accuracy of the forecast, and will likely continue to do so throughout this boating season, Anglin said.
Lake recreation forecasts are also available for some other waterbodies, such as Flathead Lake, but the combination of the Great Lakes wave modeling with higher-resolution data is unique and a new resource for the area, he added.
NWS hopes the website will be used not only for recreation, but also help anyone who uses the reservoirs, including emergency services such as search and rescue, Anglin said.