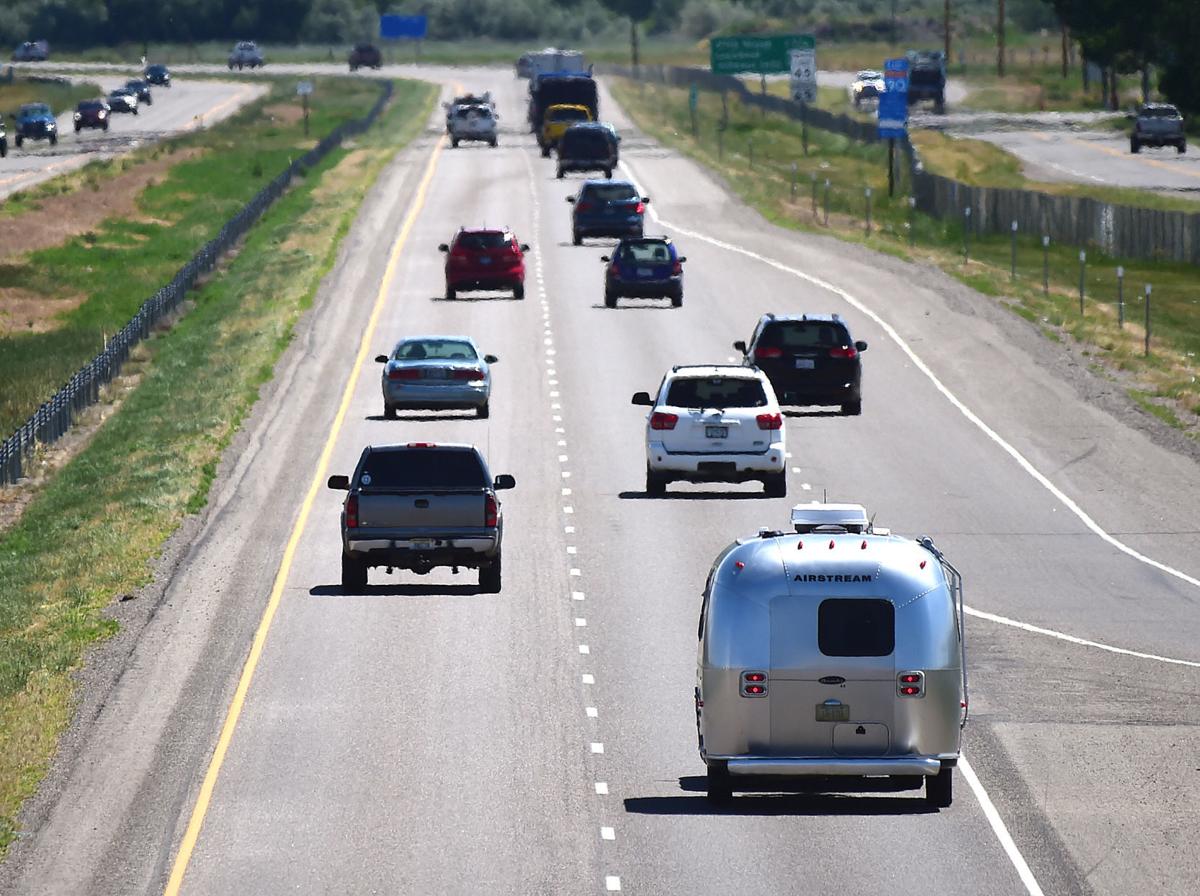 If you were planning to camp at a Wyoming State Park over the holiday weekend, you better have a reservation.
The agency announced earlier this week that campsites were sold out at Boysen, Buffalo Bill, Curt Gowdy, Glendo, Guernsey, Keyhole, Medicine Lodge, Seminoe and Sinks Canyon state parks. So the agency has encouraged recreationists to consider visiting for the day instead.
Likewise, Montana State Parks are seeing reservations "at capacity."
"We do have first-come, first-served sites across the system, but we anticipate them being at capacity as well," said Pat Doyle, marketing manager for Montana State Parks.
"Really, since Memorial Day weekend, it's been full every weekend since," said Katrina Haworth, a law enforcement officer for the Beartooth Ranger District. Those campers include locals as well as license plates from both coasts and the south, so some people are on the road.
"Everybody is out and about," she said.
Not all campsites are booked solid. In the Bridger-Teton National Forest in western Wyoming all camping is first-come, first-served.
Virus
During the coronavirus pandemic, many people have been attracted to the outdoors as a place to get out of the house while exercising and hanging out with relatives and friends.
Camping has been almost at 100% of capacity daily since campgrounds opened on May 1, and it was up over 60% in March and over 50% in April overall, Doyle said.
"We don't have final numbers for May, but all indications are that they are extremely high as well," Doyle said.
Many public officials say there are more folks at boat launches, on the water and in the hills.
"Nationally, we're seeing an increase" in camping, day-use, hiking and fishing on forest lands, Haworth said.
Yet when looking at hard numbers, visitation to Yellowstone National Park is down about 15% compared to last year via Montana entrances, and bookings at some Big Sky Resort properties are down 20% to 30%.
Nationally, total travel spending is predicted to drop 45% by the end of this year, according to a forecast prepared for the U.S. Travel Association by Tourism Economics. Domestic travel spending is forecast to drop 40% (from $972 billion in 2019 to $583 billion in 2020), "while international inbound spending is expected to freefall a whopping 75% ($155 billion to $39 billion)," the group said.
Closer to home, West Yellowstone District ranger Jason Brey said campgrounds and trails in his region were busier than expected, but they were below what they normally would be.
"It's certainly busier than the past few weeks," he said. "It's been a slow ramp up."
Precautions
Given the rising rate of COVID-19 infections in the West, even enjoying the outdoors now comes with reminders.
"The bottom line is simple," Gallatin City-County Health Officer Matt Kelley said in a July 1 press conference covered by Explore Big Sky. "The disease is spreading readily and widely in Gallatin County, and as we head into this holiday weekend, we face the potential for accelerated spread if people gather in large groups where the virus can spread more readily."
An official in Wyoming agreed.
"While we understand there may be some excitement from the public as they visit their favorite recreation areas, please continue to follow local, state, and federal Covid-19 guidelines for your safety and that of others enjoying these incredible public lands," said Mary Cernicek, Bridger-Teton National Forest public affairs officer.
Recreationists are also reminded to avoid congregating at trailheads or parking areas and to refrain from gathering in large groups, keeping 6-foot distancing from other parties.
In the busy Snake River Canyon near Jackson, Wyoming, rafters and kayakers are encouraged to limit the number of vehicles and parties on the ramps at any one time. The Forest Service is also asking families and parties to wait together for their launch away from other parties; requesting floaters run shuttles before launching their trip; and advising boaters to avoid hitchhiking for a shuttle.
"July 4 weekend is one of the busiest of the year on the river, and usually we have visitors pretty much on top of one another," said David Cernicek, wild and scenic river manager for the Bridger-Teton National Forest.
Nearby, Yellowstone National Park is advising all visitors to wear face coverings in high-visitation areas and inside visitor facilities and not to go to the park if sick. So far, Yellowstone has had no cases of coronavirus detected among its staff. Instead, the danger in visiting the park has come from the usual suspects — getting too close to grizzly bears and bison.
With fewer lodging facilities open inside the park due to COVID-19 concerns, Brey said national forest campgrounds around Yellowstone are seeing a bit of a surge in use.
"The key is always to arrive earlier in the day," he said.
No matter how people choose to celebrate the Fourth of July during a worldwide pandemic, it looks like the weather will cooperate. Billings is predicted to see a high of 87 on Saturday, dropping to 79 on Sunday. West Yellowstone, in comparison, is supposed to see a high around 77 on Saturday, 72 on Sunday.
Be the first to know
Get local news delivered to your inbox!