Logging and prescribed fires across 22,000 acres in the Castle Mountains has been approved by the Helena-Lewis and Clark National Forest supervisor.
A record of decision authorizing the work that will span the next decade was announced Friday. Work on the plan began eight years ago.
"Over the last several decades, forest vegetation in this area has been altered through insect activity and disease, resulting in tree mortality and increased wildfire fuels," said Carol Hatfield, Belt Creek-White Sulphur Springs District Ranger, in a press release. "We designed the Castle Mountains project to reduce wildfire hazards to the public and to firefighters, bring the landscape in the project area back toward the desired condition described in our Forest Plan, and provide economic benefits and sustainable wood products to local communities. This project will help ensure the sustainability of this landscape into the future."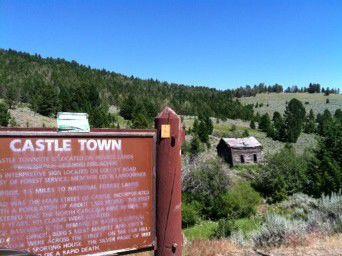 Island range
The Castle Mountains are located south and east of White Sulphur Springs in the Helena-Lewis and Clark National Forest. Wedged between the Crazy Mountains to the south and Little Belts to the north, the range gets its name from its spire-like rock formations.
A historical mining area sprinkled with ghost towns and old mine adits, the Forest Service oversees more than 69,000 acres of the landscape that is skirted by ranch and farm lands. The mountains are also the source for Willow Creek, which supplies drinking water for White Sulphur Springs, a community known for its natural hot springs and annual Red Ants Pants concerts and celebrations.
The mountains are popular with recreationists, especially elk hunters and ATV riders. Four roads provide access to the range, which contains two developed campgrounds on Grasshopper and Richardson creeks. Hikers and horseback riders can find access to 8,218-foot Beartrap Peak via two trails.
Elk exception
Forest supervisor Bill Avey exempted the plan from meeting elk hiding cover standards of 30% in identified watersheds and a standard of 40% where logging is to occur. Avey wrote in the record of decision that there will be plenty of elk habitat retained "elsewhere throughout the project area, improving forage in the western area of the project by creating opening and by improving and maintaining aspen stands and meadows, and by promoting resiliency and sustainability of forested stands in the project area."
You have free articles remaining.
Back in 1986 when the Forest Service set a goal for elk habitat it based its findings on a population of 8,500 elk. "Based on aerial survey data collected by (Montana Fish, Wildlife and Parks) staff in 2016, there are more than 17,000 elk Forestwide within those hunting districts that overlap with a majority of the Forest. This is well in excess of the elk population potential estimated at the time the Forest Plan was crafted."
The White Sulphur Springs region has become a popular spot for late season elk hunts under shoulder seasons that extend to Feb. 15. The shoulder seasons limit hunting to private lands as a way to reduce the number of elk that may feed in ag fields or raid haystacks.
The plan
Parts of the forest have been hard hit by mountain pine beetle in 2003 and 2013, killing a third to a half of the lodgepole pine in some areas and as much as 70% to 90% in others. Removal of the dead trees would occur across 1,155 acres.
The plan also focuses on restoring meadows across 8,778 acres by removing trees and using prescribed fire. Such burns are also proposed as a way to regenerate aspen across 287 acres and whitebark pine on 928 acres. Whitebark is found only at high elevations and has been decreasing in prevalence as summers have gotten progressively hotter and winters warmer.
"This will result in healthy, open forest stands within the project area comprised of a more diverse group of tree species that is more resilient to insect infestation and disease," the forest said in its press release. "Restoration work will help bring meadows in the project area in line with desired environmental conditions of being primarily dominated by grasses and shrubs rather than trees."
Removal of trees near several communities — including White Sulphur Springs, Martinsdale, Checkerboard and Castle Town — will be included to make them more resistant to wildland fires and to enhance firefighter safety.
The mountains include an inventoried roadless area where no tree thinning or road-building would occur, but thinning of small trees by hand is part of the plan, as is construction of fire lines and prescribed burning.
In addition, 58 miles of roads in the mountains will be improved as haul routes.