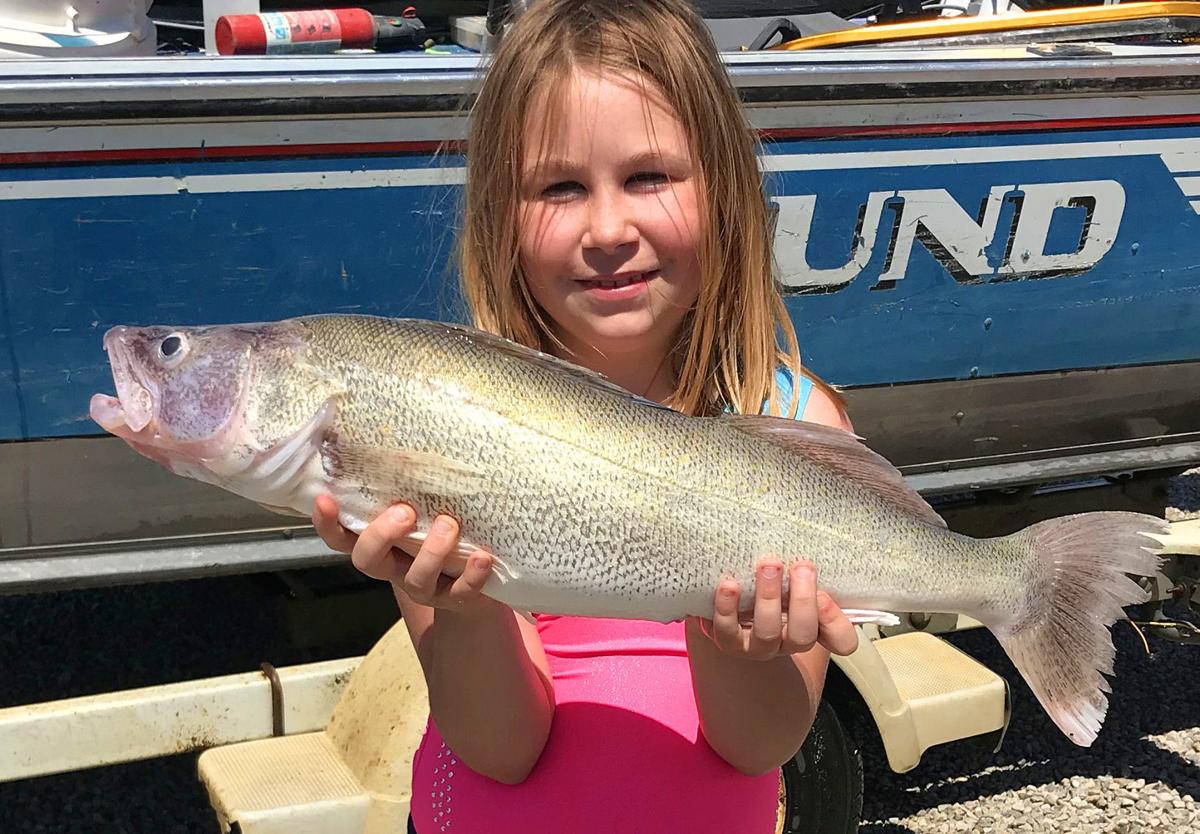 Reports of massive walleye catches in the Crooked Creek area of Fort Peck Reservoir make it the pick of this week.  
Consistent smallmouth bass reports are coming out of Bighorn Lake at Ok-A-Beh.
Whitefish have started to hit on the north end of Flathead Lake near the delta. Anglers are also finding decent lake trout there.
Anglers looking for an early morning bite should try Lake Frances. 
Here is this week's fishing report:
Top picks
Bighorn Lake, Ok-A-Beh — Overall the bass bite has been good with topwater poppers. Boaters beware of driftwood and larger log debris. — Scheels, Billings
Flathead Lake (North) — Some whitefish have been caught on the delta using Pete's Whitefish Slayer and Zimmer's Rattle Disasters in about 50 feet of water.  Anglers are also trolling for lake trout in about 5-30 feet suspended using Rapala Tail Dancers. — Snappys Sport Senter, Kalispell.
Fort Peck Reservoir, Crooked Creek — A 30- and 26-inch walleye was caught over the weekend jigging. All colors are working right now. The fish are also hitting at all depths. The fishing has been phenomenal as well as consistent. Multi species are being caught. — Crooked Creek Marina.
Lake Frances — Anglers will find a variety of fish including perch, rainbow trout, walleye and northern pike. Whether you are bait casting, spinning or fly fishing your chances of getting a bite are good. Best times to fish are early mornings (5-8 a.m.). — Hook and Bullet.
Madison River, Upper — Fish have lots of food options right now. Salmonflies, golden stones, yellow Sallies and PMDs are out depending on what stretch of the river you are on. Salmonflies are up high right now. Also, Worms, Caddis Larvae, soft hackles and larger mayfly attractors are all working subsurface. Don't be afraid to experiment with more weight if you aren't getting into fish. Streamer fishing has been hit or miss but afternoon storms have had some nice browns on the chase. White still seems to be the hot color. Varney Bridge is open to traffic. — Montana Troutfitters, Bozeman.
Montana
Ackley Lake — The muskie action has been consistent using herring and Rapalas. Trout action has also picked up with night crawlers and PowerBait.— Sport Center, Lewistown.
Beaverhead River — The waters continue to fish extremely well. PMDs, yellow Sallies, and caddis are all hatching in prolific numbers. The water flows are at 365 cfs which is leaving a lot of fish vulnerable. — Frontier Anglers, Dillon.
Big Hole River — After a tumultuous June the high water has receded and the river is in excellent shape. Golden stone, yellow Sally, and PMD dry patterns are all working. — Frontier Anglers, Dillon.
Bighorn River — The water flows are up to 4,000 cfs which has cleared the drifting algae in many places. Nymphing is good with Sowbugs, PMDs, and caddis patterns. We are seeing a lot of hoppers around and a few fish are eating them. The river is about a week away from some really good fly fishing. — Bighorn Angler, Fort Smith.
Bitterroot River ­­— The water is dropping and in great shape to fish. It's still big so be careful. If you're new to rowing it's not the best time to get out there. We are seeing golden stones, PMDs and a few green drakes in the afternoons. In the mornings a golden stone like a Chubby, Rastaman, Henry's Fork Golden with a dropper is a good way to prospect. Droppers being Perdigons, Jig PTs, Princes, San Juans and Rubberlegs. In the afternoons switch over to just the dry. Keep the golden stone on and then switch to PMDs or Drakes once they start to come off. Tilt Wings, Extended Bodies, Galloup's Found Link, P-Hazes and Emergers are good options. — Grizzly Hackle Fly Shop, Missoula.
Blackfoot River — The water is on the drop and starting to fish well. It's still has a stain to it, but that makes big fish eat! There are a few salmonflies still out on the upper Blackfoot and having a box ready to go is a good idea. Golden stones, PMDs, green drakes and yellow Sallies are out in the afternoon. Prospecting with a Golden Stone and a dropper is a good bet. In the afternoons you'll see PMDs coming off. A Tilt Wing Dun, Galloup's Found Link or a P-Haze is a good bet. If you see green drakes we like the Carnage Drake or an Extended Body. — Grizzly Hackle Fly Shop, Missoula.
Boulder River — The river is fishing better every day. The flows are still relatively high, yet the clarity is great. Look for golden stones, tellow Sallies and PMDs. Most action is below the surface, but that will change as the flows decrease. — Sweetcast Angler, Big Timber.
Canyon Ferry Reservoir — Walleye and an occasional perch are being caught by the Ponds and around Duck Creek in 10-15 feet of water while using bottom bouncers with yellow, orange or chartreuse spinners. Floating jig heads and marabou jigs in perch colors are working from shore around the Silos to Duck Creek and up by the dam at the Outhouse. A few rainbows are being caught while trolling cowbells or crankbaits 20 to 25 feet deep around White Earth and the north end. An occasional rainbow is being caught from shore at White Earth. — FWP, Helena.
Clark Fork River, Deer Lodge — Fishing is best with Scuds, Pheasant Tails and Midges. Good nymphs to use are Ray Charles (sizes 16), Sowbugs, Superflash Pheasant Tails (14-18). Streamers to use are Lemon Drop, Sculpzilla and Miller's Brew Time. Dries to use are Missing Link Caddis (16-18), Purple Haze (16-18), and Rocky Mountain Mint (16-18). — The StoneFly Fly Shop, Butte.
Clark Fork River, Missoula — The water is still big and muddy right now. If it continues to drop we should be on it in a week or less. — Grizzly Hackle Fly Shop, Missoula.
Cooney Reservoir — This week we saw heavy boat traffic on the water. Water temperatures were in the mid to upper 60s. The trout bite seemed slow. Perch are biting on worms or leeches. I saw a couple perch this week that were just under a pound. Walleye fishing is starting to get a little more difficult. Their seeing a lot of fishing pressure. Try mornings or even night fishing to avoid the recreational boaters. The weed beds are growing and are good locations to target fish. Leeches with slip bobbers or Rapalas worked for the groups that did catch fish. — Cooney State Park.
Deadman's Basin — PowerBait, night crawlers and worms are the bait of choice right now. — Cozy Corner Bar, Lavina.
Flathead Lake (South) — Lake trout have been caught at the city docks using whole bait set ups in about 70 feet of water. — Zimmer Tackle, Pablo.
Flathead River — Bass and pike have been caught using silver Vibrax spinners below Kerr Dam to Buffalo Rapids. Backwater fishing with night crawlers has also been effective. Crappie, bull trout (released), and perch have also been caught above the lake near Sportsman's Landing. — Zimmer Tackle, Pablo.
Fort Peck Reservoir, Big Dry Arm — Plastics and bottom bouncing have been used successfully to catch walleye and northerns south of the marina. — Rock Creek Marina.
Gallatin River — The conditions are shaping up nicely and the river is starting to fish well. It is still a large enough flow that you should stay along the bank. The big bugs are above the Taylor Fork. Nymphing will still be your most productive way to catch these fish until the flows come down. We've heard good reports of anglers doing well with the dry dropper rig, as well. If the water still isn't clean enough for your liking go above the Taylor Fork or in the reach inside Yellowstone Park. — Montana Troutfitters, Bozeman.
Georgetown Lake — The best techniques are stripping leech patterns and dead-drifting chironomids. The southeast shoreline is open. The wind has been picking up midday but calms down in the evenings. — Flint Creek Outdoors, Phillipsburg.
Glacier National Park — The west entrance to the park is open to Avalanche Creek. Expect temporary closures at either Lake McDonald Lodge or the foot of Lake McDonald due to full parking lots and congestion. Kintla and Bowman lakes are open. The following areas are closed to fishing: Kintla Creek between Kintla Lake and Upper Kintla Lake, Upper Kintla Lake, Akokala Lake, Bowman Creek above Bowman Lake, Logging Creek between Logging Lake and Grace Lake, Cracker Lake, Slide Lake and the impounded pond below the lake. The following creeks are closed for their entire length: Ole, Park, Muir, Coal, Nyack, Fish, Lee, Otatso, Boulder, and Kennedy Creeks, North Fork of the Belly River, North Fork of the Flathead River within 200 yards (183 m) of the mouth of Big Creek. — GNPS.
Hauser Reservoir — A few big rainbows are being caught near White Sandy and York Bridge by boat anglers trolling cowbells and Wedding Rings tipped with crawlers. Boat anglers pitching perch-colored jigs are catching a few walleyes below Canyon Ferry Dam. Walleye anglers are also picking up a few while pitching jigs in and around the dredge piles around El Dorado Bar. — FWP, Helena.
Hebgen Lake — Chironomid fishing is still the most productive method right now. If you're going to fish the lake make sure to have a few Sparkle Dun Callibaetis (16), Callibaetis Tilt-Wing Duns (16) and Adams Parawulffs (14). If you're fishing subsurface, Traffic Light Diawl Bachs (12), Driskill's Midge (12) and Ice Cream Cones (12) are a few flies that you'll want to have. — Blue Ribbon Flies, West Yellowstone.
Holter Reservoir — A few walleyes and perch are being picked up by boat anglers in the canyon near the Gates of the Mountains. Firetiger and purple jigs and harnesses are working well. Some fat walleye are also being picked up while tolling bottom bouncers and vertical jigging near Cottonwood Creek and Mann Gulch areas. Anglers using slip bobbers and leeches are also catching walleyes. A few perch are also being picked up from the docks at the boat ramps while pitching jigs tipped with crawlers or leeches. Some great rainbow action can be found while trolling various deep running cranks around Indian Trail and Juniper Bay. — FWP, Helena.
Kootenai River — The water is high but coming down. The river can be fished in the afternoons or try fishing the soft backwater eddies. — Kootenai River Outfitters, Troy.
Lake Koocanusa — The rain has been producing more rainbows. Wedding Rings and Kokanee Killers have been used successfully. Reds and pinks are the hot colors. The rainbows are biting on darker colors at about 20-40 feet. — Koocanusa Resort and Marina, Libby.
Lake Mary— Perch have been reported off the ramp of the dock. Salmon have been biting on shrimp, corn and worm combinations. — Zimmer Tackle, Pablo
Madison River, Lower — The lowers flows have been all over the place lately, but that hasn't stopped the fishing. Golden stones, yellow Sallies, PMDs and caddis are the main game with a great brown drake hatch in the evenings. Crayfish, Worms, soft hackles, Caddis Pupa, and attractor mayfly patterns are great nymphs. If you're not having any luck fishing the banks try casting your bugs over the weed beds. It's the time of year to be on the lookout for water temps on this river. Once the temps hit 65 degrees angling becomes difficult and the fish play out and die due to the water conditions. If you can help it, try keeping the fish in the water at all times and handle the fish as little as possible. Nipping your barbs to get a quick release is a good call also. Streamer fishing will be a little tougher now that the weeds are starting to get thick in some sections. If you do head out this way be aware the tube hatch is in full force so plan accordingly. — Montana Troutfitters, Bozeman.
Missouri River, below Holter — The Mo has seen a drop in the last few days, but that hasn't stopped the fishing. Dry flying has begun. PMDs, yellow Sallies and caddis are the name of the game right now. Nymphing has been great as well as the use of Worms, Scuds, Sowbugs, and soft hackles. The PMD emergers have also been hot with a Split Case PMD, Rainbow Warriors, Hunchbacks, Short Winged Emergers, and Loop Wings. — Montana Troutfitters, Bozeman.
Missouri River, Fred Robinson Bridge — Catfish have been caught using cut bait and night crawlers. — Sport Center, Lewistown.
Rock Creek (East) — The water flows are running right below 300 cfs. Stay upstream of Joliet, as this is where water clarity is at its best. Yellow sallies and PMDs are still in the air as well as caddis and a few stoneflies. Anglers should throw PMDs, Yellow Sallies, and attractor patterns on top. Nymphing is always a great game plan, lots of caddis larvae and stonefly nymphs in the water. Streamers: Tungsten Thin Mint, Complex Twist Bugger, Bond's Mini Dragon. Nymphs: BH Caddis Pupa Olive (16), Hare's Ear Robinson (14), BH Rubberleg Prince Nymph (14), Silverman's BH Epoxy Back Red Tag Sally (14). Dries: Yellow Stimulator (14), Headlight Sally (14), tan or orange Chubby Chernobyl (14), Parachute PMD (16), Keller's Rocky Mountain Mint Purple (14). — East Rosebud Fly Shop, Billings.
­Rock Creek (West) — The water started to level out and clear up after the rain stopped. Anglers should dry fly fish with Golden Stones, PMD's, Caddis, Yellow Sallies and Green Drakes. Make sure to have a good selection of each and if the clouds come out in the afternoon get ready for some good mayfly action like PMDs and green drakes.  Caddis are happening in the evenings. Things will continue to get better as the water drops. It's big so wade fishing is tough. The farther up the creek you go the less water there is. — Grizzly Hackle Fly Shop, Missoula.
Spring Creek — Trout action has picked up using Mepps and Panther Martin spinners. — Sport Center, Lewistown.
Stillwater River — The water flows have dropped and cleared. There still can be some stain coming in from the Rosebud below Absarokee, but other than that the river is clear. Nymphing in the morning with Rubberleg patterns has been productive working the main river. The nymphs are plentiful, so our guides have been having success fishing stonefly nymphs and Rubberleg patterns like a Girdle Bug or Pat's Rubberleg. Some salmonflies have been seen here and there on the upper river. Golden stones are starting to appear as well, so bigger dries will start to get some attention as the water warms up by late morning. Yellow Sallies have been popping as well, so fish a double dry setup with a bigger dry like a Purple Haze, PMX or Stimulator with a smaller yellow Sally pattern trailed off the back. A smaller size Jack Cabe has been working as well fished as part of a double dry setup. — Stillwater Anglers, Columbus.
Swan Lake — The pike bite has been improving. — Zimmer Tackle, Pablo
Tongue River Reservoir — Anglers are pitching or dragging jigs tipped with half a crawler or minnow in about 5-20 feet of water. Spinners, jerk baits and jigs have been catching bass. The northern bite has been hit and miss. — Tongue River Marina.
Yellowstone River, Columbus — By the weekend, barring a weather event, the river should be ready to fish with hungry trout not having seen a fly for a while. Fish should be in a feeding mode for Rubberleg nymphs and streamers. The boat float is this weekend, so plan accordingly to avoid fishing amongst the armada. — Stillwater Anglers, Columbus.
Yellowstone River, Huntley — The catfish bite is still real good using minnows, cut bait, shrimp and crawdads. The water is on the drop and beginning to clear. — Huntley Bait and Tackle.
Yellowstone River, Livingston — The Stone is finally in fishable condition! It is still fairly high though so if you head out this way proceed with caution when floating as wave trains and hydraulics will be big and nasty in some sections. The big bugs are up high and we have had some good reports from anglers fishing streamers and nymphs, as well. Shorter nymph rigs with some serious split shot has been productive. Stoneflies, caddis, green drakes, mayflies, PMDs and Worms are all on the menu. Running a dry dropper rig tight to the bank has also resulted in some nice fish hitting the net. — Montana Troutfitters, Bozeman.
Yellowstone River, Miles City — The sturgeon have started to bite on worms. The catfish bite has been consistent. — Red Rock Sporting Goods, Miles City.
Wyoming
Bighorn Lake, Horseshoe Bend — Sauger have been caught off the fishing dock along with bass and catfish. Crooked Creek Bay has seen a lot of bass and crappie. Minnows and Rapalas have been the baits of choice. — Horseshoe Bend Marina.
Bighorn River, Thermopolis — Nymph and streamer fishing is the name of the game with some dries later in the day on caddis, midge pupae and hopper patterns. We are having great success on float trips at Wedding of the Waters to Thermopolis. The water flows are at 1,402 cfs and have dropped into normal summer range. Nymphs: Zebra Midges, San Juan Worms, Yum Yum Scud, pink Soft Hackle Sowbug, Yuk Bugs, Pat's Rubberlegs, Jig-head nymphs. Midge pupa, Wire Worm, and small North Fork Specials in black or tan. Streamer patterns: Leeches, Woolly Buggers and Conehead Zonkers, Double Bunnies, Sex Dungeons and Muddler Minnows are also taking trout. The hatches popping right now are caddis and midges. Cicadas and hoppers are getting attention in the Wind River Canyon and now on the float into Thermopolis. Dries: Griffith's Gnats, Rojo Midge, Parachute Adams, Hemingway Caddis, Elk Hair Caddis, Dave's Hopper, and Wade's Horror. — North Fork Anglers, Cody.
Buffalo Bill Reservoir — Anglers using Dardevles have been hooking fish on the southern end of the reservoir. The water conditions are clear. — Rocky Mountain Discount Sports, Cody.
Clarks Fork — The water is gray to green in color due to Sunlight Creek's influence in the canyon section. The river is fishable though. Salmonflies and golden stones are on the water later in the day. There are some green drakes also. Dry action is slow due to lack of trout. Golden stones, salmonflies and caddis are active. Anglers should use a dry/dropper or go deep with weighted nymphs. The water is flowing at 2,850 cfs at the Clarks Fork Fish Hatchery. — North Fork Anglers, Cody.
East and West Newton Lakes — The lakes are fishing OK, not any better than that due to both lakes being fuller than seen in decades. Temps in the 60s. The East is fishing slow to fair. Rainbows, browns, tiger trout and splake are down and the size of the lake has doubled, which spreads out the trout. Access and parking is limited to the southwest corner of the former parking lot. West Lake is also much fuller compared to past years. Cutthroat are the only species of trout in the lake. Nonnative goldfish have been introduced into West Lake. Use bait to catch them. West Lake is fishing fair for cutthroat. Fish the trees and shoreline structure where the trout seem to be holding. Callibaetis, midges, caddis and damselflies are active on both lakes. Ants, beetles and now hoppers are the terrestrial insects. Flies: Buggers, Ice Cream Cones, Chironomid pupae and larvae, Clouser Minnows, Scuds, Wade's black North Fork Special, Wire Worms, Damsel Nymphs, Light Cahills, Parachute Adams, tan Sparkle Caddis, Wade's Bow-Tie midge and Adult Damsels. Trina's Ant, Wade's Horror, Magic Beetle and Joe's Hopper for terrestrial imitations. — North Fork Anglers, Cody.
Firehole, Madison and Gibbon (YNP) — The water flows are perfect. These rivers are fishing well. BWOs, PMDs and caddis are hatching. Large salmonflies are active in the Firehole and Gibbon canyons and moving up from Hebgen Lake on the Lower Madison inside the park. Pack bear spray, be Covid-19 safe with a mask handy when in a crowded parking lot and have your YNP Fishing License. — North Fork Anglers, Cody.
Lower Shoshone —The water flows are at 3,451 cfs and dropping. Buffalo Bill Reservoir is completely full so the dam is releasing. The water quality is good enough to fish the canyon and the section through town. However, the flows are such that floating is a whitewater trip. Wade carefully if in the canyon or swifter sections through town. Caddis, midges and golden stoneflies are out. Not much dry fly action due to flows. Wet flies: Purple and Peacock Prince, San Juan Worms, Pat's Rubberlegs, black Girdle Bugs and black North Fork Specials. Streamers: Orange Blossom, black, brown or dark olive Zonkers, darker colored Sculpinators, JJ Special Conehead, Black Peanut Envy, black or brown Krystal Buggers and other dark streamers that have a lot of hackle or movement. — North Fork Anglers, Cody.
North Fork of the Shoshone — The water quality on the upper is improving. Guided trips have gone well even though the water is still high and in great shape inside the Shoshone National Forest. The river is clearing in the Wapiti Valley. If we do not receive any rains, the lower river should be fishable soon. The water is flowing at 3,350 cfs and getting back to normal flows for early July. Fishing is better on the upper river inside Shoshone National Forest. Hatches: green drakes, caddis, yellow Sallies, golden stoneflies. Flies: Wet larger black North Fork Specials, Fat Bastard, Epoxy Stone, double beaded Stones, Pat's Rubberlegs, Girdle Bugs in sizes 2-8. Dries: Tan, purple or gold Chubby Chucks, Green Drake Wulffs, Parachute Green Drakes, Royal Trudes, Royal Wulffs. — North Fork Anglers, Cody.
Upper and Lower Sunshine Reservoirs — Leech patterns have been very effective this time of year. Beadhead nymphs stripped or slow trolled behind a kick boat or float tube also works. Do not expect much from dry fly or emerger action. Damselflies are out right now. Anglers should fish damsel nymphs, soft hackled Bloody Marys and Midge Pupa for the best results. On the lower, larger streamers are effective on splake and tiger trout. In shallower water, Leeches, Scuds, beadhead nymphs, Zebra Midges and Wire Worms are working well. — North Fork Anglers, Cody.
Yellowstone National Park — The water discharge from Yellowstone Lake to Fishing Bridge is 5,080 cfs. The lake is open for angling. Streamers: Woolly Buggers, Zonkers, Muddlers and typical baitfish or leech imitations along the shore line. Beadhead nymphs (8-12) are working well cast out and stripped back. Prince, black North Fork Specials, Bloody Mary's, Gold Ribbed Hares Ear soft hackles and soft hackled or standard Pheasant Tail Nymphs also working this week. The caddis and golden stones are huge below LeHardy Rapids. Green drakes are hatching midday. — North Fork Anglers, Cody.
Be the first to know
Get local news delivered to your inbox!