No. Wait. That's not right. Hmm. Let's see. (Rub chin thoughtfully.)
That was the start of several discussions while skiing with a crew of New York and Chicago relatives and friends on a recent trip to Big Sky Resort. Navigating the 5,800-acre mountain proved a challenge, especially trying to find runs that could accommodate a variety of different comfort zones and abilities — from easy green-run advocates to those seeking the thrill and challenge of a difficult double black diamond.
Normally, with only two to four folks, you can compromise and trade off on where to go so everyone gets a say. It's a bit harder with a group of eight to 12. But for an entire day we negotiated and stuck together.
Ken had every right to complain, seeing as how he was the senior member at 70 years old, yet he was charging hard and just happy to be there. What an inspiration, as well as a reminder not to be a whiner.
Big Big Sky
Navigating Big Sky is not to be taken lightly. From 11,166-foot high Lone Mountain to the base area at 7,500 feet, Big Sky Resort contains 300 named runs across four conjoined mountains. Twenty-four chairlifts and 12 surface lifts connect the artery-like runs. It's a maze that can confuse even the smartest rats. So our crew was constantly consulting the 28 billboard-sized maps at the bottom and top of lifts, along with the soon-tattered paper maps we packed in our pockets — the resort prints 108,000 of them every season. If we were more up-to-date we could have downloaded the resort's trail app to our cellphones. 
"Turn right onto Ponderosa everyone!" The leader of the pack would shout at the top of the lift after agreement was finally reached. The command would echo down the line. By the time it got to the last person in line, Jolene, it probably sounded like: "Light on Rosa!" She must have wondered, "Rosa? Who the heck is Rosa?"
If you forgot the turn or didn't hear through the muffled scarves and helmets, you could always look for the distinctive green crash helmet that Drew wore or the orange-brown coat that Steve sported. (Several times I followed the wrong Steve coat, eventually realizing that color was much more common than I had thought.) There was no picking out Brian's black coat; there were simply too many of them. So then I got better at picking out their individual ski styles: Steve's long legs carving smooth turns; Brian's straight and fast slalom.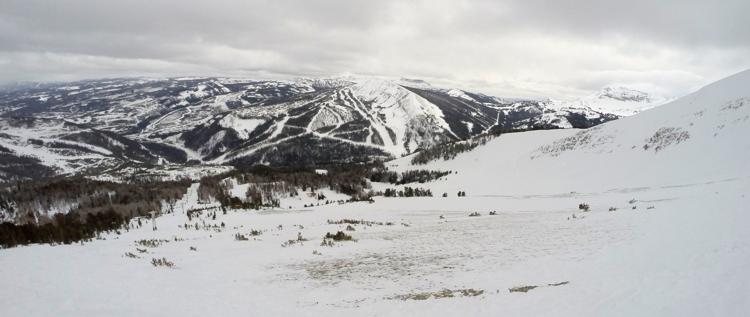 You have free articles remaining.
Keep reading for FREE!
Enjoy more articles by signing up or logging in. No credit card required.
Navigational error
Unfortunately, the map and landscape didn't always agree. One route that looked like an easy place to turn to get back to our lodging was actually the top of a hill. Climbing even that short distance at the end of the day did not earn me any praise from my comrades.
Especially magnanimous was my wife's Uncle Joe. Two years ago he was following me on a traverse at Big Sky that resulted in him becoming stranded in a steep, black diamond mogul field labeled Mad Wolf, but now known to me as Mad Uncle Joe. Since then he has rightfully taken any advice I offered with a healthy dose of skepticism. Yet he's never used his connections with national law enforcement agencies to make my life miserable. For that, I am thankful.
Directionally challenged
By the third day of skiing, compromise was a bit more frayed and tattered. Folks began breaking off into smaller groups to ski where they wanted. The alpha males went to the top of Lone Mountain, the green skiers took off for Moonlight Basin. Lauren and Deana were foolish enough to follow me, at least when they could see me as I awkwardly sped downhill. You see, I don't like to carve a lot of turns. It's too tiring. And it's faster to go straight, which my wife has repeatedly reminded me is not safe or considerate.
Luckily, while skiing Big Sky almost everyone has a map or can find one along the way even if their leader abandons them. If not, they can ski to the bottom of the mountain and study one of the billboard maps. If that doesn't work, just ask a fellow skier, ski patroller or lift operator for suggestions.
The folks who work at the resort always seem happy to help — almost too accommodating — which makes me as a Montanan suspicious. This is probably because we've sent many of their kind down the wrong route — not out of spite or dislike — but because we simply don't want to acknowledge that even though our license plates indicate we live here, many of us have no clue about how to get to certain places. That would require reading street signs, something foreign to our nature.
Common Montana directions: "Well, you go over here to the big silver silo, hang a right and go across the railroad tracks until you get to the river. Keep going straight to the blue garbage bin and turn left. If you pass the corral you've gone too far."
Despite some head scratching, wrong turns and doubt about ever following me down a trail again, folks were pretty relaxed and forgiving — probably because they were on vacation. Just to be safe, though, I didn't turn my back on them. They are, after all, from New York and Chicago.