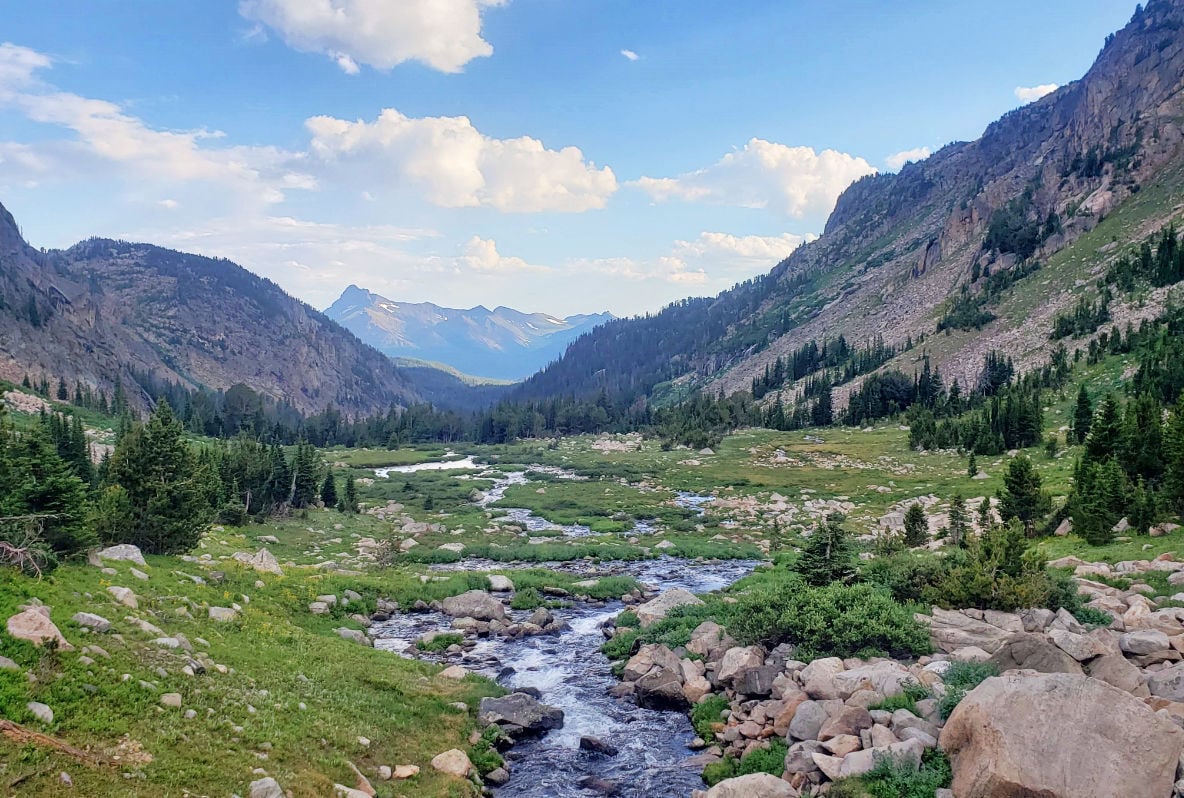 When his annual ultramarathon races were canceled because of COVID-19, Helena engineer Branden Joy set out to create his own extreme challenge — bagging 50 of the Beartooth Mountains' tallest peaks in one prolonged outing.
"It's ridiculous enough to make me question if this is a good idea," he said before embarking on Aug. 12.
Joy has dubbed the trek the Montana Top 50, a self-designed route that rarely crosses an actual trail. Instead, it involves route finding and scrambling over scree and boulders for an estimated 200 miles of off-trail hiking and climbing. Along the way he will gain anywhere from 100,000 to 150,000 feet in elevation.
"It's super exposed," he said. "I will spend most of my time at or above 10,000 feet. Any time weather comes through, there's nowhere to hide."
The region is known for almost daily afternoon thunderstorms, he noted, which are impossible to predict and even in August can include snow or hail.
For Joy, the COVID-19 pandemic provided an opportunity to self-isolate in a way few people can imagine, and do it in a region where isolation can be not only dangerous but downright deadly. It is one of the reasons he's carrying a satellite communication device.
"I need to be completely sharp at all times," he said.
Challenges
Joy is one of many endurance athletes who are continually pushing the boundaries of what once seemed possible. In 2018 Missoula resident Nate Bender sped 100 miles through the Absaroka-Beartooths to summit 27 of Montana's 12,000-foot-tall peaks. It took him just over four days.
That same year, three trail-running friends set off from Bozeman to run across the Greater Yellowstone Ecosystem finishing at Red Lodge, about 260 miles away.
In Colorado, Justin Simoni has made a name for himself — the Long Ranger — by stringing together hikes to all of the state's 14,000-foot peaks, as well as other routes, inspiring Joy to map out his route.
Bender and the trio of Dave Laufenberg, Anthony Pavkovich and Zach Altman used friends to help them navigate the Beartooths. To increase the difficulty of his excursion even more, Joy stashed four food caches along his route so he could travel alone — entirely self-supported and without any friends to help lift his spirits along the way.
"I wanted to do this solo and self-supported," he said.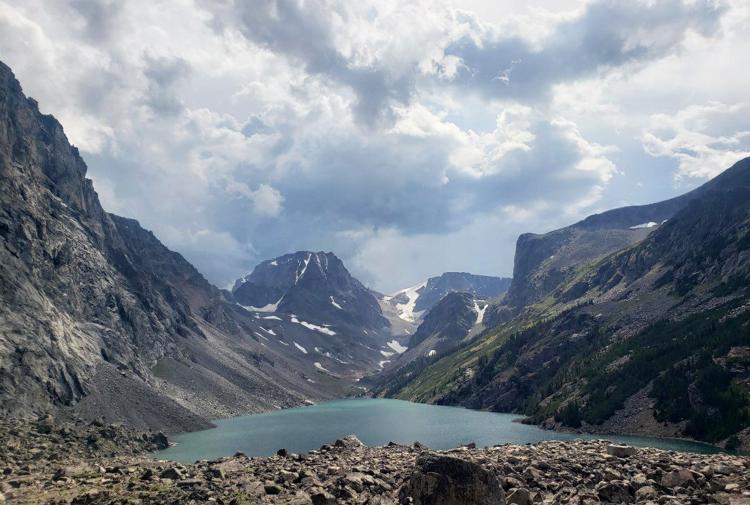 Off-trail
By almost 11 a.m. on his first day — Aug. 12 — Joy had summited 11,977-foot high Metcalf Mountain near Moon Lake on the upper Rock Creek drainage. A week later he added 11,704-foot Summit Mountain, the 22nd of 50 peaks, and was deep into the core of the 943,000-acre Absaroka-Beartooth Wilderness.
As of Tuesday, he had gone past his 37th high point, an unnamed 11,115-foot peak north of Cooke City. This was after summiting Montana's highest peak, 12,807-foot Granite, on Aug. 22. Next on his route was Wolf Mountain above Goose Lake. He is scheduled to finish by summiting Pyramid Mountain above the West Rosebud River before descending via Chicken Creek to the Mystic Lake Trailhead.
Bender, who summited the 27 Beartooth peaks in 2018, offered Joy information on some of the terrain he would encounter, since there is so little information on the high points and ridgelines that connect them.
"I think the biggest thing, in my mind, that people wouldn't appreciate is how endlessly rocky it is," Bender said. "On a trail you can kind of zone out a little bit, but you have to stay mentally engaged while rock hopping or you're going to get hurt."
Doing that while carrying a pack that can weigh up to 30 pounds adds difficulty to the task.
Bender also noted the strain of putting so many days together would take a toll, as well as the cumulative beating Joy's body would take during repeated descents from the high points.
"I think it's ambitious, absolutely ambitious," he said.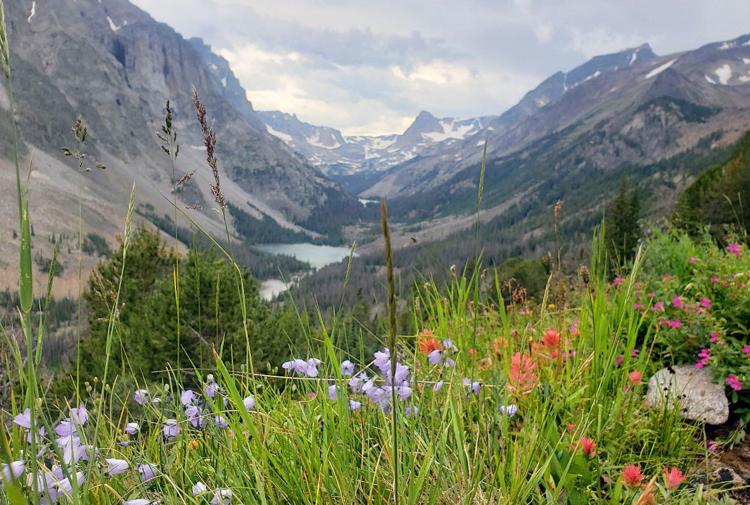 Finish
Branden's parents, Naomi and Jim Joy of Washington state, are traveling to Montana to meet Branden when he finishes. Naomi wrote in an email that she was scared and worried the morning when Branden started his trek, but now she's excited.
"I trust his innate judgment," she wrote. "Since he was young, he set goals for himself and was undaunted by the obstacles."
One of her son's greatest strengths is the ability that also helps him in his profession, she added, a laser-like focus.
"As an environmental engineer, he's very methodical, keeps track of the details on a spreadsheet, plans his route, elevation gains, talks to people familiar with the area, adjusts when appropriate, and even figures out his caloric needs," Naomi wrote.
"I smile knowing he's happy outdoors immersed in nature."
Calories
Key to the entire adventure, which Joy is prepared to allow 30 days to complete if needed, is food. Reaching each 25-pound cache, he said, will be a "success in itself.
"I really need to focus on recovery" at the cache sites, he said, comparing the adventure to a stage race like the Tour de France. He's not too concerned about blisters, which can quickly make foot travel painful, but instead is worried about injuries and soreness to his tendons. Halfway through, he'll swap out heavier shoes for lighter ones to address part of that concern.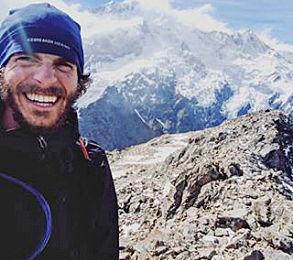 In addition to food, Joy is carrying 20 pounds of gear, including an ultralight bivy to protect his sleeping bag, a pad and a tarp to shelter him from rain or snow. By resupplying with food he calculated he will add another 10 pounds to his load, including the weight from two liters of water. Joy planned to carry no water filter, instead hoping to get water from streams and melting snow.
"Whether or not I complete the 50 peaks doesn't matter," he said. "The primary goal is to get out there and take a break from life and everyday society, and to push the boundaries.
"I feel like I've succeeded just in planning this."
---
Photos: The best hikes in the Beartooths